Accessibility for all members of the population must form part of the thinking process on the delivery of public services, Clare elected representatives have stated with higher penalties for parking in disability spaces sought.
Close consultation between Clare County Council and persons with disabilities on the impact of local authority services such as planning, housing, transport, social inclusion and enterprise must be implemented to a greater degree, Cllr Joe Killeen (FF) stated at a recent meeting of the Council.
Director of Service, Liam Conneally in response stressed that the Council was fully committed to maintaining a high level of engagement with disability groups on the provision of their services. He detailed that the planning department would "actively engage" with persons with disabilities and representative groups for the upcoming review of the County Development Plan.
Inter-agency engagement factors in all housing needs, Conneally said and noted that eight social inclusion representatives sit on various groupings associated to the Council. All training and mentorship programmes from the Local Enterprise Office are conducted in an inclusive manner, he added. "Integrated opportunities for individuals with disabilities" are promoted by the Clare Arts Office. He confirmed that artist Shona McGilliviray had been commissioned "to facilitate a long term art project with St Anne's special school in Ennis".
Referring to the removal of disabled parking bays and their relocation "to unsuitable places", Cllr Killeen flagged that the introduction of street furniture has led to new obstacles. He accepted that the Council were already making "considerable" efforts regarding accessibility. "We need to be conscious of the needs of all people," he added.
Disability activist, Cllr Ann Norton (IND) acknowledged the efforts of the Council but felt, "there is always an opportunity to do better. When you do highlight areas that need improvement, more often than not it is actually done". She continued, "There are a lot of younger people coming through the system that will need social housing and housing that will allow them to live independently. It is quite difficult to get the information because of GDPR. I would encourage businesses having furniture to be conscious of people with disabilities".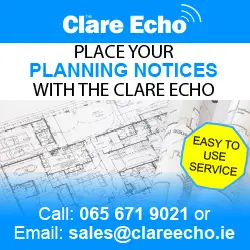 "So often we forget those that are less privileged and those that have suffered physically or mentally. It is important that in some of our grants which are dealing with local amenities that we make them friendly to those type of people. I have seen people in local playgrounds that have a wish to do things but they can't do it," Cllr PJ Kelly (FF) commented.
Greater social media promotion would help the situation, Cllr Alan O'Callaghan (FF) but warned, "we can't be putting yellow lines everywhere". "I'm guilty of throwing all wheels of the car on the footpath and not realising it can cause an obstruction to people with a wheelchair or a buggy".
Killaloe representative, Cllr Tony O'Brien (FF) remarked, "One of the bugbears I have is and it's a way we can improve as a local authority is in the line of public transport, car parking in particular at bus stops and so forth. I would be advocating for higher penalties be in place for car parking at bus stops. The impact on people with disabilities not being able to access public transport is immense, there are a lot of simple things we can do. Parking on a footpath is a no no, we should be adopting a zero tolerance strategy on that".