HENRY'S Bistro and Wine Bar opened its doors on Market Street this week with popular businessman Dermot Fetton at the helm.
Dermot – well-known for running The Cloister restaurant on Abbey Street for the last six years with wife Noreen – says their new establishment will have a lovely casual bistro feel with a very professional delivery.
"There's something for everyone. You look at places around the world – and I went to a few places to get some headers – and there's no reason Ennis can't have a place like The Wolseley in London or the Garden Rooms in the Merrion where someone comes in and sits in one corner and wants to order Dover sole or fillet steak and someone else wants to have really good fish and chips or a dexter cheese burger. There's no reason why that can't happen in Ennis," explained Dermot.
Dermot, a Waterford native who worked at Dromoland for 22 years, says Henry's Bistro will look to attract the casual diner. The price point certainly is attractive, with a two-course option from the a la carte menu at €21.50 or three courses at €25. The lunch menu includes the likes of tagiatelle carbonara at €10.50, a cheese and bacon burger at €12.50 along with staples such as soup of the day for €5. Dermot teases that there will also be a pork belly or roast beef sandwich on ciabatta bread with a cup of soup or fries for just €7.50.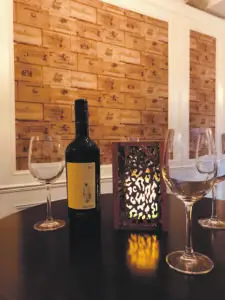 "We're going to have a lot of the same dishes [as from The Cloister] but we don't want to be pigeon-holed as somewhere you go for a two-hour dinner," says Dermot. "We want to be in the mix with anybody who wants to go in before the cinema, have a main course and glass of wine either in the bistro or wine bar and move on again. It's confident, it's casual, it's current."
Dermot added that his loyal staff-base following him to Henry's Bistro from The Cloister including head chef Terry Connor has made the transfer a smooth one.
"Everybody's come on board – all my chefs, all my front of house staff as well so everyone's very excited about doing something new, something different and we're working hard to nail down a concept here and once we bed in we'll have something pretty good.
"I've been very lucky over the last six years with everybody I've worked with and in fairness they're trusting me as well to come up with something that's new and a little bit more competitive for want of a better word.
"I think the timing is right for this sort of restaurant in Ennis."
Henry's Bistro is open Wednesday to Sundays for lunch and dinner. For enquiries, call (065) 689 9393.