*Clare Hehir. Photograph: John Mangan
Belying her mere 22 years, Inagh-Kilnamona captain Clare Hehir speaks and plays with a maturity befitting her vast club, third level and inter-county experience.
And with this being her side's fifth county final in the last six years, utilising that sizeable bank of experience is crucial to plotting another triumph, the 2018 winning captain told The Clare Echo.
It should have been obvious but it wasn't until she actually said it at the pre-final media event that it hit home. For Clare Hehir and indeed the large bulk of her Inagh-Kilnamona team-mates, every county senior final they've played in has been against Newmarket-on-Fergus.
That's not something that the Blues can also identify with though as being their tenth final appearance in 11 years, they've had to contend with Kilmaley, Clooney-Quin, Inagh-Kilnamona and most recently Scariff-Ogonnelloe.
But while Inagh-Kilnamona have come out on top in the last three duels with their chief rivals from 2016-18, Hehir and Co. are acutely aware of a determined backlash on Saturday.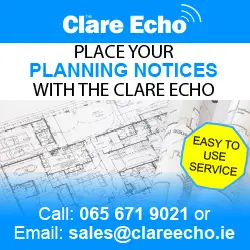 "Any county final I've been in, I've played against Newmarket so there are going to be no strangers on that pitch and you know exactly the size of the task ahead of you. So it's going to be a 15-on-15 battle and I suppose whoever plays best on the day is going to win it, it's as simple as that.
"Any team that has that amount of drive and motivation to keep coming back and contest final after final has to be respected. It's a brilliant attribute to have in your team, that never-say-die attitude but all we can do is prepare ourselves for that challenge and hopefully bring our best performance to them on Saturday."
Inagh-Kilnamona are not short of motivational tools either though after seeing their three-in-a-row dominance dethroned at the semi-final stage last year to a Scariff-Ogonnelloe side that would go on to claim county and historic Munster honours. "It was our own fault, we probably weren't prepared and focused enough whereas Scariff-Ogonnelloe were well up for that game and they showed that in what was a difficult evening weatherwise. We certainly didn't go out to lose that match but the hunger is definitely back now anyway. I don't know where it went last year for a brief period but it's great to have it back.
"It just goes to show that county finals don't come around every year and that you can't take these things for granted. I suppose it was a big shock to us last year but just to be able to knuckle down again and come back fighting this year again is great. And the girls are delighted to be back, everyone's fighting for their positions, the intensity has been upped and the numbers at training have been great. And maybe some of that is down to these unprecedented times but it's a huge positive going into a final nonetheless."
Another significant plus is their vast big game experience as this is Inagh-Kilnamona's 12th senior decider since 2015 in league, championship and provincial fare, not to mention Under 21 and Minor.
"I'm 22 now and I've been involved in all the last six years and by building up experience, you do learn every day you go out and can use that experience in different match situations. Things aren't always going to go right for you in a game so it's about keeping a calm head and just trusting the girls beside you I think is the main thing. We've encountered some very tough games in the last few years so it's about bring that experience forward and hopefully that can stand to us this weekend".