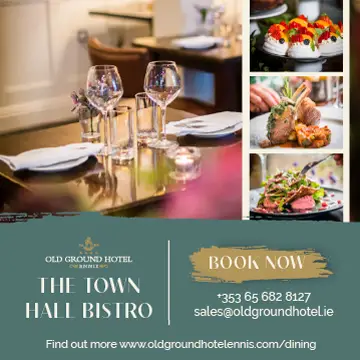 Inagh-Kilnamona did finally justify their favourite's tag to tee up a fifth senior camogie final meeting with Newmarket-on-Fergus in six years but only after a mammoth 80 minute battle with neighbours Kilmaley in Fr. McNamara Park on Saturday evening.
Inagh/Kilnamona 0-16
Kilmaley 2-08
AET
Venue: Fr McNamara Park, Ennis
Reputations were disregarded by a plucky Kilmaley side that got the perfect validation of their progress to a first semi-final in five years when Chloe Neylon found the net in the opening 30 seconds. And from there until the end of the opening hour, a youthful Kilmaley predominantly led the way backed by Eilis Cahill's timely second goal early on the restart.
Inagh-Kilnamona's vast experience, while slow to come to the surface, did turn the tide for the second half of the 80 minute derby duel though as they would outscore Kilmaley by 0-10 to 0-03, five of which came in the final quarter merely to force extra-time.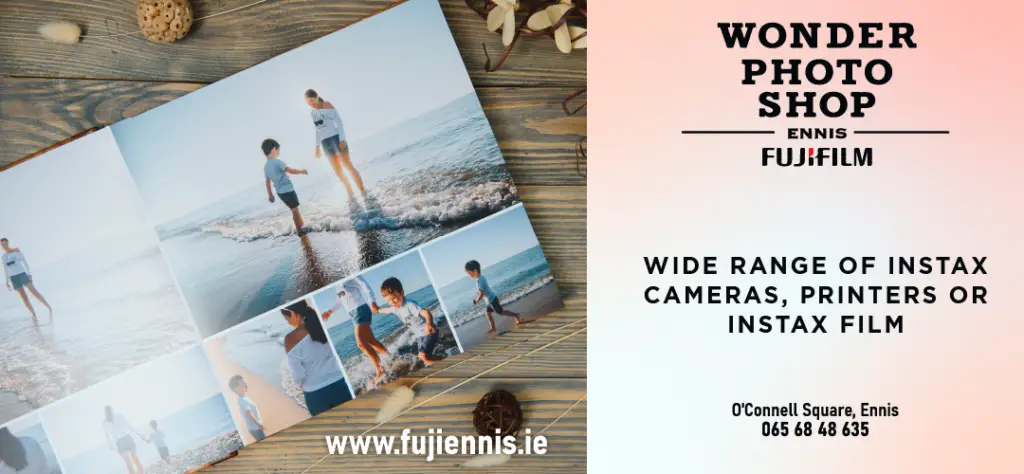 It was still deadlocked entering the second period of extra-time but crucially Inagh-Kilnamona never reached for the panic button at any stage and they did eventually snatch the whip hand for the first time with three unanswered points to relievedly prevail.
Not for the first time, central to Inagh-Kilnamona's comeback charge was captain Clare Hehir who was prominent in both defence and attack. Along with hardworking displays from Fiona Lafferty, Andrea O'Keeffe, Sinead Quinn, Tierna Hegarty and Aoife Keane, Aoibhin Ryan's introduction at the two-thirds mark was also inspirational as she assumed the freetaking duties to grab four points in their scramble to reel in a five point deficit in the nick of time.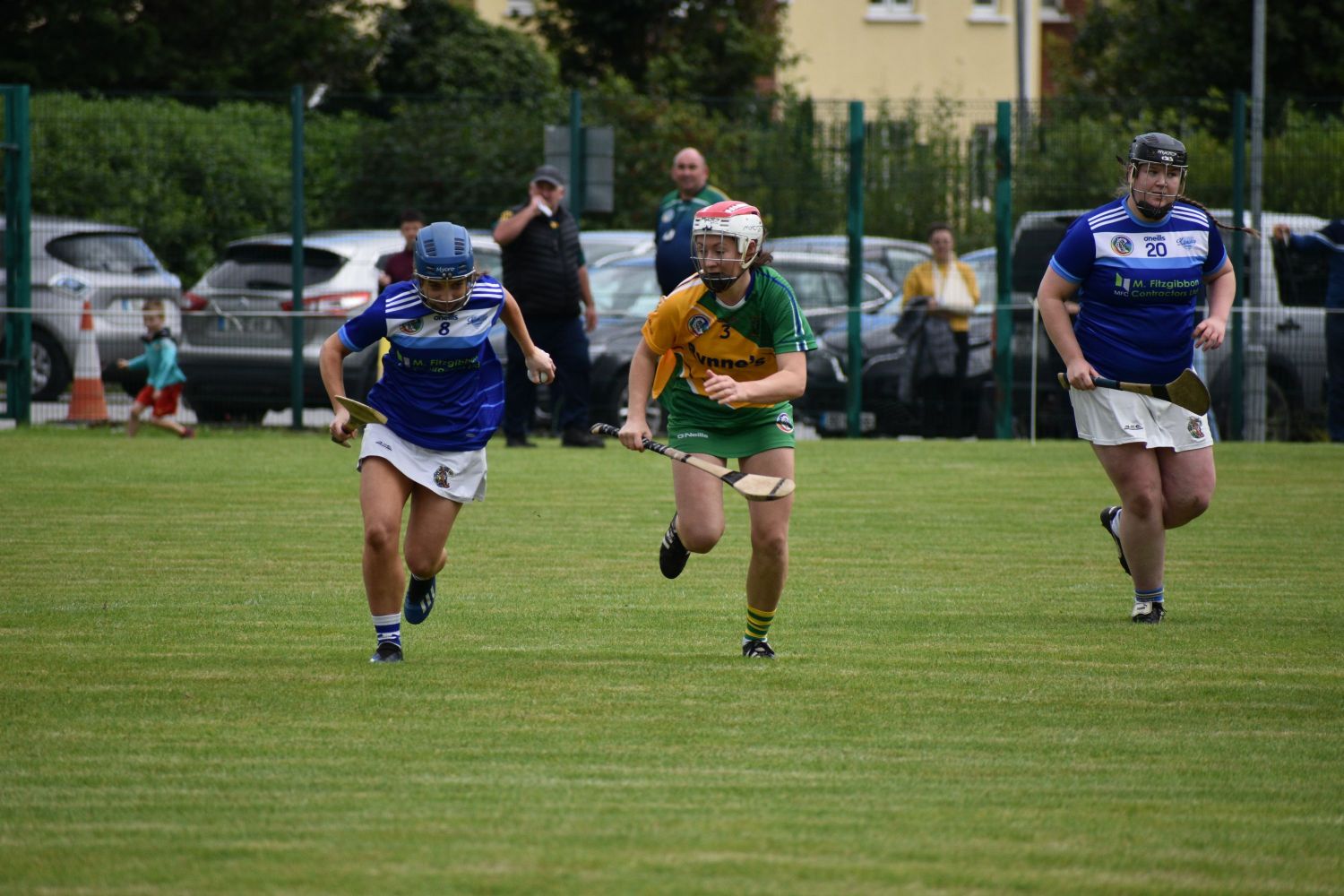 For Kimaley, the experience of Claire McMahon, Sarah Reidy, Sinead O'Keeffe and Niamh O'Dea were essential guiding lights throughout and overall, Danny Cabey's side can be extremely proud of their relentless display that almost pulled off what would have been the shock of the championship.
After all, having contested two anxious relegation play-offs in 2017 and '18, Kilmaley's meteoric rise from last year's Senior B decider to the precipice of an A equivalent is nothing short of remarkable by any yardstick.
That no fear approach certainly served the underdogs perfectly in a stirring opening half as in only their first attack, Kilmaley grabbed a goal through Neylon after good work from Eilis Cahill. Claire McMahon and Amy Keating would twice trade frees but it soon became clear that it would be a frustrating evening for the 2016-18 champions as along with eight first half wides, they also passed up two glorious goal opportunities in as many minutes.
Only six minutes had elapsed when Aoife Keane caught a Tierna Hegarty delivery before flashing a powerful effort across the face of goal and wide while in the next passage of play, Andrea O'Keeffe and Keane would both be denied by goalkeeper Chloe McAleer and Sarah Reidy respectively.
Inagh-Kilnamona did hone their radar sufficiently to pull level by the 17th minute thanks in the main to a brace of Danielle Griffin points at 0-5 to 1-2.
Crucially however, Kilmaley never let their neighbours inch ahead as Claire McMahon (2) and Caoimhe Carmody kept the scoreboard ticking over to ensure a 1-5 to 0-6 half-time advantage.
Indeed, Kilmaley's challenge was lifted to even loftier heights when a Claire McMahon free from distance was expertly flicked on by Eilis Cahill to just cross the line despite the best efforts of Sinead Quinn in the 37th minute.
Now five clear, Kilmaley could smell an upset but were unable to capitalise upon their cushion as Inagh-Kilnamona moved through the gears for the remainder. A three point burst from Aoibhin Ryan lessened the damage to just two entering the final ten minutes before Aoife Keane scored one and subsequently earned a free for Ryan to finally pull level by the 55th minute at 2-05 to 0-11.
Despite a nervy final eight minutes, neither side could break the deadline and therefore extra-time was required to finally separate the sides.
Kilmaley did find the net for a third time three minutes into the additional periods but substitute Jodie Cahill was adjudged to have thrown the ball past oncoming goalkeeper Rebecca Keating. Still, Kilmaley maintained their stubborn resistence as Sinead O'Keeffe and Caoimhe Carmody matched scores from Andrea O'Keeffe and Clare Hehir to keep the match firmly in the balance by the break at 2-07 to 0-13.
Three unanswered points on the restart through Sinead Power, Andrea O'Keeffe and substitute Aoibhin Ryan did ultimately give Inagh-Kilnamona a chink of daylight for the first time. And from that position, there would only be one outcome as Inagh-Kilnamona closed out the contest to set up a familiar final pairing with the Blues back in Fr. McNamara Park in a fortnight's time.
Scorers for Inagh-Kilnamona: Aoibhin Ryan (0-5, 3f, 1'45); Amy Keating (0-4f); Danielle Griffin, Andrea O'Keeffe (0-2 each); Aoife Keane, Clare Hehir (f), Sinead Power (0-1 each)
Scorers for Kilmaley: Claire McMahon (0-4f); Caoimhe Carmody (0-3); Chloe Neylon, Eilis Cahill (1-0 each); Sinead O'Keeffe (0-1)
Inagh-Kilnamona:
1: Rebecca Keating
5: Michelle Mescall
3: Sinead Quinn
4: Laoise Ryan
7: Cathy Cullinan
6: Clare Hehir
19: Tierna Hegarty
10: Fiona Lafferty
11: Sinead Power
14: Amy Keating
13: Claire Commane
2: Jane Fitzgerald
8: Andrea O'Keeffe
24: Aoife Keane
18: Danielle Griffin
Subs:
9: Teresa O'Keeffe for A. Keating (28-30, Blood Sub)
9: Teresa O'Keeffe for Cullinan (HT)
15: Aoibhin Ryan for Fitzgerald (40)
23: Sinead O'Loughlin for Commane (41)
Kilmaley:
1: Chloe McAleer
22: Emma Pyne
3: Sarah Reidy
7: Leona Grace
11: Sinead O'Keeffe
5: Sarah Ní Cheallaigh
4: Molly Casey
8: Megan White
9: Emily Cahill
12: Caoimhe Carmody
6: Niamh O'Dea
10: Aisling Cahill
14: Claire McMahon
20: Eilis Cahill
15: Chloe Neylon
Subs:
2: Alisha Pyne for Reidy (14-16, Blood Sub)
13: Jodie Cahill for A. Cahill (36)
25: Grace Carmody for C. Carmody (42, inj)
10: Aisling Cahill for Eilis Cahill (For Extra-Time)
12: Caoimhe Carmody for Emily Cahill (65, inj)
20: Alisha Pyne for E. Pyne (69, inj)
Eilis Cahill for Neylon (75)
Referee: Kevin Walsh (Wolfe Tones)