*Pat Hayes. Photograph: Martin Connolly
Elections bring out a mix of emotions and that was certainly the case for Pat Hayes who was delighted first and foremost to be the second candidate elected in the Killaloe Municipal District but disgusted with the ongoing treatment of East Clare especially regarding Clare Bus.
On Saturday morning, Hayes admitted "Earlier on in the day I was a bit nervous when the boxes were opened in different areas but what was great was the spread of votes right across East Clare and getting them in places like Sixmilebridge and Clooney that I might not have normally got them and was really important to me having had to fight to regain the 280 votes I had lost in North Clare. I've a great team of committed people, not a huge big team, I physically did a lot of work myself, I made the effort to sit and talk to the people and now we have to deliver for those people".
He may have been nervous but Pat was always confident Fianna Fáil would regain their three seats in the Killaloe MD. "It's been good vote management on our behalf and I said that the last time as a senior Fianna Fáil person in East Clare, I'm really proud of our role in managing that and getting it over the line".
This Fianna Fáil continuity in East Clare is positive he maintained but felt change in other parts of the county for the party would be welcome. "We have a lot of new blood and it's good to see that, we need to get more new people and maybe encourage others to retire, I'm going into what is twenty years as a councillor and I still consider myself young, maybe I'm young at heart now but at 56 years of age I still feel I can contribute a lot to the county and I hope to do that going forward".
Maghera's Hayes has been in election mode for the past few months but declared at the count centre that the time has come for Micheál Martin to end the confidence and supply agreement with Fine Gael and call a General Election.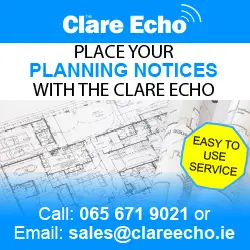 "There is no doubt the west of Ireland, rural Clare and Shannon Airport are left in a total disgrace, Minister Shane Ross' behaviour has been abysmal to the people in Clare Bus and to Shannon Airport. The sooner we have a General Election and get people like him out of office whoever is put in there can't be any worse than him. This whole Dublin centralised policy where you have the Taoiseach, the Minister for Health, the Minister for Housing and Shane Ross all in the one bank not representing the people that I represent definitely and the feedback I'm getting on the ground is to pull the plug and get out of there and have a General Election".