Clarity is needed on the future of Moneypoint according to Independent TD, Dr. Michael Harty.
Harty has called on the Minister for Climate Action and the Environment, Richard Bruton to clarify what is planned for Moneypoint when it comes to the end of its operating life in 2025 as a coal burning power station. He has written to the Bruton to express his concerns. In November, elected members of Clare County Council sought a representative from ESB to brief them on their future plans for the facility which employs 194 people.
According to Harty, "there is a lack of any hard information in the Department's 2018 Annual Transition Statement other than it is Government policy that coal-fired electricity generation should cease at Moneypoint by 2025 and that any final decision to replace coalfired electricity generation must be consistent with stated Government energy and climate policy".
"If the Minister doesn't know what the plan is (assuming there is one), can he please engage with ESB Power Generation and inform the public of the company's future intentions," outlined in a statement to The Clare Echo.
"As the clock ticks, there is an air of uncertainty in Clare following the announcement by Bord Na Mona to move away from peat harvesting in the Midlands by 2025. Whilst this change will involve significant job losses on the bogs, Bord na Mona published a plan to accelerate diversification into alternative energy production which, in part at least, will compensate for the economic and social consequences of ending turf harvesting. No such clarity is available where Moneypoint is concerned. What is to replace coal after 2025? There has been much debate about replacing coal with biomass or gas or various combinations but there seems to be negatives as well as positives in relation to available alternatives. We need an urgent response on this," Harty added.
"Moneypoint power station is very important part of the electricity generating infrastructure in Ireland. It also sustains 400 jobs, both directly and indirectly, in the West Clare area. Thus, it is important that Moneypoint continues to be an integral part of electricity provision nationally and continues to sustain employment in Clare, while adapting to a low carbon energy provision. The main problem is there is no information. The Minister must ensure that the commitment in the programme for Government is delivered on and that the ESB publishes a plan for the future of the station which will guarantee the future of Moneypoint as a major employer and supplier of the nation's electricity. We are only a few short years away from 2025 and I believe it is well past time for government to let the people know what is happening," he concluded.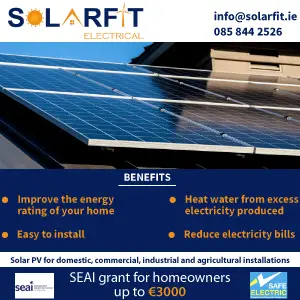 In a report in The Clare Echo last week, a spokesperson for ESB stated, "ESB will continue to explore the various options for the future of Moneypoint, noting that large-scale generation projects take years to develop, consent and realise. Lower-carbon options for Moneypoint include generating electricity using biomass as the fuel source, fitting carbon capture technology to remove the carbon dioxide from its exhaust, or replacing the power station with a new gas-fired station".