Author and medical doctor, Dr. Harry Barry will deliver an evening seminar on the topic of health and wellbeing in the workplace this Thursday in Shannon.
Hosted by Shannon Chamber in conjunction with Employability Clare will host the evening seminar at EI Electronics' Centre of Excellence from 6pm to 8pm with Dr. Harry Barry delivering the keynote address.
Employers and employees have been encouraged to attend and subsequently put health and wellbeing centre stage when implementing corporate policies and procedures.
"In the fast-paced environment of work today, technology is making us all ever-available for work. As we live with this constant pressure to be always switched-on to work, quality time out is becoming more a luxury rather than a necessity. When you add in the everyday stressors of work, such as over-demanding work schedules, lack of on-the-job support, blurred roles and responsibilities and aversion to or inability to handling change, the result can often be an inordinate build up of anxiety and stress. An event of this nature will help to bring us all back to basics and assess how each of us can work to reduce the stress levels in our lives," Shannon Chamber CEO Helen Downes said in explaining the rationale for the event.
"Our keynote speaker, author and medical doctor, Dr Harry Barry, has authored 8 books about mental health. His last 2 books, Anxiety and Panic and Emotional Resilience reached number one on the notification best-seller list. His latest book, Self-Acceptance, was launched in May 2019 in Dublin and London and went straight to number one in the same list. Dr Barry has a long-standing interest in mental health especially the management of anxiety, depression, toxic stress and prevention of suicide and is much sought after for his expertise and advice on the subject," she added.
Also speaking at the event are: Dr Deirdre Smithwick, consultant psychiatrist and director of Mental Health Services, HSE Clare, Limerick and Tipperary and chairperson of the Mid-West Mental Health service improvement programme; Helen McQuillan, team leader, Employability Clare and; Mike O'Riordan, IT & Supply Chain director, Reagecon Diagnostics, who will outline the company's approach to health and wellbeing in the workplace.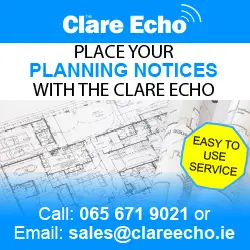 "This is a very important topic and one which we, as a Chamber, want to keep to the fore. Attendance is free of charge and the event is open to anyone to attend, whether they are a member of Shannon Chamber or not," Downes concluded.