An Ennis group is among one of only four in the country to tackle gum litter recycling.
Ennis Tidy Towns are the only Tidy Towns group to put a focus on recycling gum litter. Initially funded by Cllr Mary Howard (FG), Chairman Cormac McCarthy talks of the potential of the project to change mindsets and the deep communal ties necessary within the school system that is key to the projects ongoing success.
Gum litter is an ongoing issue, second only to the multiplicity of discarded cigarette butts, tells Mr. McCarthy. Improvements have been made in recent years, with ninety-two per cent of people now recognising gum as litter, accounting for ten per cent of the total litter that is found.
"From an environmental point of view, gum litter is very bad. Ultimately it sticks to the ground, which is then quite costly to remove. It can get into drains and then into water systems and out to sea. There has been evidence to support that it gets consumed by fish. It's one of these things that gets back into the food chain as well. A study released after the 2012 London Olympics showed that after the event, they spent three months steam-cleaning thousands of pieces of gum litter, and that was only in less than two miles of street. London may be much bigger, but this does allow for gum litter to be put into context, if you go looking for it, you won't find any section of street around Ennis without it."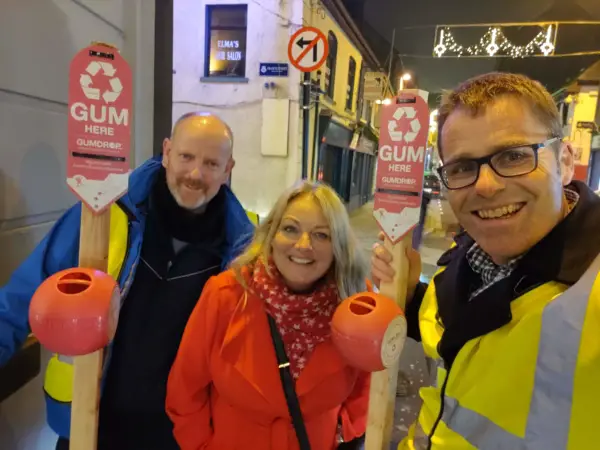 The genesis of the project invited a great deal of specialised research into the logistics of gum litter recycling. This research led to the discovery of Gum Drop, a UK based company that have developed a means of recycling gum litter, through the use of depository receptacles that can be placed at strategic locations where people can dispose of their gum correctly. Once the receptacles are full, they are sent back to the company who then recycle and repurpose the gum waste. Some examples of repurposed materials are pencils, flip-flops, guitar plectrums and lunch boxes.
Piloting the programme meant that a limited number of receptacles would have to be experimentally placed within the town. Mr McCarthy opted for these bright pink bins to be placed at St. Flannan's College due to its population mirroring that of a small town and the compliance shown by the school in recognising gum litter pollution as a major issue within the grounds.

Working with Anne Marie McGann in St. Flannan's has proved majorly successful. A total of six bins have been placed on the grounds at highly concentrated areas, mainly beside busy lockers and at the sports hall. This has led to increased awareness amongst students, who are co-operating with the correct means of disposal.
The second phase in the project was initiated when the receptacles were temporarily placed outside the Queens Nightclub Ennis for a teenage disco. Cormac notes that this temporary measure was an instant success but concedes that a lack of funding has meant that a more extensive roll out of more receptacles is likely to plateau the project. In spite of this, Mr. McCarthy is remaining optimistic that the project will pick back up financially due its progressive nature.
"What we would hope to see going forward is that we have involved the student population very heavily. The key thing is not just having bins there for people to use, it's also about changing mindsets and increasing awareness. Working with the youth is a great way of promoting this. If there was the funding to support the subscription to Gum Drop and the possibility of rolling this project out, we would certainly love to do it."