Chef Patrick McGannon and his partner Michael Henry are helping fuse healthy habits with sustainability in Clare through the establishment of Celtic Kombucha, based in Quilty.
This new company incorporates Patrick's three favourite B's: the Burren, the Bay and the Bog. These locally sourced sustainable products included in an organic, artisan brand Kombucha drink are carrageen from the Bay, honey from the Burren and carrots from the Bog.
Hailing from a dairy farm in Quilty, Patrick studied Culinary Arts in GMIT, which subsequently opened up opportunities to work in catering companies in New York City, Florida and Italy, where he describes their love of food as "phenomenal." When travelling to Taiwan, Patrick encountered stomach problems, which led him to his first Kombucha, allowing his stomach to level off whilst also helping to boost his immune system.
"I found it was good for my stomach and made it more palatable for foods. It brings bacteria into the stomach that should be there. The problem with our diet here in Ireland now, is that we eat so much processed food. It's not good for us. Kombucha has a similar effect as probiotic range yogurts have. It's putting back in the bacteria that should be there to begin with," he stated.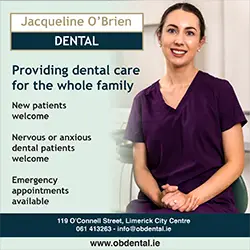 Returning to Quilty as part of their life plans in 2019, Patrick began producing Kombucha for family and friends to try out. When COVID-19 caused the closure of a reputable restaurant in Lahinch where he had started working, Patrick decided to bring his dream to life and introduce the Clare community to the benefits of Kombucha.
"When I was young, my grandfather used to make a tonic. It was literally a seaweed syrup. If anyone had a cold, we would be given this with a little honey and sugar for flavour. That's where the seaweed came into the products here at Celtic Kombucha. My source for the seaweed is a local guy (Evan Talty) who operates Wild Irish Seaweed. I use their product to keep it local," he stated.
Patrick is of the view that the incorporation of even one Kombucha into your diet per week will make all the difference health wise, both mentally and physically. All balance in the body is linked back to mental health, he affirms. The two biggest grey areas which he recognised before setting up the business, was awareness and availability of the drink.
Sustainability is another key element in Patrick's life and business model. Growing up on the farm, he learned to appreciate and take care of what he had (the land and the animals) and not to waste anything. Everything was recycled as almost everything was used. Celtic Kombucha has decided to go fully sustainable through the use of glass amber bottles as opposed to plastic, which are fully recyclable. "We wanted to be sustainable as possible," he added.
Celtic Kombucha offers four flavours: Apple Pie and Burren Honey, Orange Berry and Burren Honey, Lemon-Lime and Wild Atlantic Carrageen inspired by his grandfather's seaweed syrup as well as Bog Carrots and Ginger. Patrick alluded to the beauty of Bog Carrots and the difference in taste, heightened by our shared heritage associated with the bog and its sustenance in providing vegetables to the Irish people throughout history.
Celtic Kombucha are not selling directly to the consumer at the moment and instead are operating locally through local stores, health shops, farmers markets and neighbourfoods.com local markets, with click and collect available in Ennis, Ennistymon and Limerick.
Products are now available at Market House, XL Ennistymon, O' Dwyers XL, Quilty and Market House, Quilty (available starting March 3rd).
"I really want to bring awareness to this product because I truly believe in it. I hadn't experienced it in the West of Ireland before. It's been a year in developing the product, so it's very new. There's a great reaction to it. It's going to be a really tight distribution that we can learn off in the first year," he concluded.