Green Waste can be clearly defined as any compostable organic waste. A by product of garden maintenance, green waste is often mistaken as a biodegradable leftover. Its misappropriation can lead to a number of environmental issues, encouraging other forms of illicit dumping as well as the attraction of vermin in the locality.
Competent composting of Green Waste materials such as grass clippings, leaves and domestic or industrial wastes can lead to a sundry of ecological benefits, with soil health and biofuel leading the charge. Whether touting as a top tier groundsman or simply looking to replenish the exterior of your home, it is imperative that you dispose of your Green Waste correctly.
The environmental benefits of Green Waste are manifold, manifesting themselves in the agricultural and renewable energy industries. The sustainability of industrially manufactured topsoil's and the efficiency of sewage disposal rely on Green Waste. Nutrients for plants can be provided by Green Waste, which also increases the volume of manufactured topsoils. This cyclical process allows the nutrients provided by Green Waste to be repurposed back into the environment. In a similar vein, biogas captured from biodegradable Green Waste can be used as biofuel for biomass. This renewable form of energy eradicates the need for fossil fuels such as oil. By disposing of your Green Waste correctly, you can actively contribute to the war on fossil fuels.
Identifying Green Waste correctly is a common mistake made by many homeowners. Dried leaves, pine straw and hay are not considered forms of Green Waste. These materials are considered 'Browne Wastes', due to their high concentration of carbon. Green Wastes on the other hand, have a high concentration of nitrogen. Green Waste includes grass clippings, hedge cuttings, bushes, leaves and moss, prunings, leaves and flowers as well as other woody materials.
Worldwide communities have recently incorporated Green Waste recycling and collection programmes to educate the public on these differences, ensuring that less food waste is dumped at landfill and that renewable processes like biomass are provided with adequate materials.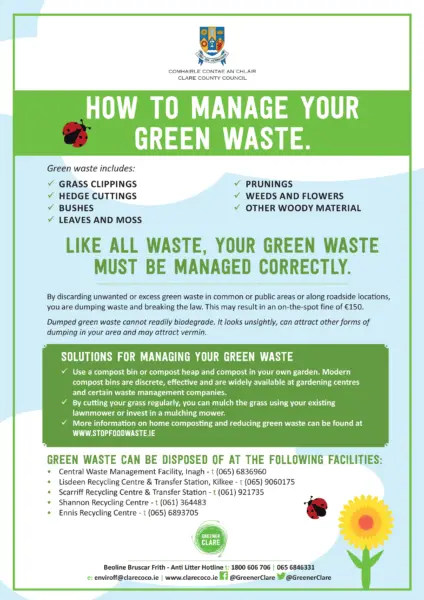 The question begs, where do I dump my Green Waste then? Composting in your own garden through the use of a compost bin or compost heap is the most effective way to manage your Green Waste. Compost bins can be picked up at gardening centres and certain waste management companies. Green Waste in Clare can be disposed of at the following locations:

Central Waste Management Facility, Inagh – t (065) 6836960
Lisdeen Recycling Centre & Transfer Station, Kilkee – t (065) 9060175
Scarriff Recycling Centre & Transfer Station – t (061) 921735
Shannon Recycling Centre – t (061) 364483
Ennis Recycling Centre – t (065) 6893705
For more information of Green Waste management visit: WWW.STOPFOODWASTE.IE