Shannon Town is set to introduce five new pollinator sites as part of a pilot grassland management initiative, in the hope of enhancing bee and insect biodiversity.
The project is led by Clare County Council, Shannon Municipal District in conjunction with elected members from Shannon Town and community groups. Three webinars have been held with groups over the past month in relation to biodiversity and the Shannon pollinator zones.
In 2015 Ireland, North and South, developed a strategy to address pollinator decline and protect pollination services, this is called the All-Ireland Pollinator Plan and it is coordinated by the National Biodiversity Data Centre. 68 governmental and non-governmental organisations agreed a shared Plan that identifies 81 actions to make Ireland pollinator friendly.
Pollinators help to provide a balanced, healthy diet. A total of 100 crops provides 90 per cent of the world's food, of which 71 of these are pollinated by bees. Ireland currently has 99 bee species: 77 solitary bees, 21 bumblebees and one honeybee species. Bee numbers in Ireland have been rapidly declining since the 1980s, with 30 species currently endangered. This endangerment is a direct result of the loss of pollinator sites.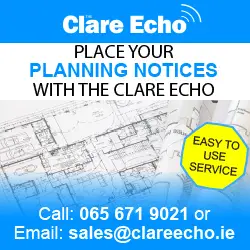 Congella McGuire, Heritage Officer, explained that "this is an exciting pilot project. It is a fantastic collaboration with the local community working with elected members together with cross departmental support from across Clare County Councils service areas. This approach will not only help in the enhancement of our green spaces in Shannon but will also contribute in a positive way to enhancing biodiversity and thus as a community helping reduce the effects of climate change".
Dawn Adams of Shannon Tidy Towns stated: "To humans, a neatly manicured lawn looks tidy, but without being dramatic, to our wildlife it must look a bit like the apocalypse. It would be like us returning to a desolate earth with almost all our food crops wiped out. To change this, we have to move away from what we've become accustomed to and be open to a meadow look here and there".
Renowned ecologist Dr. Frances Giaquinto was the driving force of the initiative, following the delivery of a series of biodiversity seminars for Shannon Town. These were supported through Clare County Council's Heritage programme and involved the Environment Department, Rural and Community Development Department and Shannon Municipal District Office.
Karen Foley, Environmental Awareness Officer, Environment Section explained that "not only will this initiative assist biodiversity enhancement and reduce effects of climate change it will help raise awareness in the wider community in Shannon about the simple changes homeowners can make to prevent and reduce their garden waste, as well as pesticide use".
Delayed cutting at the pollinator sites until after April 15th is recommended by the All-Ireland Pollinator Plan. Timing of cuts is critical to allow wildflowers to emerge and each site will be monitored and surveyed throughout the pilot project to ensure that these timings are suitable for the individual sites. Cllr Gerry Flynn (IND) and Cllr. Donna McGettigan (SF) recently walked the proposed sites with staff from the Shannon MD Office to brief themselves on the project.
Support from Clare County Council's Environment Department was acknowledged, lauding their input into the initiative through the removal of grass cuttings for composting at the Central Waste Management Facility in Inagh. It is a vital part of the process and when the areas are cut, the grass needs to be lifted to reduce soil enrichment and allow the native flowers to bloom.
Dawn celebrated that there will be five sites containing community pollinators introduced in Shannon Town. Signage will be placed at these locations to explain to people that these sites are being managed for biodiversity. The objective is to "provide the community with beautiful wildflowers and provide pollinators with food and rest" and she highlighted that a bee needs rest and food every 30 meters.