Water quality in Clare beaches has been a talking point over recent weeks, Cian O Broin takes a closer look at what is involved in the testing of water quality at our beaches.
Clare County Council is responsible for the water safety and quality at the many beaches and bathing destinations found within the county boundaries. The upkeep and retention of Blue Flag and Green Coast status is testimony to Clare's optimal status as a staycation hotspot this year, there are presently nine blue flag beaches and four green coast status bathing locations in the county.
As Water Safety Officer, Clare McGrath positions her as line manager to fifty-three lifeguards in the summer seasons. Most notably, she is responsible for the upkeep of Blue Flag and Green Coast Awards at beaches and bathing locations around the county, with the blue flag representing an international system of cleanliness, in her opinion.
Blue Flag applications take place in the end of November when An Taisce contact local authorities and set the procedure for renewing or acquiring next summers blue flag. The Council then has to prove that the water quality is excellent over an average of four years. Blue Flag and Green Coast status both consist of excellent water quality, however; blue flag is recognised as having superior access and facilities at bathing locations, whereas green coast is seen as less equipped.
Two essential criteria in maintaining blue flag and green coast status each year are information provision and environmental education. Clare asserts that the Council holds great merit in educating the public on the local environs and a close alignment with the local schools sees hundreds of students thronging to the beach on an educational escapade, each year, "Firstly, we have to provide the environmental layout of these areas through notice boards and if there are any special areas of conservation. Types of wildlife are listed here also on a map. We also have to engage with the local community. Covid has made it different, this year. Every other year, we would have various schools arriving on the beaches, coming on different days, to learn about recycling, the blue flag, environmental education and water safety. We have a very good schools programme. We are also supporting An Taisce's 'Think before you flush' campaign, with posters put up within the various bathrooms at these locations, detailing what you can and cannot flush. Rules and regulations relating to recycling can also be found at our blue flag and green coast locations."
Cathal Brodie is the Executive Scientist at the Clare County Council's laboratory. Holding an honours degree in Environmental Science and a Postgraduate Diploma in Environmental Engineering, Cathal oversees a highly experienced and educated laboratory that is responsible for testing the water samples that arrive in from beaches, rivers, lakes and all other relevant water bodies throughout the county.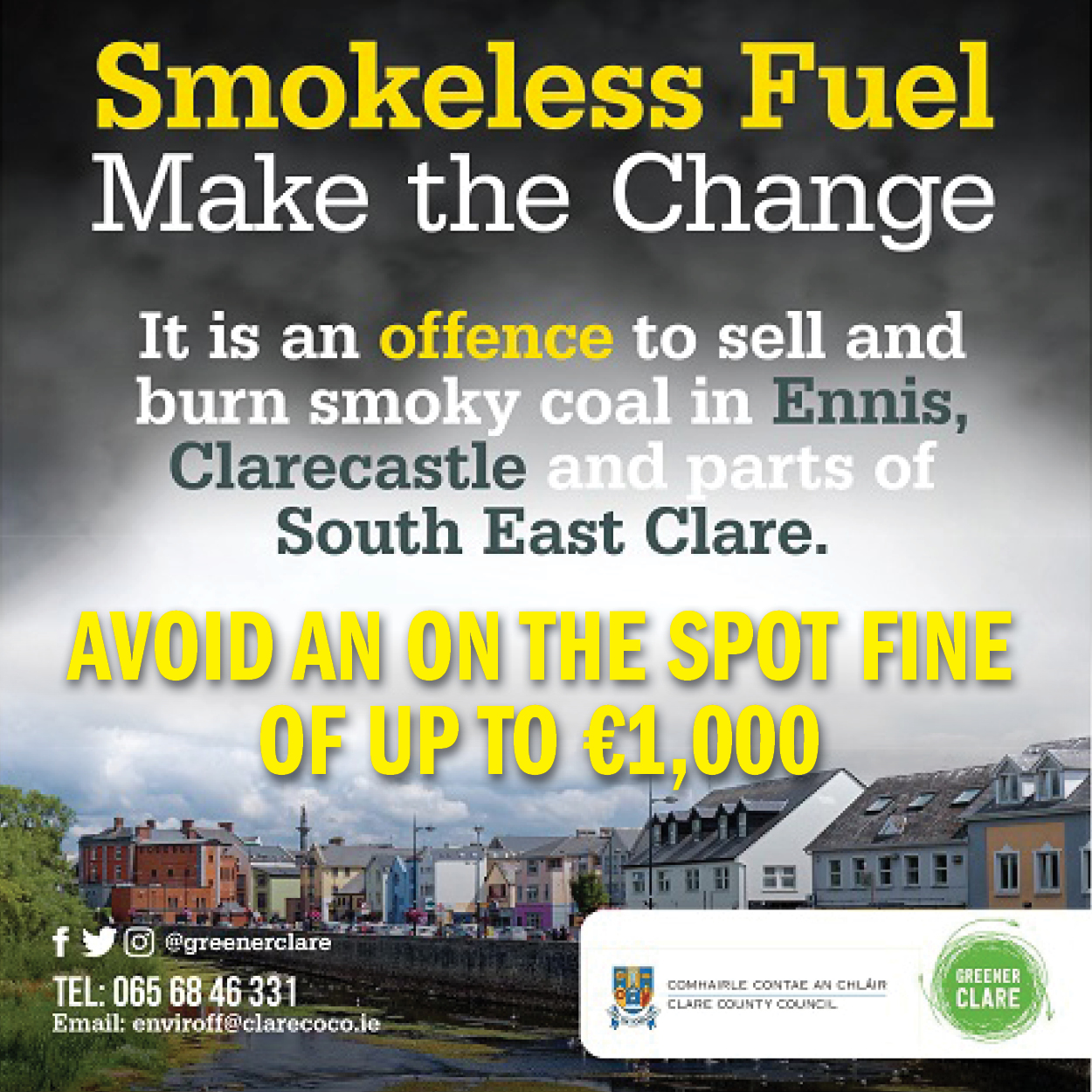 Ranging from Carrigaholt to Bishops Quarter and from Ballyalla to Mountshannon, everyone is catered for, Cathal tells The Clare Echo. With regards to bathing water, Cathal tells of how samples are tested for ecoli and other bacteria under the 2008 Bathing Water Act in Ireland which is an implementation of the EU Bathing Water Directive of 2006. The water is assessed under four levels: excellent, good, sufficient and poor. From a total of fourteen locations, Cathal rejoices in the county's retention of an 'excellent' status at each location over the past number of years.
On the sampling process and one positive to come out of the coronavirus with regards to Ballyala, Cathal tells, "The bathing process runs from the 1st of June to the 15th of September. The monitoring is distributed evenly over that period. We usually start the last week of May. You monitor then at least every two weeks. We do ten sample runs spread out over the bathing season. The results are then posted at the bathing areas and on Beaches.ie. Due to the population distribution in Clare, excellent water quality is able to be maintained. The Atlantic washout helps the beaches and the lakes are also doing great as the farmers are following all the rules here. It's great to see the likes of Ballyala up and running again this year. It's where I learned to swim. It's nice to see a great atmosphere around, with lifeguards there and an excellent water quality for such a large catchment area too."
Both Clare and Cathal admonish that the maintenance and upkeep of blue flag and green coast locations is in the special interest of all the small and large communities within Clare. Cathal points to the East coast of Ireland which has sub-par bathing water facilities and poor water quality, in his opinion, with excellent water quality being in the interest of future generations here in Clare. Water Safety Officer, Clare McGrath also finishes on a similar sentiment, acknowledging the diligent work of local clean coast groups who have assisted the council in passing all unannounced inspections and retained superior blue flag and green coast status which continues to allow tourism and the natural environment to flourish here in Clare.