*Photograph: John Mangan
With schools set to reopen later this month, a Clare TD has cautioned that the timeframe to equip schools to conform to COVID-19 regulations is unrealistic and thus puts the upcoming academic term at risk.
Reopening schools in less than four weeks has "very little chance," Deputy Michael McNamara (IND) remarked at the final sitting of the Dáil prior to its six week hiatus. He highlighted that education providers will have to engage in a tender process for any building work that has to be carried out to enable physical distancing for pupils.
Schools are to receive necessary funding for works by the end of this week, Minister for Education Norma Foley (FF) has confirmed. McNamara questioned the Kerry TD on the potential delays of schools having to invite tenders for construction to facilitate social distancing in classrooms.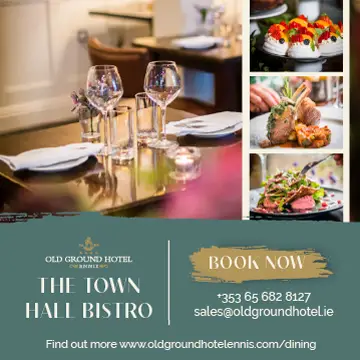 He criticised the leadership shown from the Government, "I'm ashamed to be a member of this Dáil". The Scariff resident continued, "We set an appalling example by decamping from Dáil Éireann down here to this glass palace [the Convention Centre], which is costing thousands every day, but how much could that money do for our schools."
"I appreciate you're not terribly long in the job, Minister Foley, but schools are reopening in less than four weeks' time, so when are these works going to be carried out and will they be carried out on time". On the tender process, Minister Foley detailed "schools will know themselves what's involved".
Deputy McNamara felt that the Government was "washing its hands" of responsibility and putting the burden on schools to ensure works to guarantee their reopening took place.
A spokesperson for the Department of Education has confirmed that schools will be required to obtain three quotes for any minor works needed and they must retain documentary evidence, whether received in writing or over the phone.
Principals have flagged that securing planning permission for prefabs to guarantee social distancing is another obstacle they must overcome. Schools that have applied for planning permission for the construction of prefabs prior to the outbreak of COVID-19 have yet to receive the green light from planning authorities.
Funding to the tune of €375m is to be provided by the Government to allow for schools to reopen. Positions for 1,000 additional secondary school teachers and 120 extra counselling posts have been announced by the Department. Special needs assistant jobs will be automatically replaced by the State in the scenario when an SNA becomes ill.
Physical distancing will not be required in primary schools for pupils below third class. "Each classroom will be seen as a bubble," in primary schools, Minister Foley stated.
At second level, a €75m building works package will be used to alter buildings and classrooms to ensure one-metre physical distancing. Examples of the type of construction covered in this scheme include the reconfiguration of classroom space, the re-purposing of rooms, the purchase of furniture, the altering of desk layouts and the adaptation of toilet areas.
Minister Foley told the Dáil that schools must "exhaust all other options" before resorting to off-campus accommodation, such as parish halls. "They have to be able to show there was a justifiable need for that and that all other options have been exhausted".
A tender process for PPE in schools has been completed by the Department. A number of suppliers are now in place and they will be ranked in order of price and service.