A West Clare councillor has said assistance will be needed from Europe to sort out wastewater infrastructure deficits in Carrigaholt.
Speaking at Monday's meeting of the Economic Development Strategic Policy Committee (SPC), Cllr Gabriel Keating (FG) issued the call to go to Europe to solve deficiencies regarding the provision of wastewater treatment plants in areas such as Carrigaholt.
Members of the SPC were briefed by acting senior planner with the local authority, Helen Quinn on funding opportunities available to the local authority for climate action. The European Investment Bank was referenced as one area that can be availed of for projects to do with community gain that come from philanthropic or corporate funding services.
This piqued the attention of Cllr Keating who asked, "are we making enough use of the European Investment Bank". He referenced previous mention to wastewater earlier in the meeting and the investment of €1.4bn in water services announced in the Department's €3.1bn housing budget. Over €1.3 billion is being provided to Irish Water in 2021.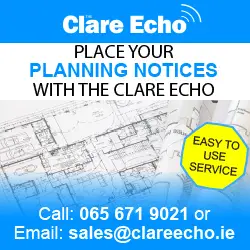 "It mentions depopulation and you know rural Ireland and depopulation, I don't want to be parochial but I did mention before the Carrigaholt Sewerage Scheme, there is opportunities there. I always say, borrow the money, put in the roads and infrastructure. We shouldn't worrying going forward about balancing the books, borrow the money and do what has to be done, it is a great opportunity," Keating who worked in the financial services industry before entering politics stated.
He recalled that as far back as 1952, Carrigaholt was waiting on Clare County Council to provide a wastewater treatment plant with funding allocated in the 2009 Budget. Absence of a public toilet and basic facilities in the area was lamented by Gabriel who noted it was the "gateway to Loop Head".