*Darren O'Neill's half-time introduction was a turning point in the game. Photograph: Gerard O'Neill
GER KEANE played a vital role when Clare's footballers last defeated Cork in the Munster SFC, his quick free teeing up Martin Daly for the match-winning goal, Sunday's win over the Rebels was equally as dramatic and enthralling he writes.
What is seldom is wonderful:
There is an old Irish proverb that goes 'What is seldom is wonderful' and this sums up the Clare footballers win against Cork in the Munster quarter-final last final in Ennis last Sunday. Clare had only beaten Cork three times previously in the Munster championship so this was a historic win for all concerned, I had the good fortune to have been involved in the last championship win in 1997 and this latest victory was equally as dramatic and enthralling as it was back then.
Clare have got the better of Cork in the league previously but to beat them in the championship with the All-Ireland series on the line is a quite a different matter entirely. Clare were brave, bold and full of energy as they got their just rewards for all their hard work and endeavour in a richly deserved victory on an Easter Sunday to remember.
A Tale of Two halves:
Clare's team selection for this match was brave from the start. Cillian Rouine was parachuted into the starting fifteen at corner back for his pace and attacking prowess in place of Ronan Lanigan who has done very little wrong in recent games. Rouine's selection was more than justified and his winning point at the end emphasised the same.
Jamie Malone took up the reins at centre half with Daniel Walsh and Ciaran Russell making up a very strong and attacking half back line. Pearse Lillis was selected at right wing forward but with a specific job to drop back into the pocket to free up Jamie Malone as the plus one with Eoin Cleary and Podge Collins selected on the inside line with both moving out the field more often than not.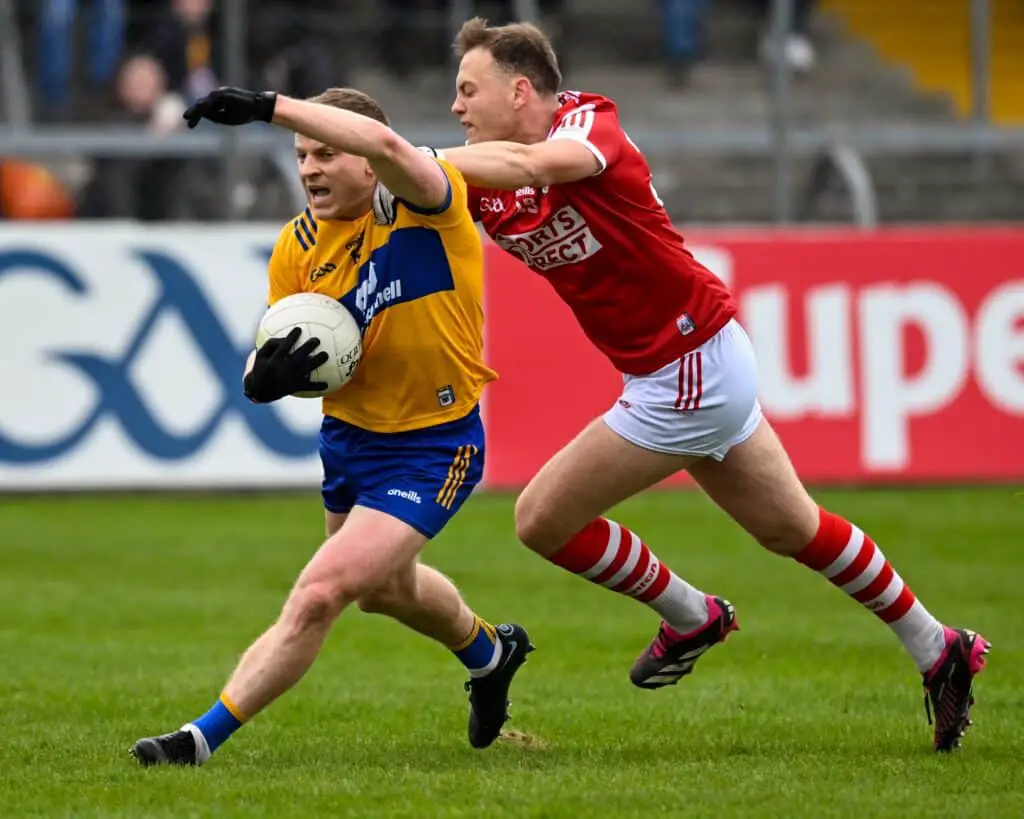 From the off Clare were intent on blocking up the central channel and they were determined not to allow Cork to come down the middle as they had done in the recent league meeting. Clare were more than happy to allow Cork to dominate possession in the first half as they sat back and allowed Cork to gain possession on the wings and outside the 45 but they found it very hard to penetrate the Clare rear guard as the hosts worked extremely hard off the ball to track the Cork runners from the middle third. The opening thirty five minutes was a real case of cat and mouse as both teams mirrored each other and dropped very deep when not in possession.
Clare started the game well with the lively Keelan Sexton firing over two fine points and giving his marker Daniel O Mahony who was recently named as the Sigerson Cup Player of the Year, a torrid time. Clare were mixing up the short and the long ball game very nicely but were not putting away their chances up front. Some sloppy tackling at the other end saw Clare concede a number of easy frees which the accurate Steven Sherlock converted with ease. Clare were still playing quite a conservative game plan but Cork started to really press the Clare kickout and when Stephen Ryan scuffed a short kick out the middle that was intercepted it looked like a green flag but for the intercession of the cross bar and the slightest of touches from Ryan. Cork were just about value for their 0-6 to 0-4 lead at half time but they were finding it difficult to shake off a resilient and determined Clare.
Clare Tagging:
Clare got their tactics right from the outset and got the balance right between tagging a number of Cork players and having a solid defensive and attacking structure in place. Podge Collins was detailed with the job of tagging the raiding Cork wing back Mattie Taylor while also kicking a great point when Clare needed it in the first half and linking the play effectively.
Pearse Lillis dropped deep to pick up Sean Powter allowing Jamie Malone a free role to cover the middle channel but also to attack when the opportunity arose. Clare had used a similar tactic last year against Roscommon as Lillis took up the dangerous Enda Smyth and did an equally successful job this time around. Colm O' Callagahan also got plenty of close attention in midfield and these tactical moves blunted the Cork attacking options.
It must be noted that Cork also clearly missed their talisman and full-forward Brian Hurley who was out with a shoulder injury. His presence allows Cork to play a more direct game and his abrasive style and ball winning abilities were sorely missed as Cork were intent on running the ball through the lines rather than kicking the ball as they had done in previous games which all played into Clare hands.
The midfield battleground:
The introduction of Darren O 'Neill into midfield at half-time was a real game changer. Tactically,Clare had definitely learned some harsh lessons from their previous league meeting with Cork and were determined not to be out muscled around the middle third this time around. Clare also pushed up on Micheal Martin's kickout forcing him to go long and to his left from many of his kickouts. Clare were expecting this overload and had plenty of bodies in place to win either clean possession or breaking ball where they were more than able to hold their own in the air and on the ground.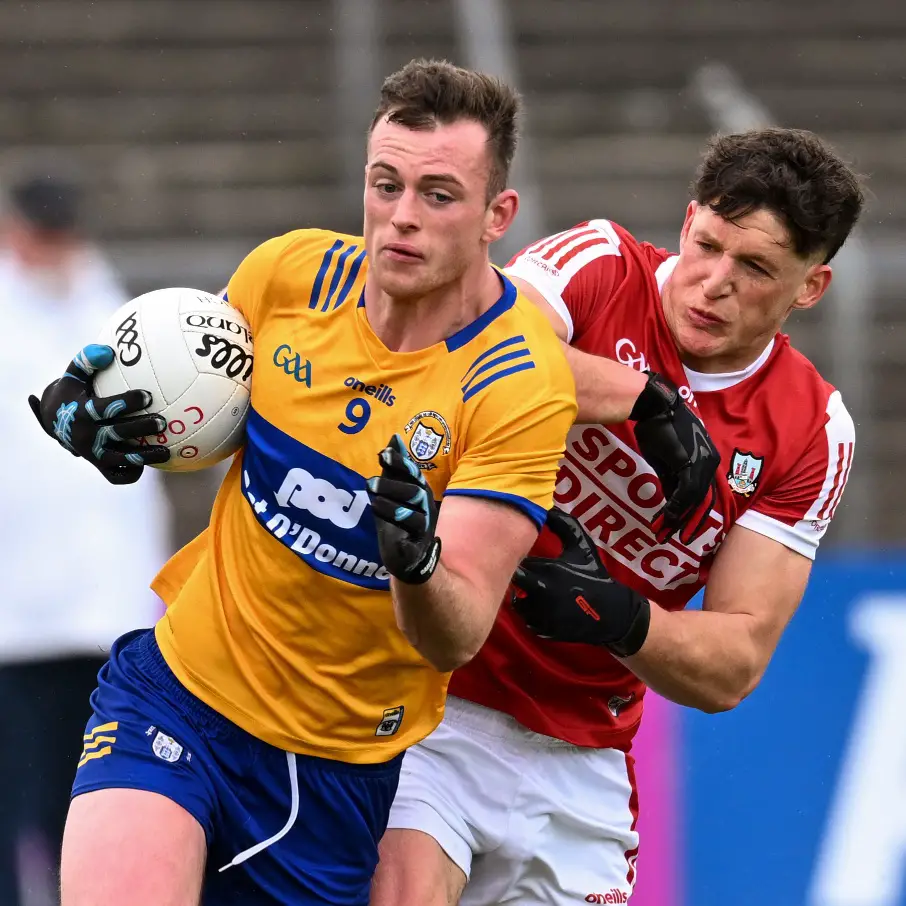 Bohannon and O'Neill in particular were adept at the physical aerial exchanges and Cork didn't appear to have a Plan B as they retained just over 67% of their own kickouts and while Stephen Ryan got closer to 77% retention under extreme heat at times. Quite a few of Clare's scores came directly from their restarts which illustrates the importance of the kickouts in the modern game. In the turnover department Clare won 13 and lost 9 compared to Cork who won just 9 and lost 13.
Leadership Qualities:
Early in the second half Cork continued with their early dominance to go 0-9 to 0-5 in front and it was a game that could have run away from the Banner men. However Clare's leaders really stood up when the need was greatest and showed tremendous character to reel the Rebels in. Points from captain Eoin Cleary, Keelan Sexton, Gavin Cooney and the now rampant Jamie Malone meant that Clare edged in front on 61 minutes for the first time since the opening quarter.
All of these scores were of the highest quality and they were unlucky not to add a goal when a Darragh Bohannon shot was knocked out for a 45. Cork were now on the backfoot and the game was in the melting pot as the momentum swung to either side.I t looked like extra time was on the cards when Kevin O'Donovan hit the equalizer but Stephen Ryan had the wherewithal to get a quick kickout to the rampaging Ciaran Russell who linked brilliantly with Keelan Sexton and Jamie Malone to get the ball into Cillian Rouine who kept his cool to fist the ball over the bar with time almost up to send Clare supporters into seventh heaven.
It was a fitting link to 1997 as Cillian's father, Brendan was a pivotal player with Clare and played a starring role in the previous championship win over Cork. Mark McInerney was also introduced to proceedings and he is the son of former Clare stalwart ,Francis Mcinerney.
Clare had heroes and leaders all over the pitch and the local support really got behind them when the game was in the mix. Clare were value for their victory with 7 scorers in total while Cork had only 4 and Stephen Sherlock accounting for 10 of their 13 points and 8 of those were from frees.
Clare really managed the last 10 minutes from a game management point of view and put the bed the previous fears about not seeing out tight games in some of their recent league matches. When Clare ran at Cork in that second half the visitors had no real answer to the home side's athleticism and ball handling abilities.
The Collins Effect:
After ten years in charge Colm Collins continues to inspire and reinvigorate what is in effect a new team from the one that he inherited when he first took over. Many of the current crop weren't even born when Clare last beat Cork in the championship and this gives great hope to the younger generation of footballers which is a lasting legacy that Collins should be proud of.
It is worth noting that in Enda Coughlan and Joe Hayes he has kept some of his former players on board while the coaching ticket of Mark Doran and Brian Carson has meant the side is evolving and has a freshness to it. Clare were well conditioned and the return of Micheal Cahill from the U.S. has brought expert S&C tuition along with him.
Colm knows the value of tradition and history and his pride in managing this Clare side is reflected in the way that the players play for the jersey and the workrate that they bring with them.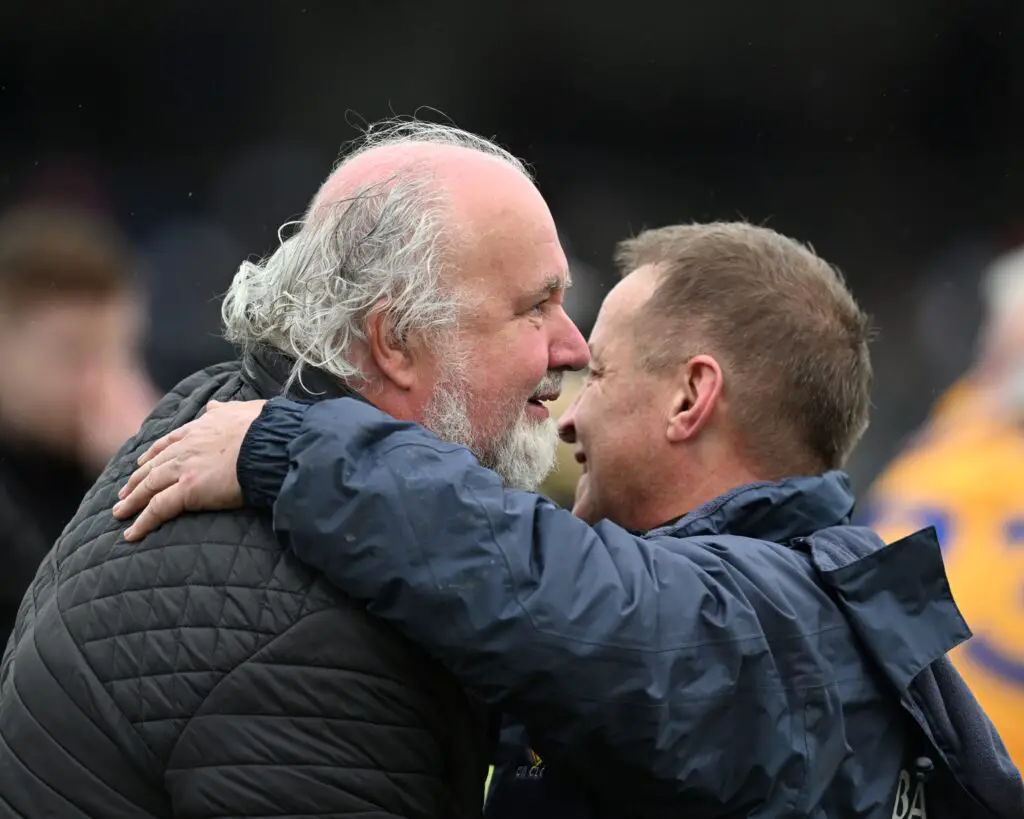 It was a nice touch to see Colm photographed by The Clare Echo's Gerard O'Neill after the game with the great Clareman from Cooraclare, Martin Donnelly. Martin was sponsor of the Clare team in the 1990s and was another link with '97 as was Clare selector Declan Downes whose father Tom Downes was the Clare liaison officer for many years.
Where to next:
Colm and his charges will know that ultimately this historic win will count for very little unless they go on now to beat Limerick in the Munster semi-final in two weeks time. Clare will be very aware that this will be a completely different Limerick side in terms of attitude to the one that they faced in the last round of the league. Limerick will have been waiting in the long grass since then and will be preparing for an ambush at the Gaelic Grounds.
Clare on the other hand will still have painful memories from their last championship encounter against the same opposition where they lost out on a penalty shoot-out. After beating the Rebels, Clare will go into the game as red hot favourites and it will be a different type of pressure that they will have to deal with but one that they are well capable of embracing.
Despite the win Clare certainly have plenty of things they can improve on including their concession of frees inside their own 45 and their shooting from placed balls and open play [14 wides in total] but it a good position to be in going forward. The positive element of this was that Clare got off 24 shots from play as opposed to Corks's 16 shots.
This game has a serious prize at the end of it with the winners gaining 'a golden ticket' into the provincial final as well as automatic qualification into Tier 1 of the All-Ireland football series along with the added bonus of being a number two seed when the draw takes place.
Clare will want to start well against Limerick and play with a high intensity with the benefit of a championship match under their belt. They will use the next two weeks to fine tune their game plan while fringe players will be eager to impress at training.
It was great that the Clare U20s continue to progress on from the victory in the Liam O' Connor Cup under Micheal Neylon which they followed up with a good win against Tipperary in the Munster quarter final with a meeting with Kerry next on the agenda .
Clare players and supporters now have a taste of what victory is like in the Munster championship and beating Cork is a stepping stone to what this group of players will have set out to achieve at the start of the year. If they can keep playing with the same belief and confidence there is no reason why there can't be more heady days like last Sunday as the championship heats up in the coming weeks and months.