*Cllr Roisin Garvey. Photograph: Eamon Ward
A Clare councillor has revealed her experience of fuel poverty whereby lack of funds as a single mother prompted moving the bedroom into the sitting room of her house. 
Such a situation was the motivation for a motion submitted by Cllr Roisin Garvey (GP) at the November meeting of Clare County Council. She proposed that an assessment on all social housing stock be carried out to identify units without attic insulation, "Then insulate all those without, to prevent fuel poverty arising this winter for those on low income".
Director of Service, Anne Haugh in reply noted that the Council "was to the fore" in implementing the DHPLG Energy Efficiency Programme which was established in September 2009. Such funding has enabled the local authority to upgrade social houses "to minimum Building Energy Ratings (BER) of C3 (some properties did not attain a C3 as the works were cost prohibitive)". In the last ten years, all new social housing builds have had attic insulation installed, Haugh said.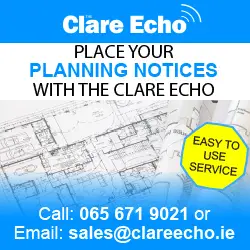 "By the end of this year this Council will have completed phase 2 works to all solid construction estates in our stock. The recent stock condition survey has identified a small number of properties to be addressed in 2020. Suffice as to say the energy performance of the social housing stock in the County is optimised with all properties upgraded over the past 10 years. The stock condition survey undertaken as part of the planned maintenance programme has identified a handful of properties where additional works are required to address energy performance and again these will be addressed during 2020 subject to funding," the Director added.
For private rental properties, Anne highlighted the Council "has no role in the provision of energy efficiency upgrades to properties not in the ownership of this Council". She predicted close to 800 private rented properties will be inspected by the local authority in 2019, "The rented standard legislation does not take into account the energy performance of a property; however since 1st January 2009 BER's are required for all properties offered for sale or rent".
Cllr Garvey then queried how many houses don't have a BER rating of C3 and if a Council tenant could be in a D2 energy rated house for up to ten years. "Specifics like the amount of C3s" were not available, Ms Haugh replied. "We will be the first local authority of Ireland to have completed phase 1 and phase 2 energy efficiency works, we expect it to be early 2020 to have all that done". Of the inspections on attic insulation and cavity walls, the Social Development Director stated, "No other local authority has that level of detail of their stock". She continued, "When it comes to HAP it's a different story, we're not in control of that situation".
"As a single mother, I found myself moving the bedroom to sitting room," Cllr Garvey told the meeting as all she could afford was a bale of briquettes. Fuel poverty is "a huge issue," she stressed, "When I experienced it years back I was actually working. It's far worse for those who have to rely on social welfare". The Inagh woman highlighted the change occurred when she asked her landlord for attic insulation. "Often people on lower income don't have the assertiveness to ask for what they deserve. Some people in social housing are in dire straits, I saw it canvassing. A basic human right is to have a warm house, it affects children at school if they are coming to school from a cold house".
Seconding the motion, Cllr Shane Talty (FF) noted "The idea behind the motion is excellent, they are simple effective moves". Support was also voiced by Cllr Joe Garrihy (FG), "We can expand it beyond Council owned houses by putting in place sustainable energy community groups".
Chair of the Social Development SPC, Cllr Gerry Flynn (IND) acknowledged it was "an area that needs review". "The pass rate when it comes to the Council getting a house to let is up in the 90s for failure. I am hoping to bring it to the SPC shortly, it was brought in as the answer to the housing crisis".
"I have been in a lot of Council houses over the years and have seen a dramatic improvement," Cllr Cathal Crowe (FF) commented. "We need to dispel the myth that these are free houses, Council tenants pay rent, the Council are fair landowners,. Social housing is there for a reason, it provides quality accommodation for people who would not have a house without it," the Cathaoirleach of the County Council concluded.