Marian Rodgers gave birth to her second child in October 2018, twelve months on she was the goal-scorer for Scariff/Ogonnelloe as they claimed the McMahon Cup for the first time.
They were never really in trouble in Saturday's county final against Newmarket-on-Fergus but Marian's goal on the twentieth minute giving them a safety net that would prove valuable when their opponents finally began to put a bit of fight together in the second half.
"To be honest, it's just another score, there was an amount of points got plus the hooks, blocks, chasing to get on breaking ball. We did need the scores to win it but it was the workrate out the field, every girl out there did fantastic, it's not just about who gets the scores. Everyone is working together as a collective," a modest Marian said on her historic green flag.
Winning a senior championship medal brought great pride to the Community Sports Development Officer with Clare Sports Partnership. "I'm absolutely over the moon, this has been a very long time coming and a dream come through. I'm so proud of all the other girls".
No county final is easily won nor is the preparation and work that goes in behind the scenes. For the 2013 All Star nominee, her route to the final included the birth of her second child last October. "I had a little girl last October, there is nothing you'd prefer to do more than go play camogie and get out of the house from the kids. It's all positive and today has topped it off, it's been a super year".
"I've a five year old and a nearly one year old so you can understand why I wanted to escape from the houses every so often. It just shows what you can do. We've great support and team management that are understandable, it's great to have that release and camogie has always been my thing so it's great to still be at it," she told The Clare Echo.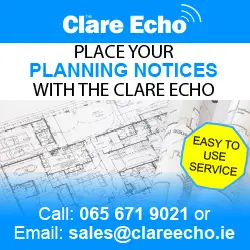 Earlier this year they came up short in the League Final against Inagh/Kilnamona but they were determined to prevail in what was the club's debut in a senior championship final. "We really wanted it, I wouldn't say we focused on it at the start of the year, we wanted to get one step further than last year. We kept our heads up even when things weren't going right, Newmarket-on-Fergus were all over us in the first ten minutes of the second half but it's all about plugging away and keeping going. We've a brilliant young team that don't get rattled by anything, they drove us on".
She believed their success could inspire other clubs in Clare to make the breakthrough. "It's been a very competitive championship. I'd love to see more teams and great to see other teams in the mix. It will only push everyone on more and that will stand to Clare camogie too".