*Edel McMahon. Photograph: Martin Connolly
Imagine taking up a sport and five years later getting to represent your country in the same sport, it's no Hollywood blockbuster but rather part of Edel McMahon's story.
When she began studying at NUIG, her foray into rugby was more by accident than design. As the Kilmihil native made her way to ladies football training she had an interaction that would ultimately turn her priorities upside down. "I bumped into two girls kitted out in rugby gear and I asked 'where are the dressing rooms for football' and I was asking about the rugby and they said 'we have a girl that plays football as well but she comes down to training when she is finished they were like come away if you want, no pressure'. I finished and I bumped into the same girl who was getting her gumshield about to start training so I went and honest to God I did not miss a training session from then on for the rest of the year and I didn't go back to football".
"Everything fell in place. The first year of playing rugby was purely to meet people and do something different. Then I realised I was kind of decent at it and from then on with Connacht that was my pathway into the Irish squad", The Clare Echo's second guest in the 'Can't See Can't Be' series stated.
Winning the Grand Slam in 2013 was a turning point for women's rugby in the country while Ireland getting the host the 2017 was a landmark moment and one McMahon could have been involved in, had it not been for an Achilles injury. "I was just finished college and got called up to the squad so I was training over the summer on the extended programme and leading into the 6 Nations I did it, for me my aim was to try get on the 6 Nations so maybe I could get on the World Cup squad but that was all thrown in the bin".
Thought it was "a big setback", the Galwegians flanker didn't waste any time feeling sorry for herself. "In hindsight missing the 6 Nations and the World Cup was obviously hard but I didn't know if I was good enough at the time to make it, that was a lot easier deal with, it would have been harder if I had been in the squad or had been capped. I hadn't began to scratch the surface so it was easier to deal with whereas now I just focus on what I can control and I got to play with the Barbarians just before it so that was absolutely brilliant".
Getting to represent the first ever female Barbarians side "was surreal" as the first rugby game she attended with her father was in 2010 as Ireland faced off with the Baa-Baas in Thomond Park. "The history and the ethos behind it is legendary so to have been a part of it was something I will always remember". After getting the nod, she phoned her father, he would also be the first number she dialled when an international call-up followed.
Although she had to watch the 2017 World Cup from a distance, Edel could sense all was not well in the camp. "There was a lot of controversy with the coaching and burnout with the players, when you're not involved I was only there to support, I fell away from that, definitely there wasn't something right with the setup and that's what it looked like come gameday, it didn't flow, girls didn't gel well together on the pitch and that's not something hype does to you. It was disappointing for the girls because there are some that have fallen away or have fallen out of love with the game since or are just getting back to where they were before".
She's adamant that the setup under Adam Griggs has "a fresh buzz" which seemed to have been missing in Tom Tierney's final few months as head coach. "The negativity and all the stuff from the World Cup is in the past. We don't care about it anymore, we're looking to build on the future and what we have with our coaching system, we trust in that and it is paying off, I know some of the results aren't what people expect out of us but we have to build from somewhere".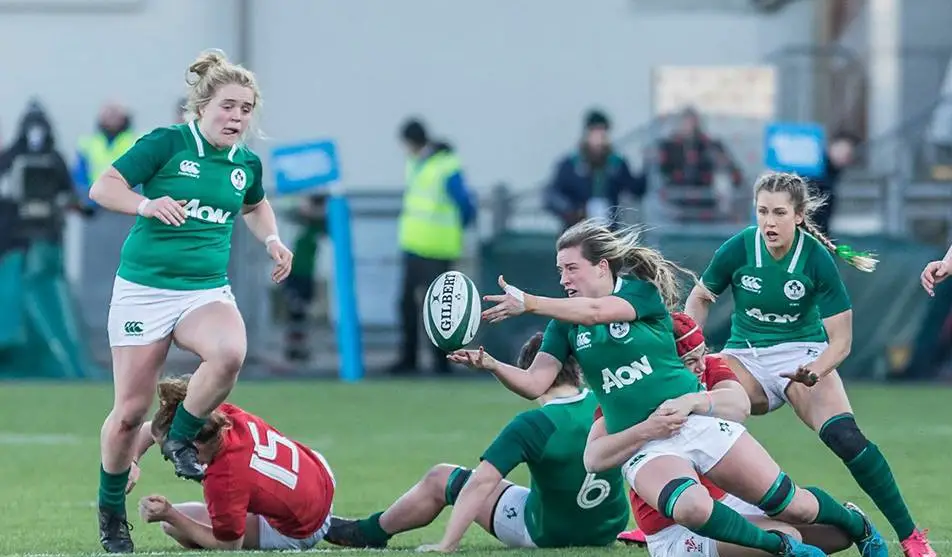 While some of her Irish teammates welcomed a change in coach, Edel had her concerns as it was Tierney that initially brought her into to the national squad. However on the back of her Barbarians outing in November 2017, she was included in the 6 Nations squad in 2018.
A first international cap followed when introduced against Italy and a second appearance against Wales. The November Internationals saw Edel wear a starting jersey for the first time against the USA and then versus England in Twickenham. Injury would get in her once again and is the reason for the ex St Michael's Community College student's absence from the current squad, she is back in action ahead of schedule and lining out with her club in the hope of getting a call for their final game against Wales on St Patrick's Day.
Having lost all three games so far, the question is put to Edel what are Ireland playing for with hopes of a Grand Slam and Triple Crowd dead and buried. "It is the honour of wearing the Irish jersey, it doesn't matter whether you're fighting for last position you still want to go out perform and play in the green no matter what it's for. Because we're not professional that's why we give up all this time to do it. It is tough when you lose your first game but you want to prove to people watching you and your families and friends that you are good enough," comes the reply.
With mention of the p word, she then admits "it is crazy" to see that her male counterparts are getting paid for doing the same thing, though you won't hear Edel moaning about it.
"I don't complain about it because I know what I'm getting into, I know it's not paid so why would I complain that I'm not getting paid, don't do it like.
"Obviously it would be nice to get paid, it would be great to get a sleep in on a Monday after training on Sunday but you have to get up and go to work. I'm lucky that I do love my work so it isn't a problem at the minute but it is trying to organise your life and training around the recovery and then when you see the lads get to have almost normal lives and put in maximum effort so that they can be in peak position for gameday, it is hard. We want young girls looking up to the sport saying this could be my job that it is a possible proper career for a girl to want to do rather than having to give up sport to focus on school".
Now working as a Diagnostic Laboratory Scientist with O'Byrne & Halley Veterinary Clinic in Tipperary, the 24 year old outlined the sacrifice she makes in order to perform at the top level. "At the moment there is only two of us in the labs, we have to work weekends. Before camp last weekend I worked 14 days straight, that's the demands of the job. Work are very good to me to let me off and I'm very lucky that my colleagues we can work something around, I worked the 14 days so I could get off for 2 days, she's working 7 days straight then. There is a lot of sacrifice and depending on the job you're in if they are good enough to let you off and pay you to be off, other players are actually taking unpaid leave, it is a sacrifice. Your social life does take a hit but I don't really mind because I'm surround myself with people who understand and don't give me grief".
Such dedication can discourage girls from staying in sport she conceded. "It's definitely something that happens to the 17-19 age group, heading off to college, you have to have a social life and enjoy college while you're young and find the balance between playing competitively if you want and playing sport in general. My first few years in college I picked it up to meet people and it just happened the competitive side came out in me so I said I'd give it a go, I cut back on the socialising and then was in final year of college so I had to decide what I wanted to do, my friends were very supportive. If you want to do it, you can but it is a sacrifice, you have to decide if you want to cut down your social life or where you want to go into your career, if you're happy enough to go into work and go through the motions because you want to be somewhere else, it's hard to get a balance on them both, you do have to sacrifice something, your career or your social life".
Her job is one she loves and having this as something to cling to if anything was to go wrong on the field is something her male counterparts do not have. "If I couldn't go back playing after my Achilles my career was very important to have in my long term plan because I get nothing from it. The professional players get so much money they can put it away if they are smart enough to save for the long term, their careers get cut short as well so you do need to have something in the back pocket. If rugby was my job, rugby is a really nice thing away from my job, I don't know how my outlook would be on that but then again I wouldn't be under the same pressure, it's hard to know".
RTÉ's coverage of women's rugby "is brilliant" and the Connacht player can see an increase in the amount of supporters coming to games, though there is always room for improvement in this regard. "You can't beat a crowd at a game. When we played England in Twickenham it was straight after the men's so when we came to warm up on the pitch Twickenham was full, it was unbelievable with 80,000 people inside the place, you just fed off the noise level. It is great that people are sitting down and watching it but you have to get out and support, actively be there and see the girls playing".
Last year she received a request from James Murrihy to return to the county ladies footballers, "I really did want to play" comes the confession but constant travelling coupled with maintaining her focus on the 2021 World Cup has seen her put the football aside in favour of the oval ball, after this competition she will reassess and determine where her sporting future lies.
Sporting commitments have put off any travel plans for this summer though the one trip she wants to make is to Wales next weekend, no doubt a phone call to her father would result with further twists and turns in the story of Edel McMahon guaranteed.