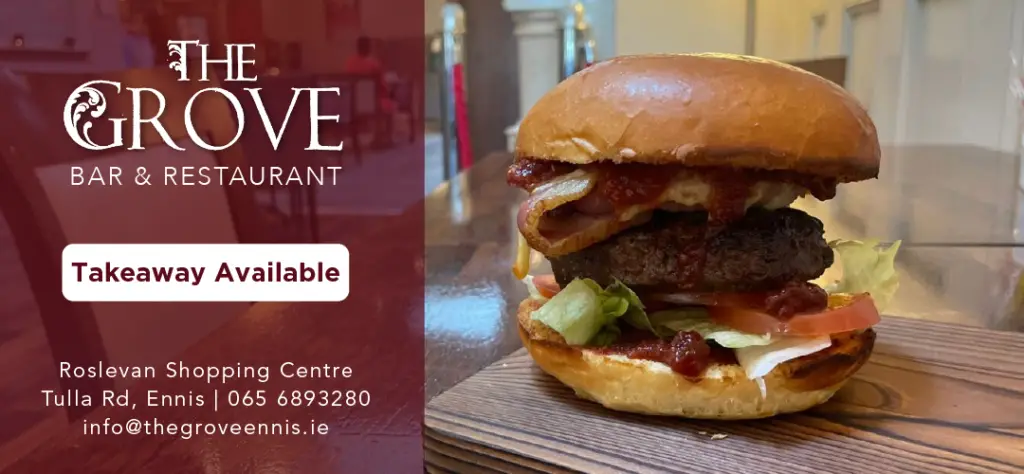 *Barry Morrissey and Rory O'Connell swarm Louis McCormack. Photograph: Gerard O'Neill
FOUR TEAMS are left standing in the race for U21A hurling glory while three of the semi-final spots in the B championship have been filled.
Extra time was required in two of the A quarter finals with Clarecastle and Inagh/Kilnamona eventually getting through by the minimum margin against Clonlara and St. Joseph's Doora/Barefield respectively.
The other two places will be filled by Scariff/Ogonnelloe and Corofin/Ruan who recorded comfortable wins over Clooney-Quin and Sixmilebridge respectively.
In the B championship Broadford and Feakle/Killanena were comfortable winners over Ballyea and Wolfe Tones respectively while Kilmaley accounted for Crusheen with a last minute goal giving them a one point win.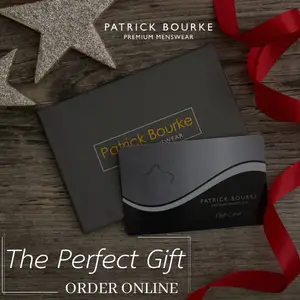 The remaining quarter final spot will be filled by the winners of the Tulla v Éire Óg clash which takes place on this coming Saturday
Strong finish from Clarecastle
Clarecastle 2-18
Clonlara 2-17
Venue: Clonlara GAA Grounds
(after extra time)
In a very entertaining quarter final at Clonlara, visitors Clarecastle recovered from being six points down in the early stages to emerge as one point winners after extra time.
The home side raced into an early three point lead before the game's top scorer Oisin Casey opened his side's account.
A Cillian O'Brien goal pushed Clonlara further ahead but Darragh Healy responded with a like score for the Magpies.
Clonlara's James Carmody had his side's second goal and this helped them to lead by four at half time when the score was 2-6 to 1-5.
A second half goal from Oisin Whelan gave an early indication that the outcome of this tie would go down to the wire and so it proved.
At the end of normal time they were locked together at 2-12 each. The sending off of Clonlara's Tom McLeish in the first period of extra time was a blow to the South Clare side's hopes but they led by the minimum at the break in the extra period, 2-15 to 2-14.
Clarecastle weren't to be denied however and they finished strongly to win by the minimum and advance to the semi-final.
That said, Cian Broderick came to their rescue in the closing stages with two good saves to deny the home side. Broderick had been the hero when they defeated Crusheen/Tubber on penalties to advance to the last eight.
Clarecastle; Cian Broderick; Niall Brigdale, Aaron Hayes, Sam Browne; Conor Griffin, David Tuohy, Filip Wiechcinski; Conor Whelan (0-1), Conor Halpin; Oisin Whelan (1-2), Darragh Healy(1-0), Dylan Browne; Rory O'Connell, Oisin Casey (0-12), Josh Brack;
Subs; Barry Morrissey for Wiechcinski; Evan O'Connell (0-2) for D. Browne; James Doherty (0-1) for S. Browne; Harry Ward for C. Whelan; Dylan Browne for Brack; Conor Whelan for Tuohy (inj).
Clonlara: Seimi Gully; Logan Ryan, Colm O'Meara, David Byrnes (0-2); Jack Power, Dylan McMahon, Luke Hannon; James McCormack, Diarmuid Stritch (0-1); Louis McCormack, Aidan Moriarty (0-5), James Carmody (1-1); Philip Cunningham (0-1), Cillian O'Brien (1-5), Daniel Moloney (0-2);
Subs; Luke Cunningham for Stritch (inj.); Andrew Fitzgerald for Carmody; Cian Begley for Hannon; Tom McLeish for P. Cunningham; D. Stritch for J. McCormack (inj); P. Cunningham for L. Cunningham;
Referee: Kieran Liddane (Sixmilebridge)
Scariff/Ogonnelloe march on to semi-finals
Scariff-Ogonnelloe 3-14
Clooney-Quin 0-12
Venue: Dr Stuart Park, Ogonnelloe
Clooney/Quin were leading by two points midway through the first half of this game in Ogonnelloe when their wing forward Callum Hassett suffered an injury which led to a delay of almost fifteen minutes while he received attention before he was removed from the field.
It was almost a complete role reversal from their first round over Newmarket-on-Fergus who had been leading 0-04 0-01 when centre back Mark Delaney was forced off with injury allowing Clooney/Quin take over. The opposite occurred for the quarter-final with Hassett's departure a major blow which resulted in Dannan Fox being sprung from the bench earlier than planned and Eoghan O'Brien out to the half-forward line.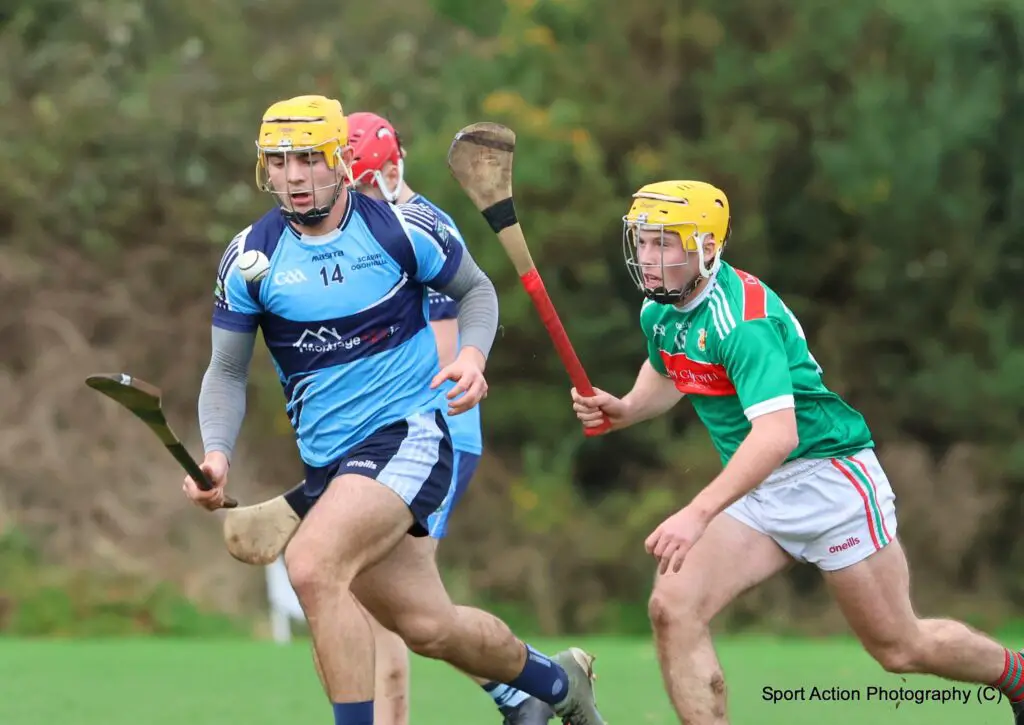 When the game resumed the home side took control and struck for goals from Mark Rodgers and Liam Crotty and they never looked back from here. Rodgers' goal arose after the sliotar richoted off the helmet of a Clooney/Quin defender and he expertly picked the break. The Clare senior was the provider for Crotty's goal when he selflessly offloaded possession.
A second goal from Rodgers in the second half confirmed their dominance as they went on to seal a merited win.
The East Clare outfit were physically stronger and this proved decisive on the day. The injury to Hassett clearly upset the visitors but, overall, the winners were the more evenly balanced side and deserved their victory with the outstanding Rodgers, Shane Kavanagh, Conor Downes, Gearoid Sheedy and Keelan Hartigan setting the way.
Clare minor Sam Scanlan was also forced off with injury for half-time, taking away from a Clooney/Quin attack which was already in trouble following the exit of Hassett.
Scariff/Ogonnelloe; Sean Treacy; Seamus McCaul, Tadhg Kavanagh, Eoin Keehan; Shane Kavanagh, Gearoid Sheedy, Scott Cairns; Conor Downes, Sean Collins; Keelan Hartigan, Patrick Crotty, Adam Cunnane; Patrick Ryan Mark Rodgers, Liam Crotty.
Subs: Eoin Heffernan for Keehan; Paul McGee for Collins; Eoin O'Brien for Ryan (inj) Dyan McNulty for L. Crotty;
Clooney/Quin; Cormac O'Halloran; Martin Frain, Evan Maxted, Cillian O'Gara; Eoin Guilfoyle, John Conneally John Cahill; Donagh O'Sullivan, Daire Keogh; Callum Hassett, Jack O'Neill, Callum Cassidy; Dylan Cunningham, Eoghan O'Brien, Sam Scanlan;
Subs; Dannan Fox for Hassett (inj); Enda O'Halloran for Scanlan; William Corbett for Cassidy
Referee: Kevin Corry (Sixmilebridge)
Double still on for Corofin/Ruan
Corofin/Ruan 3-15
Sixmilebridge 0-13
Venue: Pairc Finne, Corofin
The dream of winning the under 21 A hurling and football double remains very much alive in Corofin.
A strong finish saw the Corofin/Ruan hurling combination account for Sixmilebridge in this hurling quarter final contest at Corofin on Sunday afternoon, a result which has sent them through to the semi-final. Next week the footballers will wear the favourites tag when they take on Wolfe Tones in a quarter final tie.
The first half was evenly fought and just the minimum separated the sides at half time when the score was 0-9 to 0-8 in favour of the winners.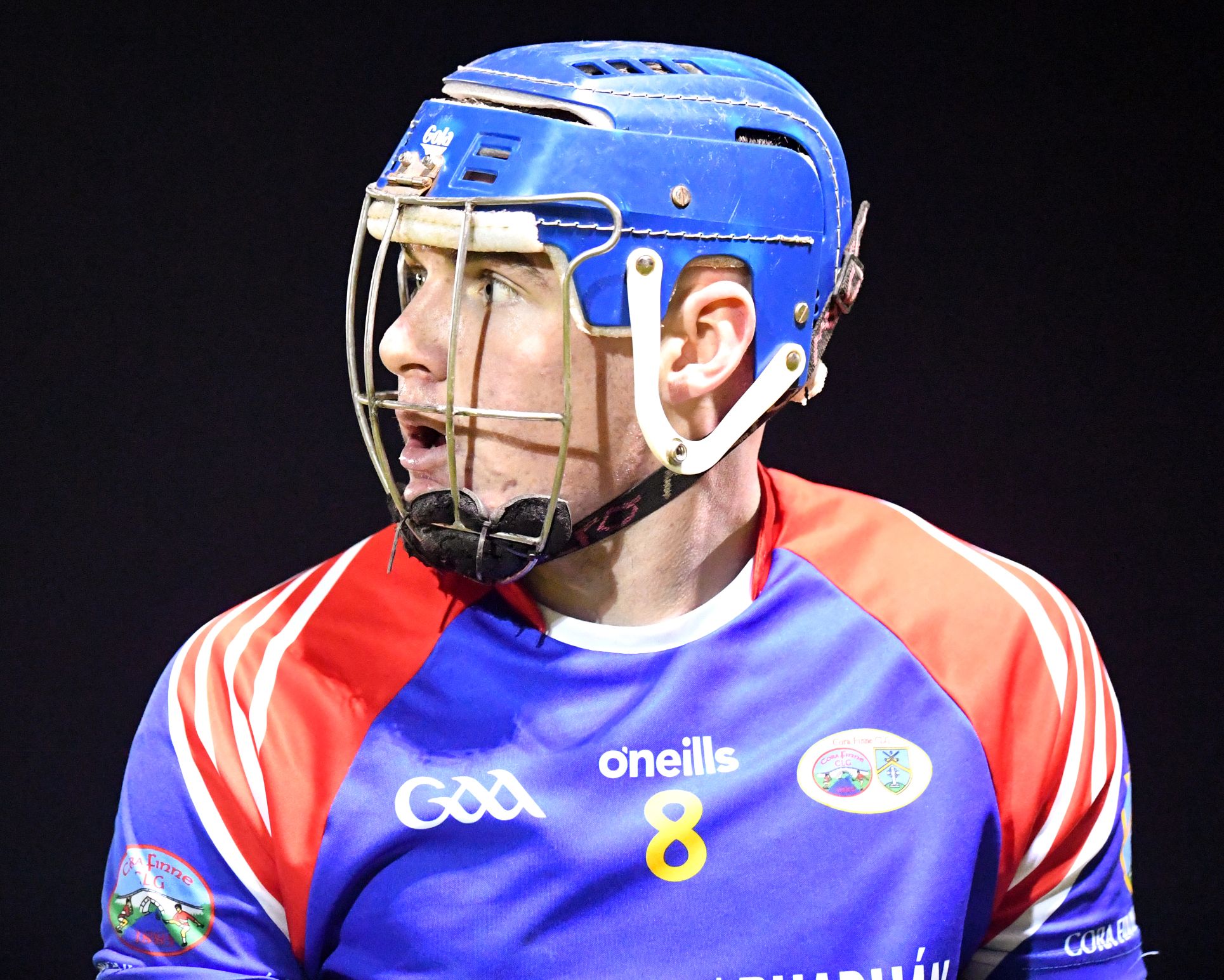 The game was still evenly contested throughout the third quarter and it had entered the last ten minutes before the first goal came, Diarmuid Cahill shooting to the net after taking a pass from Jack McDonagh.
Three minutes from the end of normal time, Sixmilebridge lost possession and Killian O'Connor pounced for his side's second goal.
The game was in added time when Diarmuid Cahill passed to Jack McDonagh and his ground strike found the net, sealing the home side's victory.
Corofin/Ruan: Keelan Mounsey; Ashley Brohan, Gearoid Hanrahan, Jason Power; Tom O'Halloran, Cillian McGroary, Eoin Fitzgerald; Robin Mounsey, Ryan Power; Kevin Keane, Diarmuid Cahill, Killian O'Connor; Jack McDonagh, Shane Punch, Patrick O'Halloran;
Sub; James Organ for R. Power;
Sixmilebridge: Cian Fawl; Michael Carey, Leon Kelly, Colm Flynn; Evan O'Callaghan, Cian Gleeson, Dylan Downes; Oisin Breen, Adam Murray; Adam Breen, Luke O'Halloran, Luke Keogh; Jack Corry, David Kennedy, Dara Casey;
Subs; Evan Murphy for Adam Breen; Seamus O'Connell for D. Casey; Morgan O'Connell for O. Breen.
Referee: Jarlath Donnellan (Wolfe Tones)
Sean Rynne excels as Inagh/Kilnamona progress
Inagh-Kilnamona 2-22
St. Joseph's Doora/Barefield 3-18
Venue: Gurteen
(after extra time)
Leading by five points as the game went into 'injury time' Inagh/Kilnamona looked to be heading for the last four but St. Joseph's struck for 1-2 in added time to force extra time in this tie played at Gurteen.
Eoin Burke levelled the contest with a free from his own half back line which left the tie at 1-17 to 2-14, the home side's goals in normal time having come from Burke and substitute Cian Moloney.
In the first period of extra time Inagh/Kilnamona opened a three point lead, 1-21 to 2-15. On the resumption The Parish landed three unanswered points to level the contest yet again.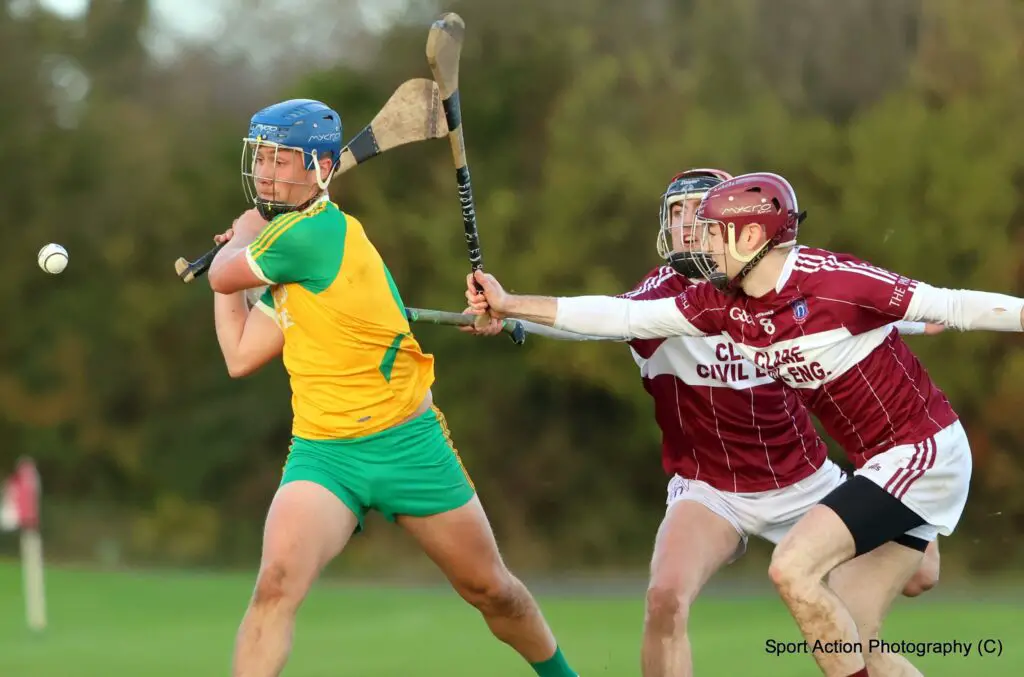 A Keelan Guyler goal put the winners four clear but, straight away St. Joseph's responded. A great run by Darragh McMahon brought a good save but Eoin Burke was on hand to fire the ball to the net and this left the minimum between the sides.
Inamona weren't to be denied and they held on for victory on a day when Sean Rynne excelled and ended with 0-13 to his credit.
Substitutes Mark Callinan, Liam Hehir and Cathal Ryan also impressed for the winners for whom Keelan Guyler and Niall Mullins were the goal scorers
Adam Mungovan, Fionn Kelleher, Darragh McMahon, Dara Nagle, Eoin Burke, Bruce Pigott and Senan Crosbie, in the first half did well for the home side.
Inagh/Kilnamona; Jack O'Connor; James Cullinan, Shane Woods, Niall Glynn; Jason Griffin, Ricky Wynne, Eoin Foudy; Dean Lynch, Conner Hegarty; Keith Barry, Keelan Guyler, Ronan Mescall; Josh Guyler, Niall Mullins, Sean Rynne;
Subs; Mark Callinan for Mescall (inj); Cathal Ryan for K. Barry; Liam Hehir for D. Lynch; Colm Kearney for K. Guyler; Guyler for Kearney; Dean Lynch for J. Griffin (inj); Keith Barry for Hegarty (inj); Hegarty for C. Ryan;
St Joseph's Doora/Barefield; Brendan Cleland; Ian Williams, Fionn Kelleher, Ciaran O'Driscoll; Adam Mungovan, Darragh McMahon, Cian Lahiffe; Dara Whelan, Dara Nagle; Senan Crosbie, Podge Geraghty, Eoghan Talty, Matthew Power, Eoin Burke, Bruce Piggott;
Subs; Cian Moloney for Talty; Dara O'Callaghan for Geraghty; Eoin Lahiffe for Whelan; Talty for Nagle; Matthew Power for Crosby;l
Referee: Joe Mullins (Clonlara)