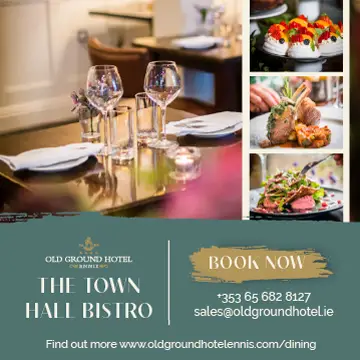 MULTI-INSTRUMENTALIST and producer, Daithí is gearing up for a special hometown show in North Clare.
'Fómhar in Fanore' comes to Co Clare on Saturday October 8th with the country's newest mini-festival headed for O'Donohue's Pub with an exclusive performance from Daithí.
From Ballyvaughan, Daithí Ó Dronaí is the grand-son of the late concertina player Chris Droney, the Droney family are stepped in history when it comes to Irish traditional music.
'I'm Here Now' is Daithí's latest album. "I feel like I'm more connected to where I'm from than I've ever been," he said of his new work. Off the back of this release, he is coming home to headline 'Fómhar in Fanore' with additional appearances from Strange Boy, Bog Bodies, Toshín and Lahinch based Dora Gola. Doors open at 5pm for the gig with tickets on sale via Eventbrite.
Daithí has become synonymous with raising the bar for the live dance experience, mixing in unique elements like his signature fiddle, a symbol of his traditional Irish upbringing, alongside a chorus of talented musicians who elevate songs that have been purpose-built for a widescreen arena.
Bedded in electronica, Daithí's sound has moved beyond a fusion of Ireland's past and a contemporary present to a world of rich texture, veering from deep house music to ambient arrangements. in the form of instrumental narratives, stunning visuals and vocally-charged supporting characters.