*Lees Rd. Photograph: Eamon Ward
An audit of the sporting facilities in the county are to be carried out.
Such a move was requested by Cllr Joe Garrihy (FG) at the October meeting of Clare County Council "with a view to clear identification of our key and hub assets natural and built in the area. I propose that this audit explores the potential of adding value to these assets and developing a county wide standards of practice and management targeted at getting maximum benefit in the context of delivering the objectives of the Healthy Clare and Healthy Ireland Strategies". He asked that Clare Sports Partnership conduct the audit.
Eleven years ago, €16,703.28 was spent on a financial audit of facilities in the county done by Clare LSP and the Council. "At that time, there was no comprehensive database of facilities in the County," a joint written reply from Directors Leonard Cleary and Anne Haugh outlined. "Presently Clare Sports Partnership does not have the resources or remit to carry out such an audit. However it is accepted that Clare LSP are best placed to undertake such an audit subject to accessing funding to ensure that a robust audit is carried out".
"We're all aware of the social importance our sport amenities have. They are the hubs of our modern lives. They are now the centres where we all meet," Cllr Garrihy stated. He felt strong sporting facilities would encourage people to live in the county. "An audit of our facilities is preparing for success. For people to come and settle in rural Ireland, we need to have a cohesive and strong infrastructure around our school and sporting communities. We're competing with the east coast, we need to have the facilities".
Seconding what she labelled an "absolutely vital" motion, Cllr Roisin Garvey (GP) referenced the process of schools getting a Green Flag, "the first step is a review, what Cllr Garrihy is suggesting is a review". "We have to know what we have before we can progress. We aren't in Dublin or Copenhagen where people can walk and cycle safely the whole time, we rely on these facilities to keep our young people safe".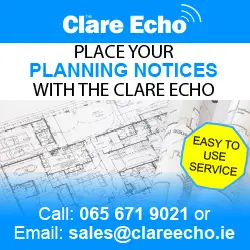 "It is building on what has been a common theme with Cllr Garrihy's motions over the past few months," Cllr Shane Talty (FF) observed of the proposal. Cllr Joe Killeen (FF) felt there was "a lack of facilities in certain areas" and asked the Council to look at the proposal "favourably" by putting in supports. "This is another very strategic motion," Cllr Cillian Murphy (FF) acknowledged.
Pat Dowling, Council Chief Executive "It is already my intention to bring some proposals to you as part of our budgetary process for next year. The audit is one thing that has to be done". An audit of the sporting facilities in the county are to be carried out.