FIFTH ROUND ties in the Clare senior camogie championship were held across the weekend while a third U14A title in a row was secured by Newmarket-on-Fergus and St Joseph's Doora/Barefield sealed their return to the top tier.
Ruan were crowned Junior A champions when they defeated Scariff/Ogonnelloe 2-13 0-9.
St Joseph's Doora/Barefield got their hands on the Fr Liam Murray Cup with a 2-11 0-13 victory against Tulla in Cusack Park on Saturday.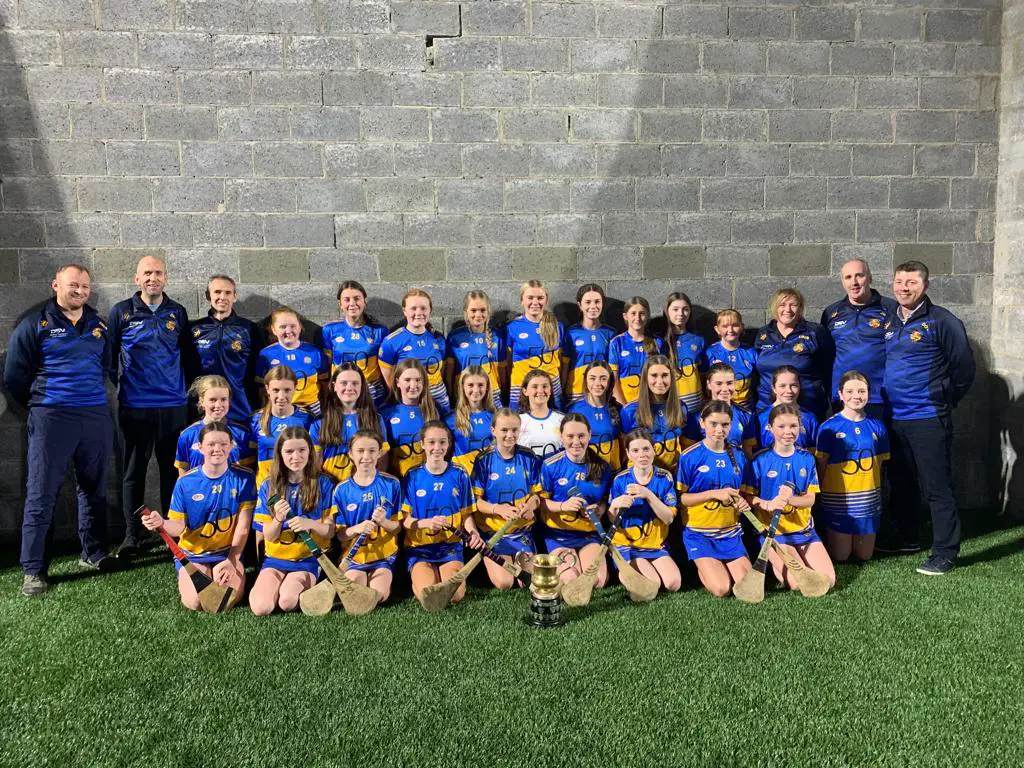 Newmarket-on-Fergus claimed the U14A championship for the third year in a row defeating Kilmaley on Sunday afternoon.
This weekend will see the replay of the Minor A camogie final between Inagh/Kilnamona and Scariff/Ogonnelloe.
In the race for the McMahon Cup, Scariff/Ogonnelloe, Feakle/Killanena, Clarecastle/Ballyea and Inagh/Kilnamona all recorded wins in round five.
Scariff/Ogonnelloe storm past Sixmilebridge
Scariff/Ogonolloe 4-26
Sixmilebridge 1-5
Venue: Ó Eithir Park, Cratloe
The reigning County Champions really put a beleaguered Sixmilebridge through the ringer on Saturday morning running out emphatic thirty point winners. This was as one sided as the scoreline suggests with Alphie Rodgers' charges as clinical as they were ruthless.
Four points up after only five minutes with two Lynda Daly points either side of a Mairead Scanlon effort and a fine Danielle Beston white flag setting the tempo. The next ten minutes were as devastating as one could imagine with last year's beaten Munster finalists hitting scores from every area of the field. Scoring 1-9 without reply with Abby Walsh grabbing the green flag effectively meant this match was over as a contest after only the opening quarter.
One really has to wonder is there any benefit to either club in these scenarios. Two Labhaoise O'Donnell neatly finished goals heaped further misery on the Bridge and at the interval there was a whopping twenty seven points between the teams on a 3-19 to a solitary point the scoreline.
The second half was a non-event as both clubs were already looking forward to their next outing where Scariff/Ogonolloe will take on Feakle/Killanena for a place in the final while Sixmilebridge will square off with Clooney/Quin with senior status on the line.
Scorers for Scariff-Ogonolloe; Lynda Daly 1-7, Mairead Scanlon 0-8 (6f), Labhaoise O' Donnell 2-1, Abby Power 1-2, Danielle Beston 0-4, Jennifer Daly 0-2, Ciara Doyle, Abby Walsh 0-1 each
Scorers for Sixmilebridge: Sarah Loughnane 0-5 (5f), Chloe Morey 1-0
Scariff/Ogonnelloe: Rachel Daly, Holly McGee, Susan Daly, Robyn McKenna, Amy Barrett, Alva Rodgers, Rachel Minogue, Abby Walsh, Ciara Doyle, Danielle Beston, Lynda Daly, Jennifer Daly, Aoife Power, Labhaoise O Donnell, Mairead Scanlon.
Sixmilebridge: Sinead Hogan, Rachel Kelly, Aoife Hurley, Helena Ryan, Roisin O' Grady, Kiah Mellet, Emma Stanley, Samantha O' Sullivan, Finia O' Brien, Chloe Morey, Sarah Loughnane, Niamh Lyons, Aoibhinn McNamara, Muireann Scanlon, Donna O' Sullivan.
Feakle/Killanena continue to flourish
Feakle/Killanena 3-14
Kilmaley 1-10
Venue: O'Garney Park, Sixmilebridge
Feakle/Killanena have been quite impressive so far in this year's campaign and maintained their one hundred percent record with a convincing ten point victory in Sixmilebridge on Saturday afternoon.
Kilmaley needed to win and win well if they were to advance and they started the better of the two when Grace Carmody rifled home the game's opening major giving Kilmaley an early 1-2 to a point lead. This strike proved to be a false dawn though as two goals in a minute turned this game on its head giving Feakle-Killanena a lead they would ultimately never relinquish.
The always impressive Lorna McNamara raided for the first with Regan Conway blasting home the second. Feakle-Killanena were now dominating proceedings but Kilmaley were resolute in their defending coughing up very few scoring opportunities for the remainder of the first half.
At the interval Feakle/Killanena led by six on a 2-7 to 1-4 scoreline. Upon the resumption of play this game was effectively killed as a contest with four unanswered points including a Sophie Conway peach widening the gap to ten. Kilmaley kept battling and had some fine points from Claire McMahon but never really looked like getting the goals they so desperately needed. Instead it was Vera Loughnane who had the last say blasting home from close range.
Feakle/Killanena will now face the might of the County Champions in an East Clare derby. They will go in as underdogs but with the firepower they possess it should prove to be a clash to savour.
Scorers for Feakle/Killanena: Lorna McNamara 1-6, Regan Conway, Vera Loughnane 1-1 each, Sophie Conway, Shauna Canny 0-3 each
Scorers for Kilmaley: Chloe Neylon 0-6 (5f), Grace Carmody 1-0, Claire McMahon 0-2, Caoimhe Carmody, Martina Keane 0-1 each
Feakle Killanena; Roisin Quilligan, Aine Daly, Meave Brady, Laura Mc Grath, Rachael McNamara, Ella McNamara, Claire McNamara, Roisin Mc Mahon, Sophie Conway, Zi Yan Spillane, Shauna Canny, Vera Loughnane, Louise O Callaghan, Regan Conway, Lorna McNamara
Kilmaley; Alannah Meaney, Sinead O Keeffe, Sarah Reidy, Leona Grace, Emily Cahill, Niamh O' Dea, Sarah O'Cheallaigh, Caoimhe Carmody, Grace Carmody, Jodie Cahill, Shona Enright, Nora O' Rourke, Chloe Neylon, Claire McMahon, Caoimhe Cahill
Subs; Martina Keane for Enright, Megan White for C Carmody.
Clarecastle/Ballyea seal senior status
Clarecastle Ballyea 3-11
Clooney/Quin 0-9
Venue: Ruan
Played in Ruan on Saturday evening this clash had huge significance as both sides came into the contest winless and with senior survival on the line an epic battle was expected.
It didn't transpire though as Clooney/Quin were hampered by the loss of some key experienced players most notably Orlaith Duggan.
In contrast the Jason McCarthy coached Clarecastle/Ballyea had a full deck to choose from. Clare senior keeper and former Munster player of the year Doireann Murphy who usually plays outfield for her was selected in goal and this wdecision proved vital as the old adage of goals win matches can certainly be applied here.
Two first half majors from Amie Wiley and Hannah Mai Neylon were pivotal in giving Clarecastle/Ballyea a lead they would never relinquish.
However Murphy was called into action on several occasions and each time she came up trumps.
At the interval Clarecastle Ballyea led 2-5 to 0-5 and despite Clooney Quin battling hard they never really ate into this lead. A super Lauren Cusack pass late on found Evie Scanlon in space and she rifled home the third major of the day securing safety for her side while Mike Duggan's charges must dust themselves down and prepare for a winner take all relegation decider against Sixmilebridge.
Scorers for Clarecastle/Ballyea: Emma O'Donoghue 0-5, Amie Wiley, Hannah Mai Neylon 1-1 each, Evie Scanlon 1-0, Lauren Tuohy 0-3 (f), Lauren Cusack 0-1
Scorers for Clooney/Quin: Ciara Grogan (2f), Clodagh Quinn 0-02 each, Aisling Corbett, Emily Costello, Emma Quinn, Claire Halpin, Emer Hynes 0-1 each
Clarecastle/Ballyea: Doireann Murphy, Lily McMahon, Emma 0'Connell, Zoe Ellingstad, Chloe Devitt, Carol Browne, Fiona Breen, Louise Griffin, Stella Quinlivan, Evie Scanlon, Emma O'Donoghue, Amie Wiley, Lauren Cusack, Lauren Tuohy, Hannah Mai Neylon
Subs: Róisín Halpin for S Quinlivan (45), Hannah Dinan for C Devitt (58)
Clooney/Quin: Ella Moloney, Bebhinn Gallagher, Nicole O'Riordan, Anna Doyle, Poppy Rees, Ciara Grogan, Claire Murphy, Emily Costello, Emer Hynes, Emma Deegan, Aisling Corbett, Clodagh Quinn, Emma Quinn, Emma Considine, Claire Halpin
Subs: Rachel Coneely for Poppy Rees (45 mins).
Inagh/Kilnamona anihilate poor Newmarket-on-Fergus
Inagh/Kilnamona 2-17
Newmarket-on-Fergus 1-3
Venue: Fr McNamara Park, Doora
Coming into this final round Inagh/Kilnamona knew they were in a semi-final regardless of the outcome. However if they could win by sixteen or more points they would top the group and avoid Feakle-Killanena who maintained their one hundred percent record earlier in the day.
In the 60th minute Eugene Foudy's charges were fourteen points up but a superb Orla Vaughan goal with practically the last puck of the contest secured top spot and a date with Truagh/Clonlara in the final four.
Inagh/Kilnamona were imperious throughout but it has to be said that Newmarket were extremely poor. Two points from play in sixty plus minutes highlights the gulf in class and in truth this was a mismatch from start to finish. An opening blitz registering six points in five minutes laid the foundations as a ruthless Inagh/Kilnamona launched wave after wave of attacks.
So superior were they that they could afford to miss a penalty, register nine first half wides and still lead by ten at the interval. The opening goal coming on the stroke of half time was one for the highlight reel as a lovely Fiona Keating flick was superbly added to in the air by Claire Commane over the advancing Ciara McCarthy. Newmarket can be thankful to their keeper who showing bravery on several occasions denied Foudy's girls more green flags.
The second half was just one way traffic but Ellen Casey did raise Newmarket spirits by firing a rocket to the net from a twenty one yard free, their only bright note on a day where they were second best from minute one.
Scorers for Inagh/Kilnamona; Aoibhinn Ryan 0-11 (8f, 1 45), Orla Vaughan 1-1, Claire Commane 1-0, Laura Rynne 0-2, Laoise Ryan, Fiona Lafferty, Amy Keating 0-1 each
Scorers for Newmarket-on-Fergus: Ellen Casey 1-0 (1f), Emma Crowe, Ann Marie Hayes, Rachel Kelleher (f) 0-1 each
Inagh/Kilnamona: Rebecca Keating, Jane Fitzgerald, Michaela Roughan, Tierna Hegarty, Laoise Ryan, Clare Hehir, Teresa O'Keeffe, Laura Rynne, Sinead Power, Amy Keating, Fiona Lafferty, Aoibhinn Ryan, Claire Commane, Cliodhna Queally, Danielle Griffin
Subs: Orla Vaughan for C Commane (45), Amy Shannon for F Keating (48)
Newmarket-on-Fergus: Ciara McCarthy, Maeve Begley, Laura McMahon, Aoife Griffin, Caoimhe Lally, Kira O'Flanagan, Jennifer Kelly, Grainne McMahon, Ellen Casey, Isabel Coffey, Kaci Toomey, Michelle McMahon, Ann Marie Hayes, Rachel Kelleher, Emma Crowe.
Subs: Grace McMahon for A M Hayes (48), Eryn O'Leary for R Kelleher (50)