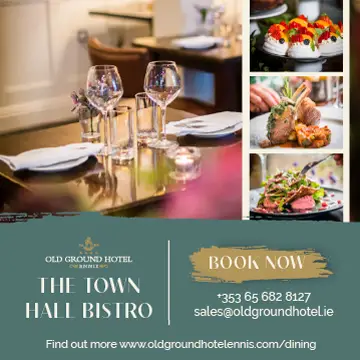 *Steven Conway and Feakle will be crossing paths with Éire Óg in the final round. Photograph: Gerard O'Neill
Backed by the welcome early boost of silverware as Feakle took full advantage of a condensed Clare Cup campaign to bridge a 33 year gap to their last title, new manager PJ Kelleher is hoping to have a similar alchemist's touch when it comes to the championship.
Management: PJ Kelleher (Manager), Tomás Downes (Coach), Henry Hayes, Raymond Nelson (Selectors)
Captain: Con Smyth
Key Player: Shane McGrath
One to Watch: Adam Hogan
Fresh Blood: Oisin Clune, Adam Hogan,
Players Gone: None
Titles Won: 6
Most Recent Title: 1988
Fixtures:
Round 1 (Sunday) – Feakle v Clooney-Quin
Round 2 (Saturday/Sunday, September 4/5th) – Feakle v Newmarket-on-Fergus
Round 3 (Saturday/Sunday, September 18/19th) – Feakle v Éire Óg
However, while rare adult honours will be invaluable to Feakle's confidence, Bodyke native Kelleher is certainly not going to be fooled into automatically anticipating a replication in the race for the Canon Hamilton.
"It was great to win the Clare Cup as we were kind of taking each game as it came really. I mean we had a lot of injuries but I suppose most of the teams we were playing were missing a lot of players as well. So we just said that we'd go out and try and win every game and use them as best we could ahead of the championship.
"We have a few young fellas coming through as well as a few injured players that were coming back and from a management perspective, the Clare Cup was just as important to get to know lads as well."
In such an even group that sees Feakle as the East Clare outlier in a derby trio of Éire Óg, Newmarket-on-Fergus and Clooney-Quin, there is still some uncertainty however as to where Feakle currently stand. After all, while injuries have cleared up somewhat, there is a large degree of competitive ringrustiness surrounding a large chunk of their panelists.
"The big thing for us is that we have a lot of players that haven't a lot of hurling done. So while they are available, some of only played one or two leagues matches so our worry is how match sharp they really are."
While their squad has been populated by some fresh blood, Feakle still lack the strength-in-depth of their group opponents so keeping everyone fit will be a major factor in how they fare.
However, what they lack in numbers, Feakle invariably make up for in collective spirit and determination, something that they hope will guide them back to a third successive quarter-final at a minimum according to Kelleher.
"It's a very even group as there's no easy game. Take our first match against Clooney-Quin, in the last few years there has been nothing between the sides so it will be very tough to get out of the group.
"A first win is vital though. You put yourself in a good position if you win whereas you're on the back foot straight away if you lose. So it's about treating it as do-or-die, win your first game and move on from there".