Lough Derg's "fabulous scenery" is causing traffic concerns in Ogonnelloe.
Two separate motions on traffic in Ogonnelloe were tabled at the January meeting of the Killaloe Municipal District. Cllr Joe Cooney (FG) requested that a plan be put in place to extend public lighting and carry out traffic calming works while Cllr Pat Hayes (FF) appealed for safety measures in the vicinity of the school which has become "particularly dangerous" with "a number of incidents".
"An element of traffic calming" is provided by gateway signs on each approach along the R463, senior executive engineer Tom Mellett replied. The village stretches 3.3km between the speed limit signs with lighting "only present in the vicinity of the church and community hall". An assessment of the lighting is to be conducted.
Regarding the school, Mellett acknowledged it was situated in a 60kph zone. "Parking is provided adjacent to the school with a drop-off/pick-up point and set-down only area provided by the school off the R463. Issues appear to revolve around the use of the set-down areas". He confirmed there were no plans "for further traffic calming at this location".
Residents are waiting on the Killaloe Bypass and Cllr Cooney commented, "People in Ogonnelloe are concerned about traffic and speeding, there is a need of traffic calming and public lighting. The lighting that is there by the church and community centre is limited". Councillors received a letter from one Ogonnelloe woman last year asking for something to done "before someone was killed", Cllr Hayes recalled.
"There is a very active community council in Ogonnelloe. I suggest we empower Cllr O'Callaghan to bring this to the attention of Gardaí through the JPC. That's the assistance we can give them. While you're at it, they're also speeding through residential areas of Killaloe," Cllr Tony O'Brien (FF) commented.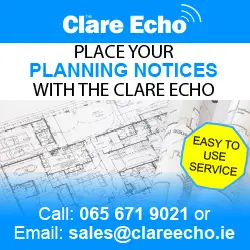 Cathaoirleach of the Killaloe MD, Cllr Pat Burke (FG) interjected, "I'm also a vocal man on the JPC". Cllr Alan O'Callaghan (FF) suggested they put the item forward on the agenda for the next meeting of the Clare Joint Policing Committee. Cllr Burke then added, "I won't do like the Mayor of Clare on comment on every motion" which prompted Cllr Hayes to ask that the remark be withdrawn.
"It's the visitors and tourists that are speeding while they are enjoying the fabulous scenery. I agree with everything said, we need to invest in Ogonnelloe," Burke concluded.