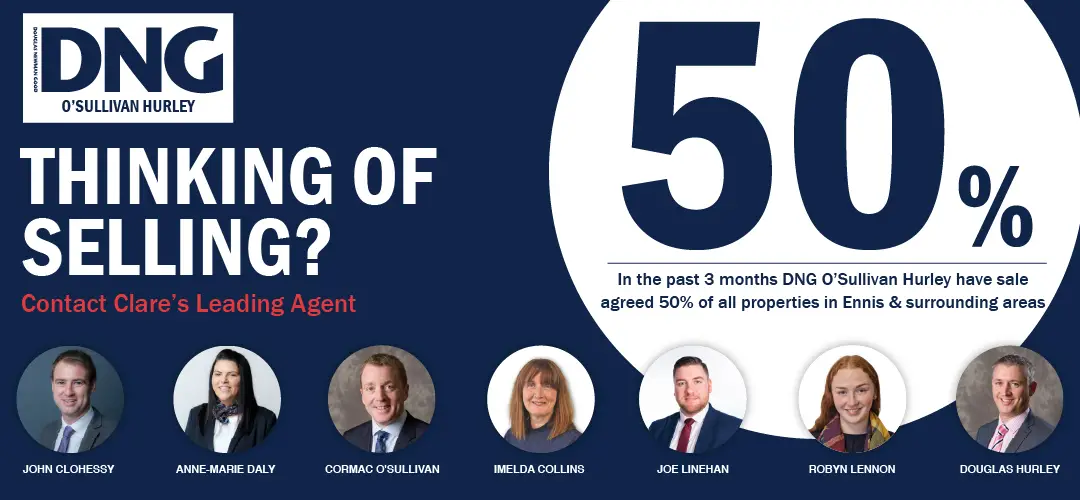 *Eoin Rouine. Photograph: Gerard O'Neill
ENNISTYMON have consolidated their senior status after narrowly holding off fellow North Clare side Corofin.
Ennistymon 1-8
Corofin 0-9
Venue: Lissycasey
Two defining moments spring out from the second half as central to Ennistymon's victory. David Fitzgerald's goal on forty six minutes which transpired as their last score of the game and also Noel Sexton's point blank save from Cillian McGroary on fifty three minutes.
Losing in a relegation series is never easy but the outcome is tinged with extra frustration for Corofin. Fitzgerald's goal though created from a well-worked team move saw the lively Éanna Rouine double-hop the ball before offloading to the Clare hurler. Neither of Niall Quinn's linesman or the referee spotted the foul in real-time which allowed the green flag to stand.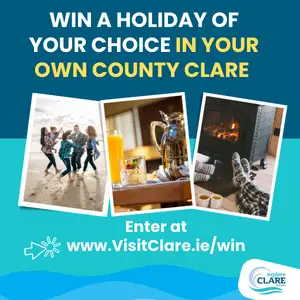 Far from the bright lights of a county final and semi-final appearance, Ennistymon and Corofin travelled to Lissycasey determined to grasp the first bite of the cherry to remain as a senior club next year. Corofin have another life remaining and face Clondegad in two weeks.
Without question, the attitude and application of each side has not been close to the levels they showcased in 2022 and therefore it comes as no coincidence that they are battling for survival as opposed to honours.
Another similarity is that they have been blighted by injuries. It was the first time that Ennistymon were able to utilise key man Cillian Rouine but he remained heavily strapped due to a problematic hamstring injury, Darragh Conneally kicked two points in his first championship game in over two years but they remained without Brendy Rouine, Sean Rouine and Diarmuid Fahy, all first choice starters.
Jamie Malone lined out after bouncing back from a hamstring injury but one of their brightest forwards Diarmuid Cahill was still sidelined with a groin issue. Joining him for company was centre back Damien O'Loughlin, midfielder Sean O'Brien and the suspended Fionn Clancy.
Opening exchanges were cagey but Ennistymon built up a 0-3 0-1 advantage inside the first quarter with Inagh/Kilnamona duo Sean Rynne and David Fitzgerald splitting the posts alongside Conneally. For Corofin, Gearoid Cahill kicked an excellent score into the wind on four minutes to get them off the mark.
Killian O'Connor and Cahill with two points in as many minutes had Corofin level but Ennistymon replied with an excellent Éanna Rouine point, the teenager somehow managed to keep his footing and produce a shot off his left boot on twenty minutes.
Conneally's second score gave them a one point advantage at the break, coming after Jamie Malone raised a white flag on twenty four minutes.
Two scores each kept the distance as it was, Keelan Guyler converting two frees while Fergus Killeen and Michael Kelly added to Corofin's account.
Guyler made the gap two points with his third free on forty one minutes. Corofin then began to dominate possession but crucially didn't make it count. They hit five wides in a row while in the middle of this coughed up possession which saw Ennistymon raid for goal.
While Corofin managed to kick the last two scores via Cahill and Killian O'Connor, their poor execution came back to bite them.
Competing in the relegation series may be a wake-up call for Ennistymon. At full strength, they are one of the county's top teams but even at that when their mentality is off they are very vulnerable which left them in the shaky territory. In order for them to get back to the business end of the Clare SFC, they must use this as a learning experience but also find a better blend to their overly defensive style which is limiting their attacking strength. Lawrence Healy, Cillian Rouine, David Fitzgerald, Éanna Rouine and Ciaran Devitt set the way for the winners.
All is not lost for Corofin but they must end their losing streak if they are to stay as a senior football side. They have been defeated in four championship ties in succession which is seeing confidence and morale diminish within their set-up. Their involvement in the Clare IHC is also limiting the amount of time they can devote to getting back on solid terrain. An improved display, better shot selection and extra workrate are a must if they are to compete with Clondegad in a fortnight.
Scorers Ennistymon: D Fitzgerald (1-1), K Guyler (0-3 3f), D Conneally (0-2), S Rynne (0-1), Éanna Rouine (0-1).
Scxorers Corofin: G Cahill (0-3), K O'Connor (0-2 1f), F Killeen (0-1), M Kelly (0-1), J Malone (0-1), C McGroary (0-1 1f).
Ennistymon:
1: Noel Sexton
4: Joey Rouine
3: Adam Ralph
2: Ciaran McMahon
5: Liam Devitt
23: Lawrence Healy
19: Darragh Conneally
24: Ciaran Devitt
9: Cathal Malone
12: Sean Rynne
14: David Fitzgerald
10: Eoin Rouine
13: Éanna Rouine
11: Cillian Rouine
15: Keelan Guyler
Subs:
6: David McNamara for Conneally (52)
8: Joshua Vaughan for C Devitt (60)
30: Keith White for Rynne (60)
Corofin
1: Luke Neylon
2: Marc O'Loughlin
3: Cilléin Mullins
28: John Rees
5: Cillian McGroary
11: Gearoid Cahill
7: Shay Malone
18: Fergus Killeen
9: Kevin Keane
8: Jamie Malone
15: Cillian Clancy
14: Gearoid Kelly
17: Michael Kelly
13: Killian O'Connor
30: Caoimhin O'Donovan
Subs:
21: Robin Mounsey for Clancy (47)
23: Damien Ryan for O'Donovan (47)
12: Cian Doolin for S Malone (56)
19: Eoin Davoren for McGroary (60)
Referee: Niall Quinn (St Joseph's Miltown)