Residents in Ennistymon are "up in arms" over instances of violence in the North Clare town.
Gardaí are investigating a criminal damage incident by fire which occurred at a residence at Glen North in Ennistymon on January 26th. The investigation has been ongoing for the past two weeks.
A spokesperson for An Garda Síochána told The Clare Echo, "Extensive damage was caused to the property by the blaze. No injuries were reported and no arrests have been made".
Speaking at Monday's meeting of the Clare Joint Policing Committee, former Fine Gael councillor Bill Slattery lamented the lack of resources within Clare County Council and An Garda Síochána impeding their ability to enforce legislation surrounding illegal encampments.
He said a second house in Ennistymon was "burnt to the ground" at what was regarded one of the best housing estates in the area up until recent years "but certain people have ruined it".
The Clare Echo understands that the other house fire referenced was not linked to the recent incident and it occurred many years ago.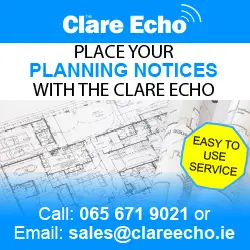 Another encampment has emerged in a residential area, Slattery flagged. He said the local authority and the Gardaí have tried their best on the matter but noted a portaloo had been moved in.
"I thought you could not set up illegal encampment within 5km of a halting site, houses had been offered to them. Something has to be done with these people, I'm not a racist but we can't be burning houses, Ennistymon has three halting sites, something has to be done. The residents are up in arms," the Lahinch man stated.
Superintendent John Galvin told The Clare Echo, "Ennistymon is a very safe community where An Garda Síochána is well supported by the people. I would appeal to members of the general public who may have any information which they believe may be of assistance in this investigation to make contact with Gardaí at Ennistymon or any Garda Station".