Misuse and an increase in illegal dumping in Ennistymon led to the removal of a hard plastics station.
Council officials made the comments in response to a plea by Cllr Shane Talty (FF) for the hard plastics recycling station to be restored at the recycling bank outside the Ennistymon area offices of the local authority. The motion was seconded by Cllr Joe Garrihy (FG) who believed, "it makes sense from a practical point of view".
Consideration will be given to the proposal, senior staff officer with Clare County Council's environment section, Marie O'Neill stated. "The hard plastics recycling station outside the Ennistymon Area Offices was removed a number of years ago due to misuse and illegal dumping of waste. This misuse consisted of incorrect materials being placed in the bank and use of the bank for dumping of household and general waste. Despite monitoring of the area, the problem persisted".
Hard plastics can be recycled at the Central Waste Management Facility in Inagh where a minimum fee applies for the service, she highlighted. The waste management facility is located 11km from the Ennistymon offices.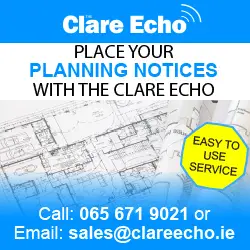 Speaking at a recent meeting of the West Clare Municipal District, Cllr Talty outlined, "The public want to do the right thing". He felt it was "questionable from an environmental point of view" to encourage people to drive to Inagh instead of walking to Ennistymon to dispose of the plastics.
Acting senior executive officer, John O'Malley recalled that the location "proved to be extremely difficult" and that plastics built up very quickly. "People were dumping for a finish and it was a complete mess and it was almost impossible to keep on top of it". He encouraged persons to visit an alternative site if bottle banks were full.
Cllr Talty questioned if it would be possible to bring the station within the environs of the recycling centre "which would bring people into the site and in line of security cameras". The suggestion could be examined but O'Malley cautioned that the local authority was not set up from a safety point of view to follow through on the idea.