*O'Connell St in Ennis. Photograph: Eamon Ward
Ennis should be elevated to city status, local representatives have unanimously stated.
Following on from an initial call by Clare TD Cathal Crowe (FF) for Ennis to be granted city status, Cllr Pat Daly (FF) tabled a motion on the same subject at the February meeting of the Ennis Municipal District and cited the "considerable benefits for tourism and economic development" that the Ennis MD advance the town's claim for city status.
Noting the proximity to Shannon Airport and with the M18 being "on our doorsteps," Cllr Daly put forward the case for the elevation of status. He maintained that it was a natural step following Ennis' growth "from a small town to a very large town". Quality of retail and restaurants "rival any city in the country," Daly stated.
LIT's expansion into Ennis with the opening of a Bindon St campus was referenced along with the potential of UL starting courses in the town. He continued, "We are 25 minutes from the Atlantic Ocean, 35 minutes from the Cliffs of Moher and 15 minutes from Burren" while industrial parks have room for further growth.
Lack of industries setting up in Ennis for the past 25 years was lamented by Cllr Daly, an elected representative since 1999. "The IDA have ignored our town," he felt. "Once Sligo got city status, a flood of industries showed interest and the same for Kilkenny," the Ennis native remarked in his plea for the county town to follow this approach.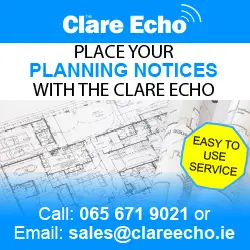 As per the 2016 Census, Ennis has a population of 25,276 making it the twelfth largest town in Ireland. Mentioned cities of Kilkenny and Sligo have populations of 26,512 and 19,199 respectively.
Mayor of Ennis, Cllr Paul Murphy (FG) said he was "glad" to second the motion but reminded the proposer he omitted the proximity to the Shannon Estuary Way as another token. "The economic bounce it would bring to the town would be fantastic," he believed.
Cllr Clare Colleran Molloy (FF) questioned how the proposal would now progress, "we should be activity trying to pursue that it materialises". "I can definitely see the potential of Ennis having the city brand in bringing in more business," Cllr Ann Norton (IND) commented. Building on the proposal to make it a reality is important, Cllr Mark Nestor (FF) said.
Referring to the Regional Spatial and Economic Strategy (RSES) completed by the Southern Regional Assembly, Cllr Johnny Flynn (FG) praised its emphasis as Ennis being the largest town in Munster. "There are 700 more people below in Kilkenny, we have similar attributes, I think we should be looking for this status. For Ennis to grow we need to achieve city status".
Director of Services, Carmel Kirby described Daly's motion as "extremely interesting". She outlined, "Ennis was identified as key town in the RSES which is a good thing, it does prioritise the town for investment. We're in the national development process now, it is a good time for members to put this forward". A meeting will be arranged with the planning department to discuss Daly's suggestion, she confirmed.
"There is great potential there, Ennis is growing and growing, we have the population, we are the Cathedral town, we're well placed for it and hopefully it will bring new investment," Cllr Daly concluded.