MORE than 100 members of Ennis Tennis & Badminton Club will volunteer or participate in a sleepout event this weekend.
With 12 members sleeping out on Friday night, there will be a showcase of tennis and badminton on Friday evening from adult and junior members, along with Food and Drink.
The sleepout is part of Shine A Light in aid of Focus Ireland, which provides services for people who are homeless and people at risk of homelessness in Ireland.
Organiser Dervilla Moloney told The Clare Echo that she is endeavouring on her seventh sleepout.
"It's something close to my heart from past experiences and wherever I have worked, I have tried to do the sleepout for Focus Ireland.
"My company is now abroad so I thought the tennis club was a great fit for the event. Homelessness continues to be highlighted because it's getting worse in Ireland and in the Clare and Limerick area. Some people think homelessness is just the poor soul in the shop door you can visibly see but the forgotten souls are the parents and children sleeping in cars. That's where I would like to see it highlighted, families."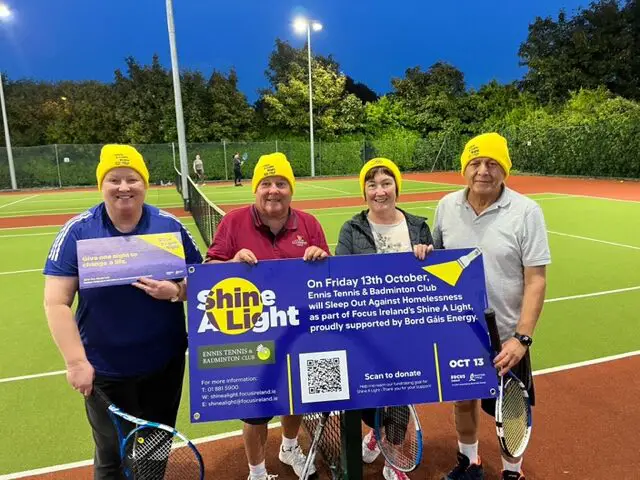 It is now more important than ever to show your support for Focus Ireland. The latest government figures released in August 2023, show that there's over 12,691 people who are homeless and relying on emergency homeless accommodation in Ireland, an increase of 17.5% in the last year. Of these, 1,886 are families and 3,895 are children.
Latest Homeless Figures for August 2023 in the Midwest showed there are 396 Adults Homeless (65 in Clare & 331 in Limerick) along with 139 Children.
Ennis native Dervilla says the event is "a great way of getting the Ennis tennis and badminton community together as one" adding that she's hoping the event will raise €4,000.
Proceedings kick off on Friday evening (Oct 13) with an adult blitz event. On Saturday morning, Breakfast will be served to the Sleepout Team, sponsored by Callinan Murphy (Berwick) Solicitors of Clare Road, Ennis.
The event will culminate with a Tennis Showcase event from some of the top players in the club.
To show your support for the event, visit joinus.focusireland.ie/fundraisers/etbc