A MINDLESS act at Ennis RFC has left club members baffled.
Gardai were called to the scene today and have taken a statement after club members discovered 120 square metres of netting was ripped from its fixture and stolen from the Showgrounds Road location yesterday evening.
It's not yet known how much the damage will cost to repair, however the netting on the Cahercalla side of the pitch had only been newly-installed in January at a cost of €11,000.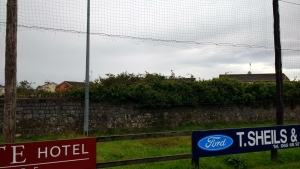 Club President Richie Murphy said that gardai are now investigating the incident, adding that it was a particularly frustrating situation for the club whose members put so much hard work into raising funds for such projects.
Mr Murphy told The Clare Echo, "My concern is that they might come back and take more of the net, and I also just want to make people aware that this is happening in the area."
Anybody with information is urged to contact Ennis Garda Station.