*Photograph: John Mangan
Creating an Ennis Town Team has been pinpointed as a manner in which to tackle urban and rural decay in the Clare capital.
At last Tuesday's meeting of the Ennis Municipal District, the motion put forward by Cllr. Johnny Flynn (FG) aspired for a greater need to work together post Covid-19. The team would include political representatives, executive committee members, state agencies, businesses, customers, residents and community groups.
Senior Executive Officer Leonore O'Neill explained, "Town Teams area generally an umbrella committee of representatives from a town's community sector, business groups and enterprise bodies which are supported by agencies involved in rural and urban development. They provide a collaborative approach to identifying priorities within towns and planning for a town's future."
It follows similar models put in place by the LEADER programme within the towns of Kilrush, Scariff and Ennistymon. Roscommon has also put in place six town teams and reaped the rewards as well as Limerick City who have addressed soft issues and social aspects, and in turn, mended a largely broken city, Cllr. Flynn observed. "An Ennis town team would help Ennis, it's citizens and the wider hinterland move forward into a brighter future post Covid".
Cllr Clare Colleran Molloy (FF) commented on the previous attitude of the Council was that it alone, was simply enough, due to being elected by the people. She alluded to this as a myopic approach and that councillors should be willing to learn from key stakeholders. She also stressed that the role of an Ennis town team be clear and distinguishable from that of elected representatives.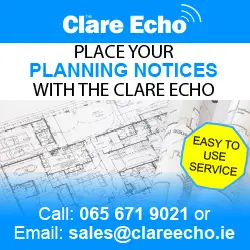 Mayor of Ennis, Cllr Paul Murphy (FG) voiced his reservations, fearing another talking shop. "The towns in Clare at the moment with teams, none of them have a town council or a Municipal District Council. We are the Municipal District Council. I'm not against it. I wonder, up in Roscommon, what kind of towns have been trialled with it. In effect, here in Clare, these are villages that don't have a council. Is that what Roscommon are doing also. I wouldn't be happy to commit to it just yet".
Councillors' views would be split up if the team was founded, Cllr Ann Norton (IND) believed. "In the Chamber, everyone has their opinions, and we work closely with the executive. We can easily look into the Ennis 2040 plan and look at the remit of available funding to us here. There are already a number of other groupings out there. These have been working well. I would prefer to see the seven of us working together here with the executive," she added.
Support for the motion was offered by Cllr Mary Howard (FG) and Clare County Council Director of Service Carmel Kirby, both of whom lauded the efficacy of the Covid-19 Ennis Mobility Plan Stakeholders group. Cllr. Howard said the temporary umbrella group has shown the effectiveness of working closely with other groups. Carmel Kirby added that this group adopted proactive collaboration and broad engagement, which would be necessary in implementing an Ennis Town Team. Drawing on expertise within the community would be a key element to its successful application, she added.
The COVID-19 Ennis Mobility Group was established in March and led to the introduction of temporary pedestrianisation in the town. A deficit of public representatives on the taskforce was referenced by Cllr Colleran Molloy at an Ennis MD meeting in 2020. At the same meeting, Cllr Mark Nestor (FF) conceded that he had a "major issue" with the taskforce. He said that the most pressing issues facing the town were being decided by individuals that were not chosen by the public.
This subsequently led to an agreement that had been reached for the 'Retailers of Ennis', who represent an amalgamation of 63 shops from the town and 'Better Ennis' to be invited to separate meetings of the COVID-19 Mobility Group.