A PAIR of 89-year old neighbours from Ennis have touched the hearts of millions after a video of them exercising with social media influencer Joe Wicks went viral.
By Adam Maloney
West Clare natives originally, Pádraig Mac Mathúna and Ceceilia O'Sullivan got to know each other while cutting turf in the 1940s.
Now in 2023, the pair are next-door neighbours living in Ennis and they are defying their years by exercising together every day to Joe Wicks' workout programmes.
Pádraig and Ceceilia met the famous fitness coach Joe Wicks last Thursday at Ennis CBS as The Body Coach completed his school tour across Ireland.
Mac Mathúna turned 89 in June whilst Ceceilia turns 90 within the next month. The pair struck a chord with Joe who video recorded his meeting with the pair and shared it with his 4.6 millions followers on Instagram.
Speaking to The Clare Echo, Pádraig recalled, "We both grew up in West Clare so we would have known each other as teenagers, I probably got to know Ceceilia in the bog cutting turf in the late 1940s.
"But then I suppose there were a number of years where we probably didn't see each other, and in 1963 we both built houses adjacent to each other without knowing in advance who was going to be next door to us".
A former President of Clare GAA, Pádraig worked in Clare County Council for 47 years (1952-1999). Ceceilia grew up on a farm, and became a housewife to John O'Sullivan – who Lees Road Sports & Amenity Park is named after – and reared seven children. To this day, she continues to be involved in local athletics having been a member of the Community Games since 1971.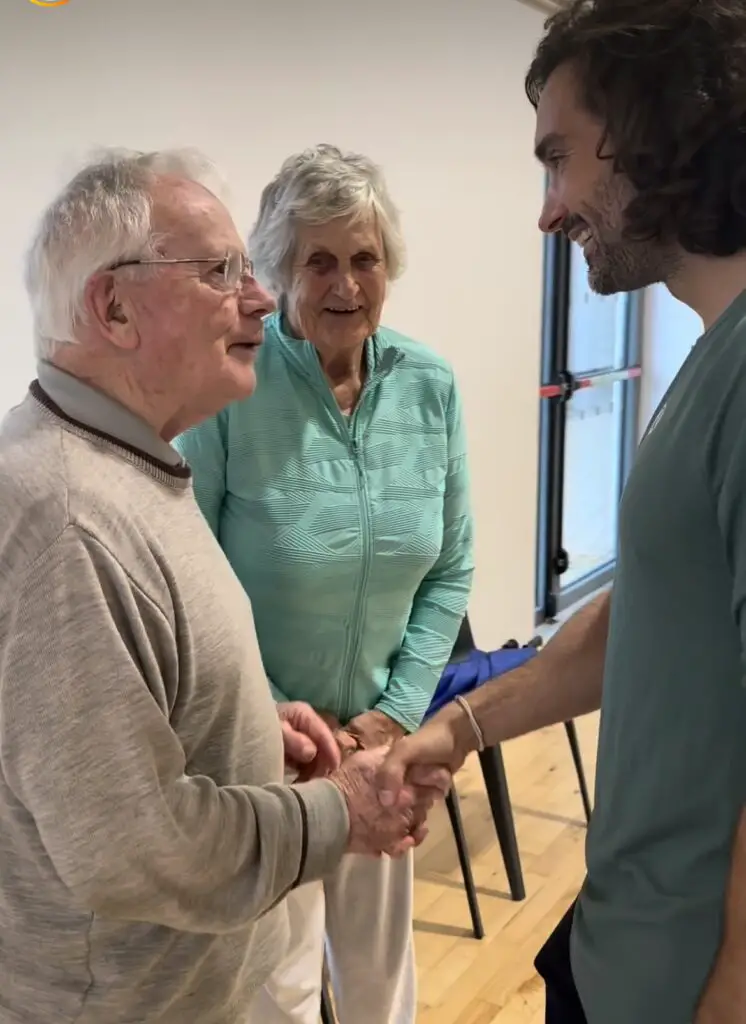 It wasn't until the Covid-19 lockdown came when Cecelia's daughter Irene discovered Joe Wicks' online workouts and since then, the pair engage in Joe's online workouts on a daily basis. "And we've kept it up continuously since Covid. And we please hope to continue for another while".
On their meeting with Joe Wicks, Mac Mathúna remarked, "we were surprised actually. Irene texted him and said we were doing his exercises and we'd like to meet and yesterday morning we got the message that he would like to meet us and have a chat and a photograph. He's very nice, his brother was with him and is a very social and very friendly person.
"We just had a general conversation, we told him we were doing his exercises every day and he asked us our age and he was just surprised that at this stage of our lives that we were exercising, it was just a general friendly chat. He stayed talking and we did a bit of an exercise together."
The neighbours from Cooraclare living in Ennis enjoy Joe's workouts and highly recommend them to everyone.
Cecilia told The Clare Echo, "I like the exercise, I love it, it keeps us fit". Paddy added, "Oh yes, definitely, It's very good. Especially senior citizens because there isn't any other activity."