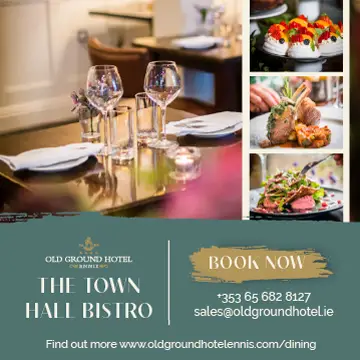 ENNIS has once again proved it has a hopping night time scene, having successfully held on to its Purple Flag.
Purple Flag Programme Manager at the UK based Association of Town and City Management (ATCM) Sarah Walker explained: "Areas awarded the Purple Flag are recognised for providing a vibrant and diverse mix of dining, entertainment and culture while promoting the safety and wellbeing of visitors and local residents".
To celebrate retention of the Purple Flag, Ennis Chamber has organised a weekend of festivities to take place from Friday, December 1 to Sunday December 3.
Ennis Chamber of Commerce Festival and Events Manager Margaret O'Brien confirmed the weekend is going to be a blast, with shops (including retailers who accept Ennis Gold Gift Vouchers) staying open late and pubs/hotels putting on extra entertainment.
"The planned weekend of activity has been designed to highlight the night time economy in Ennis, but also to kick-start Christmas shopping in the town centre," Margaret added.
The Purple Flag Committee had within its ranks, representatives of Clare County Council, An Garda Síochána, Civil Defence, Active Ennis, The Vintners Federation and local businesses, particularly those in the entertainment and hospitality sector, as well as Ennis Chamber.
Many of the shops are running special promotions, details of which are on Ennis Gold Facebook Page:
https://www.facebook.com/EnnisGoldGiftVouchers/