A burnt out caravan has been removed from the Rocky Rd in Ennis.
On March 8th, emergency services attended the scene of a fire in close proximity to the Rocky Rd roundabout. The removal of the burnt out caravan took place one month later, with elected representatives of the Ennis Municipal District advocating for it's removal at their April meeting.
Fine Gael's Mary Howard put forward a notice of motion seeking the dispatch of the mobile home and subsequent cleaning of the site as well as the repairing of traffic lights in the vicinity. "The mobile home left parked there was set alight and an investigation is going on. There is a huge amount of rubbish on site, there are loads of children toys, wires, broken trailers, the whole area is an eyesore. It is going to take time and money to clean the site". She flagged, "I thought it looked appalling for people about to enter The Wild Atlantic Way".
In an official reply, executive engineer Eamon O'Dea confirmed the mobile home was to be taken from the site with the area to be cleaned consequently. Following an application to the TII, funding has been approved for the replacement of the traffic lights and control unit. "The materials are ordered, delivery and installation is expected before the end of April".
Clarecastle councillor, Paul Murphy felt "The mobile home has been an eyesore there for the past few weeks". Fianna Fáil's Pat Daly had a similar viewpoint, "It is terrible to see" and reiterated his appeal for the Council to purchase the Rocky Rd.
"If I might I'll add to what Cllr Daly has said. We still have the issue of illegal encampment down at the Kilrush Rd but right now Rocky Rd is vacant and it is our chance to exert our control here," Mayor of Ennis Clare Colleran Molloy declared.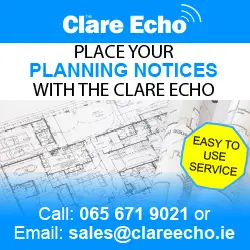 Executive officer, Leonore O'Neill outlined that the removal of the mobile home had been "delayed due to inclement weather". Regarding the purchase of the Rocky Rd, she said, "We had advised previously that the purchase of the site didn't fit value for money. We are committed to including it in the 2040 plan".