All of Clare's five Oireachtas members have been urged to be vocal in their support of the planned €500m Ennis data centre.
Three members of the Ennis Municipal District, Cllr Pat Daly, Cllr Tom McNamara and Cllr James Breen put forward a motion at Monday's meeting of Clare County Council where they asked the local authority "to ensure that our five Clare Oireachtas members give their full support in assisting the delivery of a Data Centre for Ennis."
Describing the data centre as "an exciting initiative", Cllr Daly said "It is over 20 years since we had a major employer come into Ennis. We should write to these five Oireachtas members and ask for their full support. We don't want another Athenry". His Fianna Fáil colleague, Cllr Tom McNamara stressed, "It is important we have the backing of everyone to get this over the line".
"We have to put our shoulder to the wheel to deliver this one, we have to get this project off the ground and our Oireachtas members should wholeheartedly support us with no ifs or buts," former TD James Breen stated.
Fine Gael duo, Joe Cooney and Paul Murphy assured the Chamber that TDs Joe Carey and Pat Breen plus Senator Martin Conway had given their backing to the development. "It's a no brainer and I've no doubt the Executive have a list of work to do. The Oireachtas members' support will be there without a shadow of doubt".
"We need to throw everything behind this. I remind everyone of 2006 when a greyhound stadium was muted for Clare and it never happened", Cllr Cathal Crowe cautioned.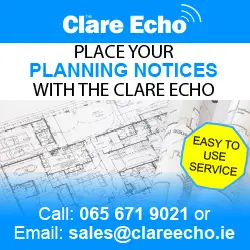 1,100 construction jobs would be created during the development of the Ennis Data Centre with a further 200 permanent data centre positions including that of engineers, 150 ancillary jobs would be generated around Data Centre Offices with 50 full-time maintenance jobs. It is envisaged that 600 induced jobs will follow in education, retail and leisure.