*Madalina Rotoru, Brian O Donnoghue Principal, Liam O Brien, George O Callaghan Chief Exec LCETB and Princess Maku. Photograph: Brian Arthur
Ennis Community College is to double in size with the commencement of a new building project now underway at its campus at Harmony Row where Gaelcholáiste an Chláir is also situated.
An additional 4,200 square metres of teaching accommodation will be provided over three floors when the development is completed by 2021 boosting annual enrolment figures and doubling its size.
Development began at Harmony Row in Ennis on Wednesday. Chief Executive of Limerick and Clare Education and Training Board, George O'Callaghan observed it is "a significant day for the school community". "It represents the culmination of a lot of planning and design work. Hopefully the new facilities will provide excellent learning spaces for the students of Gaelcholáiste an Chláir and Ennis Community College. It will provide a basis for future development of the schools and will make a huge contribution both to the school community and to the town of Ennis."
More classrooms, a science lab, home economics room, art room, library and general purpose hall are included as part of the works. Additionally, a full size sports hall, fitness suite and changing facilities will be delivered. The project's design team is Thompson Architects and the main contractor is Coolsivna Construction.
Brian O'Donoghue who is Principal of both schools stated, "The new facilities will further enhance the high quality of education taking place and, with LIT recently moving in across the road, it really cements Harmony Row and Bindon Street as the education quarter of Ennis."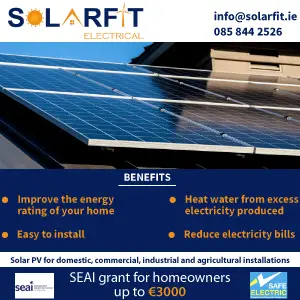 O'Donoghue was confident Ennis Community College which has been in existence since 1938 will continue to grow numbers as a result and highlighted the benefit for the Gaelcholáiste which was established in 1995. "A very special part of our school is Gaelcholáiste an Chláir, which is the only provider in the county of post-primary education through the medium of Irish. The integrity of the Gaelcholáiste is maintained in the new structure and capacity has been included to allow it to grow also".