It's unprecedented times for businesses as attempts are made to flatten the curve of the spread of coronavirus.
Many doors remain open and The Clare Echo has compiled a local directory by areas to alert you as to what businesses are still operating as normal and are in need of your support.
If your business is open but does not feature below, please contact us and we will add it to the list. Tweet us @ClareEcho, message us on Facebook or Instagram or email news@clareecho.ie.
ENNIS –
Butchers
Frank Frawley Butchers in Tesco Shopping Centre are open seven days a week. Only four customers are allowed in store at one time, hand sanitisers and bacterial wipes are outside the shop for trolley handles, front-line staff can have their meat dropped to their car. Hours: 7:30am – 7pm. Contact: 065 682 0876.
Donie O'Keeffe Champion Meats in Turnpike are encouraging customers to pre-order and avoid queues by ringing 0830106228. Hours: 8am – 6:30pm (Monday, – Saturday), 8am – 7pm (Friday).
James Quinn Butchers on the Kilrush Rd are taking orders by the phone which will then be ready for collection ensuring no delays in the shop, alternatively they are dropping purchases to the car and carrying out local home delivery. Hours: 8am – 6pm (Monday – Friday). Contact: 0656797000.
Molloy Master Butchers with stores on Abbey St and in Roslevan are both open. Hours: Roslevan- 8am – 7pm (Monday – Friday), 8am – 6pm (Saturday), Abbey St- 8am – 6pm (Monday – Wednesday), 8am to 6pm (Thursday – Saturday).
Car sales
Shiels Motor Group on the Gort Rd are running a March sale. Phone (065) 689 7333 for more.
Education
Kilmartin Educational Services on Bindon St are providing online grinds and revisionary courses. Contact: 061 444 989 / info@kes.ie.
Electrical
Ennis Electrical have kept their stores on the Quin Rd and Parnell St open. Deliveries or collection can be organised. Contact: 065-6829684.
Enterprise
Clare Local Development Company are continuing to deliver their services "where practicable". CLDC offices at Westgate Business Park in Ennis are closed to the public. They can be contacted via 065 68 66800, info@cldc.ie or on Facebook.
Eyecare 
All routine testing has been suspended at Specsavers with the opticians now providing emergency care and delivery only. Emergency care includes, but is not limited to, urgent clinical advice or intervention for conditions such as red eye, contact lens discomfort, foreign object in the eye, sudden change in vision, flashes and floaters which might suggest a retinal detachment, a frontline worker or an individual who is unable to work without their glasses and where a prescription that is fit for purpose isn't in existence. Optometrist and store partner, Kerril Hickey said they are discouraging all non-essential travel. "While our doors may be closed to the public, we will continue dispensing frames, where there is a current prescription, via home delivery and post to those in urgent need of glasses or contact lenses. We will also provide optical and audiology online and telephone advice for anyone who needs it in the communities we serve". HOURS: 10am – 2pm (Monday – Friday). Contact: 065 682 1212
Finance
St Francis Credit Union have reminded the public that most if not all of their services can be carried out online or over the phone 065 682 8305.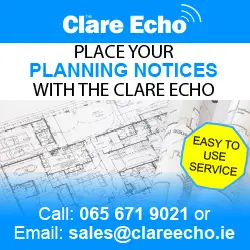 Clare Mabs are open and available to support people over the phone and via email. Money advisers remain in the office. They have details on the latest information about Covid-19 protections agreed with the main banks and how to go about applying for these. Contact: 0761 072 430.
Fruit & veg
Matt Waters' Fruit n Veg on the Turnpike Rd remain open. Customers are asked to follow social distancing measures. Contact: 065 684 2816.
Groceries
Coote's Shop and Bakery at Cahercalla Cross have stocked up on supplies, only one each of cleaning items such as sanitisers for customers. Elderly motorists won't have to exit their cars if they go there. "Drive up to the front or back door, beep the horn and we'll pop out when we're free and get you what you need". Open daily from 7am to 7pm, 065 682 4949.
Circle K / O'Keeffe's Spar on the Tulla Rd remains unaffected. Hours: 7am – 10pm (Monday – Saturday), 8am – 10pm (Sunday). Contact: 065 682 4313.
Geraghtys Spar in Turnpike, Ennis have set up a dedicated phone line 085-213-2995 for customers who may not feel safe leaving their homes. Customers are asked to adhere to social distancing as laid out in store.

Liddy's EuroSpar in Roslevan have started a phone in order service via 065 682 3808 where the store manager will take orders. Purchases can be dropped to cars parked outside or to deliver to local areas free of charge, EirCode must be on hand. To comply with Social Distancing, credit card payment can be accepted over the phone.
Liddy's Spar on the Mill Rd remains open. Hours: 07am – 12am (daily). Contact: 065 684 4900
O'Briens Community Stores in Cloughleigh and Kilmaley are running a delivery system for customers. Phone 065 682 3838 (Cloughleigh) & 065 683 9038 (Kilmaley), provide full address, contact number, delivery instructions and inform the person at the other end of the phone if you are in isolation.
O'Sullivan and Hansbury Daybreak on the Kilrush Rd is open. They have started a delivery service to customers in the area afraid to go to the shops. Orders and payment can be done over the phone via 065-682-0312, deliveries start at 12pm and again at 4:30pm. Open 7am to 11pm (Monday – Saturday) and 8am to 11pm (Sunday).
Ryan's Centra at Toberteascáin are open. Hours remain unaffected. They have started a delivery service to help the elderly and the vulnerable. Open from 7am to 11pm.
Tierneys Costcutter are now taking orders over the phone to shorten the amount of time people spend in store. Phone 065 682 1622 to place an order. Hours: 7am -10pm (daily).
Home heating
Moloney Fuels in Clonroadbeg have altered their opening hours as of today (Monday). Deliveries will continue as normal on Monday, Tuesday, Thursday, Friday and Saturday. Hours: 9am – 5pm (Monday, Tuesday, Thursday, Friday), 9am – 3pm (Saturday). "We would like to thank all our customers for there continued support and patience in these difficult times". Contact: 087 669 4438.
Home & Garden
Blossom on the Go Garden Centre in Hermitage are open. Phone payment and deliveries are being offered.
Vaughan's Garden Centre on the Gort Rd are taking orders by the phone and dropping flowers to your door. Contact: 065-6893408, Hours: 9:30am – 6pm (Monday – Saturday), 12pm – 5pm (Sunday).
Insurance
Gleeson's Insurance in the Market are operating behind closed doors. They have offered to provide free financial advice for individuals during the pandemic. For more, contact Alan: 0862222204 / alan@gleeson.ie
Munster Group Insurance on Bindon St have kept their lines open for business. Hours: 09am – 5:15pm (Monday – Friday). Contact: 065 684 1766.
Lighting
Suttons Lighting on St Flannan's Drive have kept normal business hours. Hours: 9am – 6pm (Monday – Friday), 9am – 5pm (Saturday). Contact: 065 682 4045
Newsagents:
The Paperchase in Dunnes Mall on O'Connell St is open selling lotto tickets, newspapers, magazines, books, cards, gifts and confectionery. Contact: 065 6824859.
Off Licence
Next Door Off Licence open from 10:30am to 10pm, one customer at a time policy in place.
Pets/animals
Ennis Pet Centre are restricting access to the shop to allow safe distance between staff and customers. Deliveries are running each afternoon. Hours: 9:30am – 2pm (Monday – Saturday). Contact: 065-6868816 / ennispetcentre@live.com.
Fishing Tackle in Quin Rd Ind Estate are taking orders. Hours: 09:15am – 5:45pm (Monday – Friday), 9:15am – 5pm (Saturday). Contact: 065 679 7450.
Printing / educational supplies
D2 Print are still trading as normal in the Gort Road Business Park Ennis. Hours: 9am – 5.30pm (Monday to Friday). Contact: 065 6868108 / info@d2print.ie.
M.F. Casey Printers at O'Connell Square are retaining their normal trading hours. Contact: 065 682 8083.
Realprint are now operating on a call out basis for essential emergency work. Their Quin Rd office is closed to the public. Contact: 0861691995 / ken@realprint.ie
Property
DNG O'Sullivan Hurley offering live property tours. "While our doors are closed we are still opening doors for all of you house hunters out there and making remote viewing possible. We are constantly seeking to improve on the service that we offer our clients and would like to offer all customers private one to one Facetime/Whats App video walk through appointments of the home they would like to view from the comfort of their own home."
Contact DNG O'Sullivan Hurley on 065 6840200 to arrange your video call or email info@dngosullivanhurley.com.
Sherry Fitzgerald McMahon is staying open virtually, 24/7, and will continue working remotely while its physical offices are closed for the time being. "You can view our properties virtually, make offers through mySherryFitz.ie and chat to us online and over the phone. Check out sherryfitz.ie.
Restaurants/cafés
O'Briens Sandwich Bar at Abbey St Car Park are open. Hours: 8am – 6pm (Monday – Friday), 9am – 6pm (Saturday), 10:30am – 4pm (Sunday). Contact: 065 682 2848.
Taxi services
AAA Taxis running daily from 5am to 9pm. Passengers not allowed to enter into the front passenger seat. Phone 065 689 2999.
Vehicle services
Charlie McEnery Motor Services in operation but with closed yard gates. Free collection and delivery of cars can be arranged without meeting in person. They are carrying out free car inspections of any frontline staff. Hours: 9am – 6:30pm (Monday – Friday), 9am – 6pm (Saturday). Contact: 065 684 9961
Martin Daly Tyre Stop is open and is adhering to every instruction issued by the Government. Customers are to wait in their car, the waiting room is closed to the public. Those in the Ennis area can have their car returned to the their home. Contact 0656898070 or 0868118987.
Pat Foudy & Daughter Tyres are offering free tyre checks and puncture repairs to all medical staff and all those who have lost their jobs as a result of Covid-19. Contact: 065 682 8503. Hours: 9am – 6pm (Monday – Friday), Saturday (9am – 5pm).
CLARECASTLE:
Newsagents / groceries
Deasy's Centra have encouraged contactless payments. They have a delivery service in place for elderly customers and those most vulnerable from Covid-19. Contact: 065 682 0152.
Gala Clarecastle on the Kildysart Rd have kept their doors open. Fresh goods baked daily.
Maxol Clarecastle have closed off their seating and play areas but the remainder of their newly renovated shop is open to the public. All staff are wearing disposable gloves.
Restaurants/cafés
New Dynasty Chinese Takeaway is taking orders for delivery only. This is in place "until further notice". Hours: 4pm – 12am (Sunday – Thursday), 4pm – 12:30am (Friday & Saturday). Contact: 065 689 3903