Ennis business owners have claimed the temporary mobility plan introduced by Clare County Council is leading to the 'death of the town'.
Over 65 business representatives marched from the Daniel O'Connell Monument at O'Connell Square to the offices of Clare County Council early on Thursday morning in what they called a peaceful protest seeking the immediate reopening of all streets in Ennis.
Elected representatives including the Mayor of Ennis Cllr Paul Murphy (FG), Cllr Mark Nestor (FF), Cllr Pat Daly (FF) and Senator Timmy Dooley (FF) listened to the concerns of the disgruntled business owners, several of whom remarked that the implementation of pedestrianisation on O'Connell St and Abbey St has been an aim of the County Council for over a decade, a stance which has been rejected by the local authority.
A letter on behalf of the businesses seeking the immediate reopening was presented to the Mayor by John O'Connor of Custy's Traditional Music Shop. Cllr Murphy confirmed he would present the letter to Friday's meeting of the stakeholder group that developed the mobility plan.
Oliver Moylan, proprietor of Ennis Cash Company on O'Connell St, one of the longest running businesses in the town spoke on behalf of the businesses. "We are here to save our businesses, my business is 140 years on O'Connell St this year and if this thing continues we won't last another five years. I hate to have to tell you but for the first time ever, we had a day this week when we didn't take in one cent to our shop, that is what is going to happen if this thing continues," he stated.
"There is no shopping unit or entity today that can survive without cars and parking, O'Connell St is a separate shopping entity, it is competing against the six major shopping areas of Ennis – Dunnes Stores, Tesco, Aldi, Lidl, Roslevan and Westgate – all these places have their parking and their cars, if you take away the cars and the parking outside Dunnes how long will Dunnes last, you are taking the cars and the parking away from O'Connell St and you expect us to survive, we cannot survive, you are consigning us to a very slow death, for God's sake wake up and see what you are doing, let the traffic back into the street and avail of the parking that is there to let the people back into the shopping," Moylan added.
He continued, "The centre of Ennis was a great buzzing town, if you walk the streets at the moment it is desolate, it is awful, there is nobody buying and we are dying a slow death. My appeal to you today is to re-examine this. If you are going to bring in a project, the first thing you do is have an impact study, there has been no impact study on what the effects will be on O'Connell St, it is wrong to continue doing this without an impact study. The other point I want to make is this, if 130 traders are against this and 12 are for it, does democracy mean anything, here we are fighting for our lives and we're talking to people who are not listening, they don't seem to care and have a callous indifference as to what will happen our business. The feelings of everyone here should be listened to, we are all in unison as to what we want, I think it is terrible that four or five people in a boardroom can shove this down our throat and destroy our business".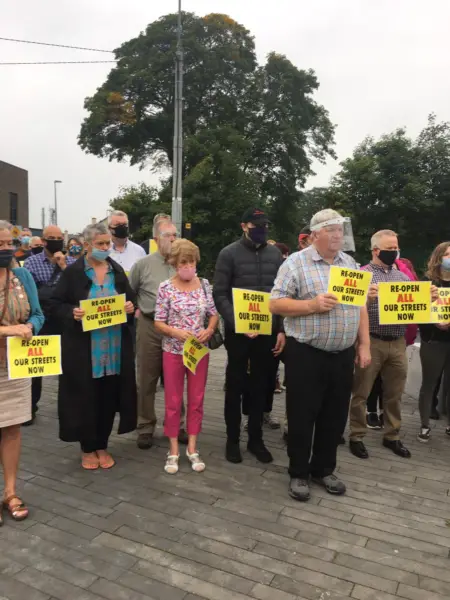 Moylan accused elected representatives of being silent on the matter. "You are going to let the main town in Co Clare die, you have to speak up on our behalf. My business will be 140 years on O'Connell St this year, we have six generations in business in Ennis, you're wiping out family businesses, when I came home to the business in 1960 there were 70 family businesses on O'Connell St, there is only three of them left, there were 87 family businesses on Parnell St and there isn't one of them left, there was 40 on Abbey St and there are only two left, that is a terrible indictment on the local authority".
Speaking on Thursday, O'Connor questioned how the closing of the streets to vehicles would limit the spread of COVID-19. He flagged that residents of Summerhill were "collateral damage" following the implementation of the mobility plan. O'Connell St shop owner also hit out at the reasoning, "is there no COVID on a Sunday," she quipped in reference to drivers being allowed to access O'Connell St and Abbey St every Sunday.
O'Connor stated, "The experts all over the country and the world state that COVID-19 is not spread by our thoroughfares, it is spread by social gatherings, social gatherings don't amount to people walking on the streets. The Council could save lots of money if they forgot about retractable bollards and put the money towards giving masks to people, masks will deny the spread of COVID-19".
Renewed criticism on the make-up of the stakeholders group was voiced by business owners at the protest. The Mayor detailed that Ennis Chamber of Commerce was representing businesses on the taskforce which drew strong disagreement from Mary Kelly. "Give me one stakeholder that is here representing us now, they are not and they haven't represented us and that is why we are here because we are not represented," she commented.
Friday's stakeholder meeting will hear a request from Cllr Murphy for the town to be "some bit opened up". He advised the business owners, "Take on board the interactions on social media, a lot of people are saying that they will not come near Ennis if the streets are reopened".
Tierney's Cycles owner, Noel Tierney queried why Ennis was "singled out" as the only area in Clare that had a mobility plan introduced. "I love this town and Clare County Council are ruining our town," he declared.
Officials within the Ennis Municipal District advised at its September meeting that a review of the temporary mobility plan was forthcoming. They stated that the plan implemented in May was introduced as a response to COVID-19 and was not a planned measure. The stakeholders group will hold a meeting on Friday, requests to alter its membership have been voiced by Cllr Clare Colleran Molloy (FF), Cllr Johnny Flynn (FG), Cllr Nestor and Cllr Daly.