*Dancer Zoe Keane with Joe Arkins and Mayor of Ennis, Cllr Clare Colleran Molloy. Photograph: Martin Connolly
"In Clare we know how it's done" was the message driven home as plans for this year's Munster Fleadh were discussed this week.
Joe Arkins, Frank Whelan and Therese McInerney addressed members of the Ennis Municipal District this week outlining their vision for the 2019 traditional music event which takes place in Clare for the second year in a row.
"The 2018 Munster Fleadh was the best one yet, the festival in the town surpassed all expectations. We had four céilí over the weekend whereas the norm is one. In Clare we know how its done", Joe Arkins declared. In the aftermath of last year's event, it was questioned why more events didn't take place in the heart of Ennis. He said that participants in the Munster Fleadh are competing in multiple events "so venues need to be within easy walking distance of each other". Arkins stated that the town venues did not have the capacity to match Treacys West County Hotel and St Flannans. "The Town option requires a dome, this would have cost between €20,000 and €30,000, the add ons are prohibitive. There is insufficient parking in the town and it would lead to chaos".
"Ennis is Ireland's friendliest town and that's official. Ennis is a great host town for a festival, it is a perfect fit for traditional festivals", Frank Whelan said. He revealed that they are seeking to extend to length of time for which the Gig Rig is in operation for the 2019 Munster Fleadh. "The Abbey St gig rig is an opportunity to showcase talented young groups, it is the shop front and the way of bringing this tradition to the public, there is no better way of creating this buzz than a couple of thousand people watching various groups performing on a professional stage, we've come a long way from putting musicians on the back of a truck". High profile headline acts for the 2019 Gig Rig are being looked at.
Of the proposed spending for this year's provincial Fleadh, Joe confirmed they were forecasting a €35,000 spend for the town centre. Further estimated costs include €35,000 for the Gig Rig, €7,000 for the technical crew and generators, €2,000 on security plus €7,000 for headline acts and the open air céilí. Last year, €14,000 was spent on catering for adjudicators and stewards, all of which went to Ennis eateries. Costs for Fleadh Cheoil na hÉireann vary between €120,000 and €150,000. "We're not doing this for profit, we're aiming to break even and don't plan on making a loss", Arkins added.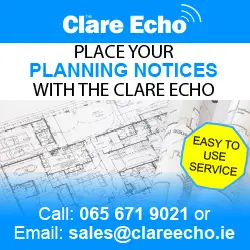 It takes place from July 14 – 22 this year.