*Elias Kunz. Photograph: Natasha Barton
SO FAR AS star signings in Clare sport are concerned, you can certainly put Elias Kunz to the top of the list for this year.
His addition to the Avenue Utd attack has been instant, it is no coincidence that Elias' emergence in the yellow and red has propelled them to a first Clare Cup final in four years, memorable runs in the Munster and FAI Junior Cups, not to mention they are one point away from winning the Premier Division title.
Twenty two year old Elias definitely wouldn't admit to that though given his modest nature but the thirty plus goals he has bagged this season prove the point on its own merits. "It's been a good season so far, I've had no real injuries they are usually the stoppers, it's been going well, playing with such a good team makes such a big difference, I'm delighted I came here this season".
For him it was a seamless transition. "There was no hostility. You always have to prove yourself if you join a new team, in terms of making new friends it has been pretty easy because the guys are so friendly and so supportive, it's such a good atmosphere when you come to training or matches. And once you feel comfortable within a team it makes it super easy to play your best and be yourself when you're on the ball, it made me improve my game".
"Being out here in Roslevan and able to play with the lads, they made it so easy transitioning and feeling welcome on this team, it's been a smooth ride ever since and I'm just hoping to continue it on and hopefully do something".
Leaving Ennis Town FC was no easy decision given that he was their marquee player and talisman. "I became so accustomed to the club and everyone recognised me there as a friend and a face, it definitely was but I had friends here of the same age so it made the transition easy for me, it wasn't too bad but it was tough to leave Ennis Town".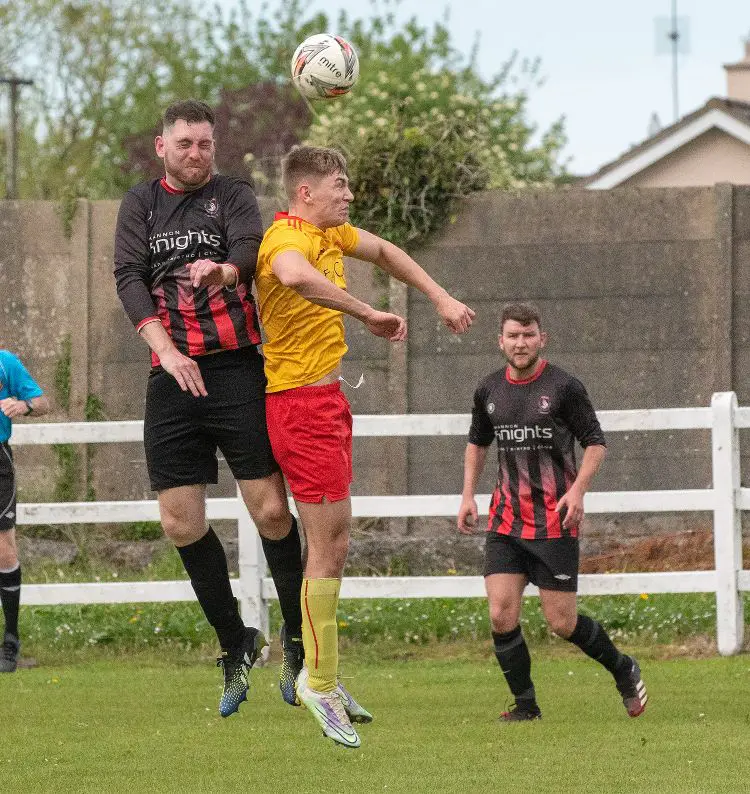 Moving to the Roslevan based club has also opened Elias' eyes to the rivalry between Avenue Utd and other clubs such as Saturday's opponents, Newmarket Celtic. "The crowds can get a bit hostile sometimes but it's a good atmosphere, it gets you going, it gets you pumped and excited for the games. When we played Ennistymon it was chaos at times, it's nice to get a feel for it".
Avenue Utd boss, David Russell recounted how his interest was stoked in the physical but very pacy forward. "Conor Mullen had said there was a lad in Hustle Fitness, I had seen him play for Ennis Town, a big strong physical lad, he was brought onto the Oscar Traynor when myself and Donie had taken it over, I noticed his physicality, his pace and the fact that he is a really nice guy when it comes down to it, I touched base with him to see what he thought and he has been a massive find. He has 31 goals scored at the moment, we set him a target at the start of the season of 20 so he has blown that out of the water, he continues to be a huge presence in the team and in the dressing room".
As well as turning twenty two this month, Elias also completed his degree at the University of Limerick in technology management and he is now on the hunt for a graduate job in manufacturing based industries or medical devices.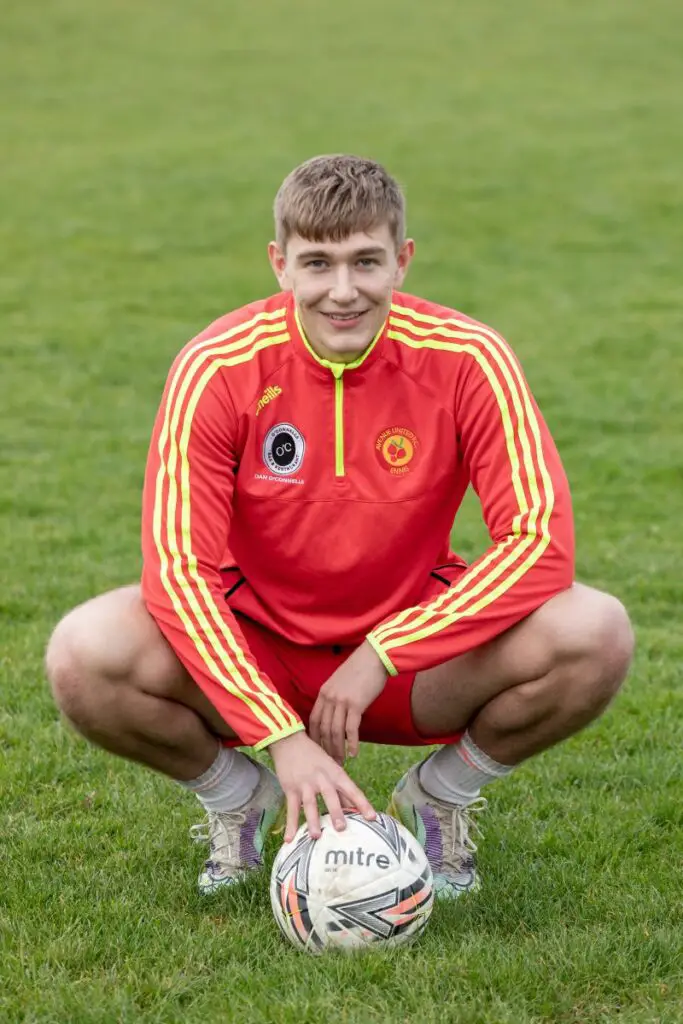 Academics have always been important for him and the Leaving Certificate was the primary reason he had to call time on his spell with Galway club, Mervue United. "I gained a lot of experience there in terms of a better standard and what not, unfortunately I had to stop that due to the Leaving Cert, studies and academics, I wanted to get into college so that was that. I came back and played with Ennis Town FC for a few seasons, they got promoted and then I transferred over to Avenue Utd, we're doing pretty well so happy days".
His parents who were born in south-west Germany moved to Ireland in the early 2000s, they previously spent time in Hong Kong before relocating to Cork then Clare and they've now returned Leeside.
Elias is quite close with his older brother Lukas who previously lined out for Young Munster as well as representing the Irish U23 rugby side. The duo can regularly be spotted in Hustle Fitness, the gym owned by his Avenue teammate, Conor Mullen and while it may not stir enough debate to lead to a petition, their wait to be recognised as 'members of the month' remains a surprise, "it will come at one stage hopefully. I wouldn't mind getting it so I hope Mully is reading this," Elias laughed of the observation. He is also a member of Lahinch Golf Club, "that's my go to hobby to escape and switch off, it's a change of pace it's slower, it calms the mind and you've the sea air".
Back to the serious stuff, his last experience of a Cup final of any description is a 6-0 defeat while lining out for Ennis Town, "it wasn't ideal, I haven't been to one since so it's nice to get back and still be in the run for the title hunt in different competitions," he recalled.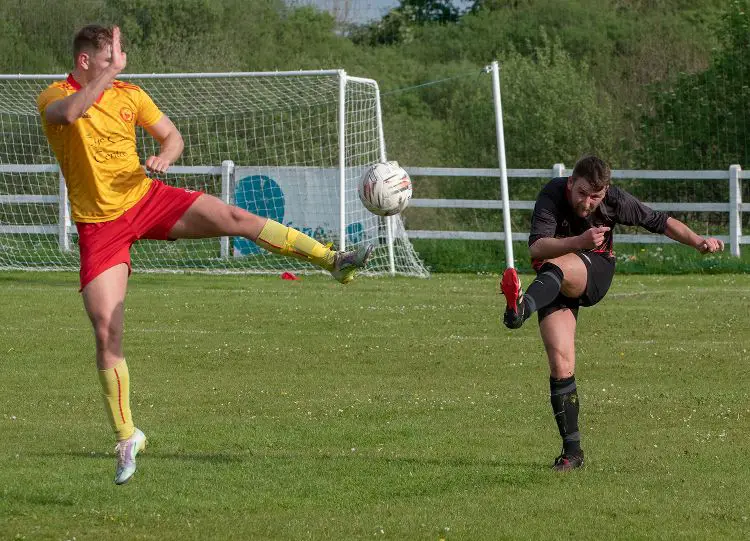 Their semi-final battle with Shannon Hibs saw Kunz marked by Stephen Tuohy in what was an entertaining duel, the competition will be more intense this weekend when either Stephen Kelly, Paddy Purcell or Eoin Kelly will have the task of curbing the top scorer. "I'm not expecting an easy game either. Newmarket have so much experience, they've been there so many times throughout the years, they keep proving how they are such a good professional team, we're a young and upcoming squad but we have the desire to go out there and do our best, hopefully we will get a win".
Reaching the last sixteen of the FAI and Munster Junior Cups stirred a newfound belief in the young squad, he maintained. "Playing against a good team like North End showed us we can play at that level, it was a shame that we came out at the wrong side, it was a great experience, it was unfortunate to have to drive to Wexford twice but altogether it was a fun experience".
Exams are done and dusted so far as college is concerned, big tests await on the football pitch over the coming week and the quietly determined Elias is eager to get top marks. "I don't really care about being top scorer or any of that stuff, I'm out there to win trophies and hopefully we can do it this year, it's a team sport at the end of the day".