Éire Óg GAA are asking their supporters to etch their names into the club's history as part of a new fundraising drive.
To aid the completion of a new stand at the club's grounds in Ennis, 'stand up for the future'has been put together by Éire Óg's financing committee.
Supporters have been requested to make a €100 contribution and as a result they will have their name decorated in the stand, receive one weekly entry into the club lotto and a draw for two €500 cash prizes.
Chairman, Jimmy Cooney stated, "Éire Óg has long had the support and goodwill of the people of Ennis, the club is part of the fabric of the town, with strong family allegiances stretching back to the club's foundation in 1952 and even beyond".
He believed the new initiative offered an opportunity "for the people of the town to give visible expression to that loyalty and association by having their name acknowledged on a plaque in the new stand. Some great club players, members and followers have passed away, and their relatives may wish make a dedication in their memory. This initiative will ensure that each family's contribution and support of Éire Óg GAA club are witnessed by all throughout the county and further afield who visit the club".
Officials within the Ennis club are hopeful the initiative will have a positive uptake and thus negate the necessity to draw on current funds set aside for the day to day running of the club.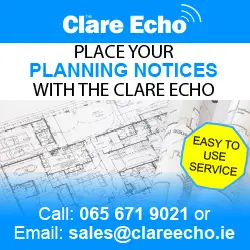 Cooney added, "The club fully understands the financial pressures that people may be under at this current time. Each contribution costs €100 if purchased by a one-off payment. By choosing the easy payment instalment option, 5 monthly instalments of €20, the scheme should be accessible to everybody".
Purchases can be made by online at Éire Óg's official website or by contacting 0870975533.