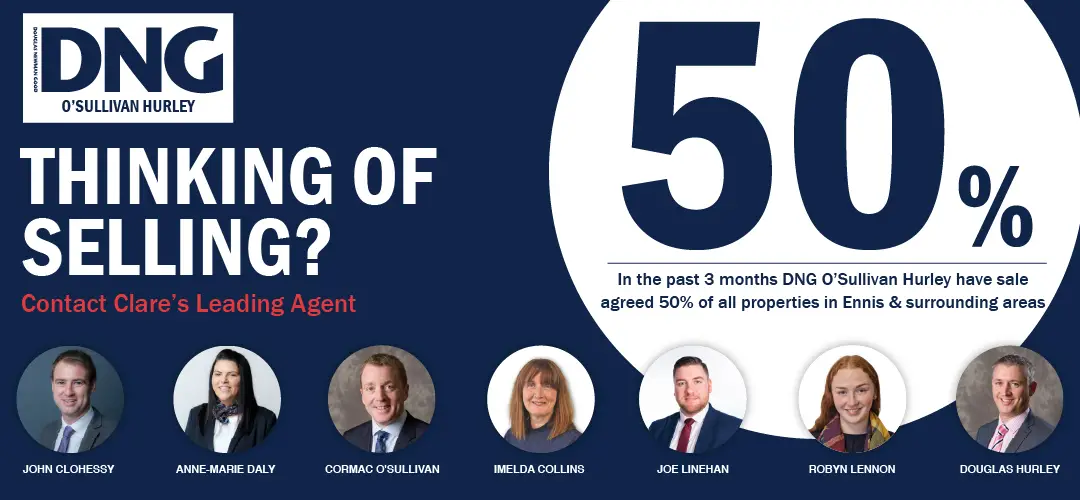 *Conor Harrison gets to grips with Niall Deasy. Photograph: Gerard O'Neill
Less a statement of intent than a professionally clinical assignment for Ballyea who brushed past the disappointing challenge of Clooney-Quin to reach their eighth successive quarter-final in O'Garney Park, Sixmilebridge on Sunday evening.
Ballyea 2-28
Clooney/Quin 0-11
Venue: O'Garney Park, Sixmilebridge
The last action of Round 2 bore all the hallmarks of a war weary weekend as Clooney-Quin, minus the services of Peter Duggan, Fergal Lynch, Martin Duggan and Mikey Corry, were little match for a determined Ballyea who are clearly gunning to maintain their biennial Canon Hamilton charge.
Two teams on contrasting sides of confidence and self-belief was never going to be pretty, especially once Tony Kelly, posted at full-forward, raided for the opening goal to put six between the sides by only the 12th minute. As from that juncture, the gap simply grew incrementally greater and greater.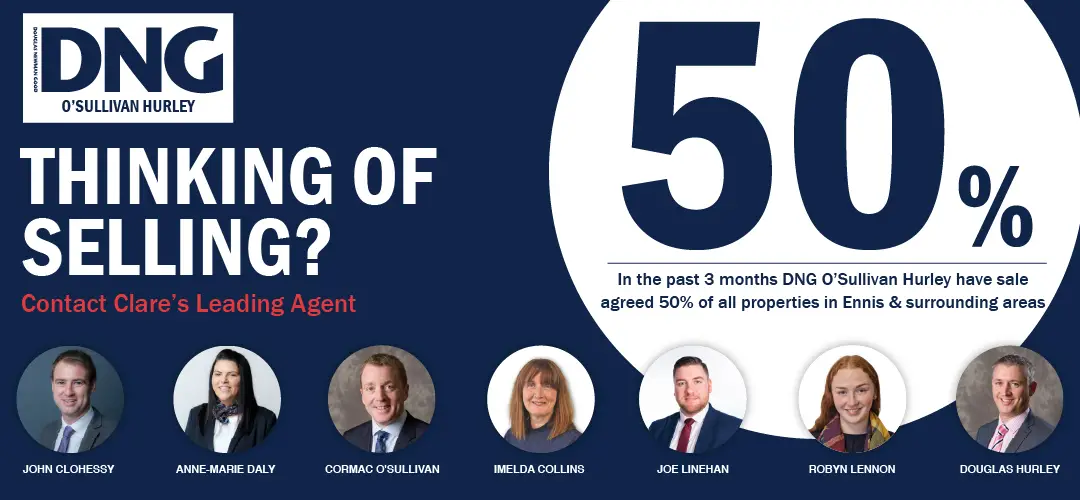 In truth, while Clooney-Quin possessed a very youthful attacking division, they didn't help themselves either as along with employing an extra defender, they also had Ryan Taylor man-marking Tony Kelly which predominantly positioned the county senior in an unprecedented full-back role. More than that though, with precision passing and a running game required, instead a succession of high hopeful deliveries were merely food and drink to outstanding defenders Jack Browne and Paul Flanagan.
At the other end, Niall Deasy (0-13) and Tony Kelly's (1-7) traditional scoring heroics continued along with an impressively busy hour from midfielder Pearse Lillis who would finish with four points.
Clooney-Quin did raid for two of the first three points through Donnacha Murphy and Luke Harrison but would soon be forced on the backfoot as Ballyea got into their stride with an unanswered 1-4 rally in just six minutes.
Lillis and Kelly both picked off braces before Morgan Garry's teasing ball over the top fell perfectly for the latter to billow the net on their way to a 1-6 to 0-3 first quarter cushion.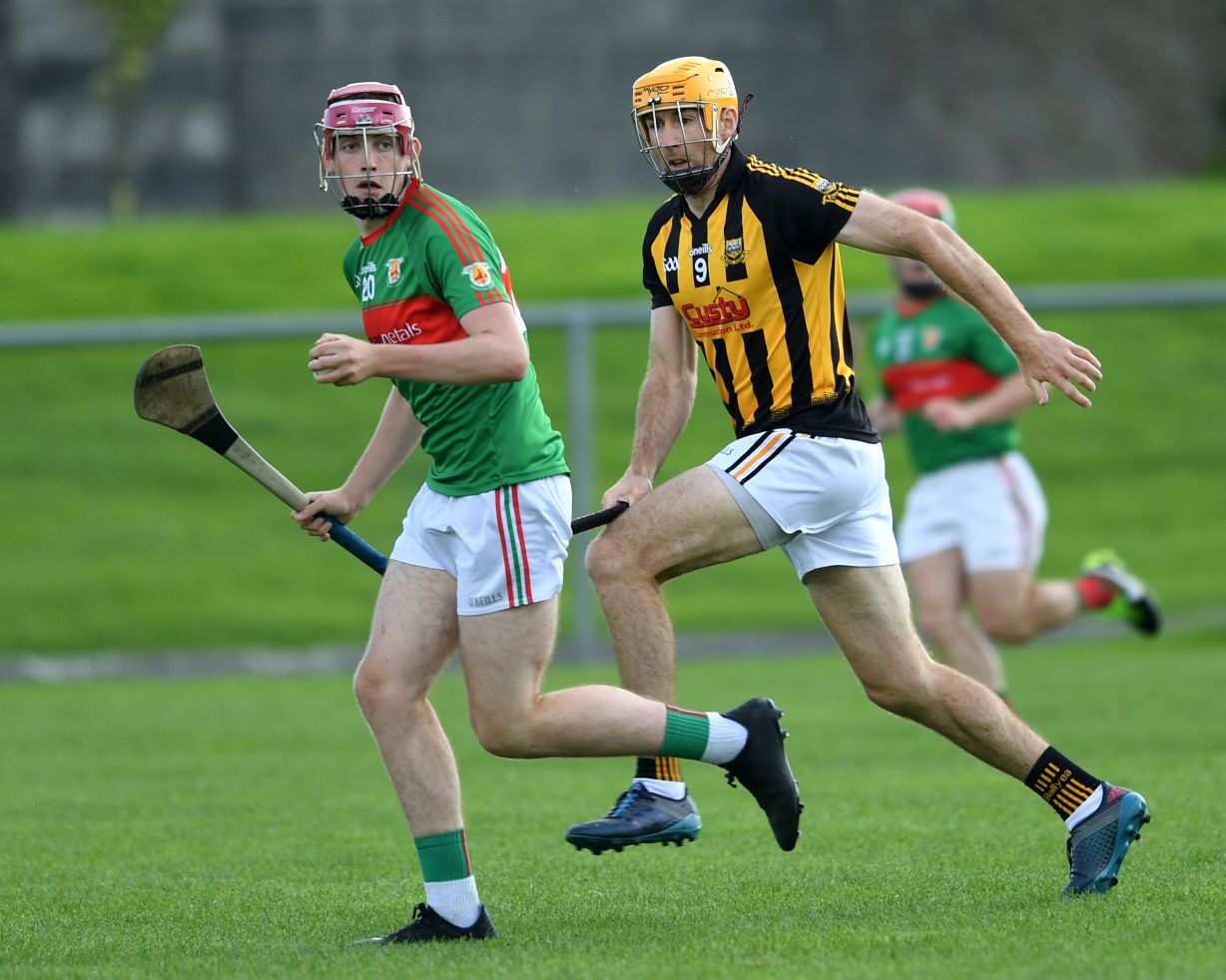 The game would take on a similar pattern for the second quarter when Seamus Conroy's early single was overshadowed by a further five point Bally Boys surge, highlighted by two eye-catching Tadhg Lynch points. And with Niall Deasy finishing the half with two injury-time frees, there would be a merited 11 point chasm by the break at 1-13 to 0-05.
The only way was up for Clooney-Quin and to their credit, they did come out fighting on the restart with points from Ronan O'Donnell and Cillian Duggan. However, a second Ballyea goal proved to be the clinching score in the 35th minute, particularly as it emanated from a poor defensive clearance that allowed Tadhg Lynch to loft his delivery towards the square where Gary Brennan nipped in to flick to the net.
It effectively sucked the remaining life out of Clooney-Quin and allowed Ballyea to expand their already handsome margin with little fuss as they tacked on eight more points without reply over the next 15 minutes, four of which stemmed from the unerring Deasy at 2-22 to 0-07.
Despite a broken finger, Fergal Lynch did come on and greatly increased Clooney-Quin's threat. However, the damage was already done as Ballyea emptied their bench and still maintained their near perfect scoring ratio to run out facile winners.
The use of 20 players provides greater options for Ballyea ahead of tougher tests to come in the knock-out stages while Clooney-Quin will have to pick up the pieces in the Senior B Championship once more albeit they know only too well that they're much better than what they have showed in the A version.
Scorers for Ballyea: Niall Deasy (0-13, 8f): Tony Kelly (1-7, 1f, 1'65); Pearse Lillis (0-4); Gary Brennan (1-0); Tadhg Lynch (0-2); Morgan Garry, James Murphy (0-1 each)
Scorers for Clooney-Quin: Donnacha Murphy, Seamus Conroy, Cillian Duggan (2f), Ryan Taylor (0-2 each); Luke Harrison, Ronan O'Donnell, Ulick O'Sullivan (0-1 each)
Ballyea
16: Oisin Hennessy
17: Mark Gavin
3: Paul Flanagan
4: Peter Casey
18: Aonghus Keane
6: Jack Browne
7: Brandon O'Connell
5: James Murphy
11: Pearse Lillis
9: Gary Brennan
14: Niall Deasy
12: Cillian Brennan
15: Tadhg Lynch
8: Tony Kelly
19: Morgan Garry
Subs
2: Brian Carrigg for Gavin (40)
13: Martin O'Leary for C. Brennan (40, inj)
10: Ryan Griffin for Murphy (45),
22: Eoghan Donnellan for G. Brennan (47)
20: Aaron Griffin for Lynch (56)
Clooney-Quin
1: Keith Hogan
2: Bryan McInerney
8: Ryan Taylor
4: Ruaidhrí McNamara
5: Conor Harrisson
3: Shane McNamara
7: Mike McNamara
6: Cillian Duggan
9: Jimmy Corry
30: Seamus Conroy
20: Eoghan O'Brien
19: Luke Harrisson
17: Donnacha Murphy
22: Ronan O'Donnell
21: Alan Culligan
Subs
36: Ulick O'Sullivan for O'Brien (39)
12: Tadhg Shanahan for Culligan (39)
27: Paudie Ward for McInerney (44)
14: Fergal Lynch for O'Donnell (45)
Referee: Rory McGann (Newmarket-on-Fergus)