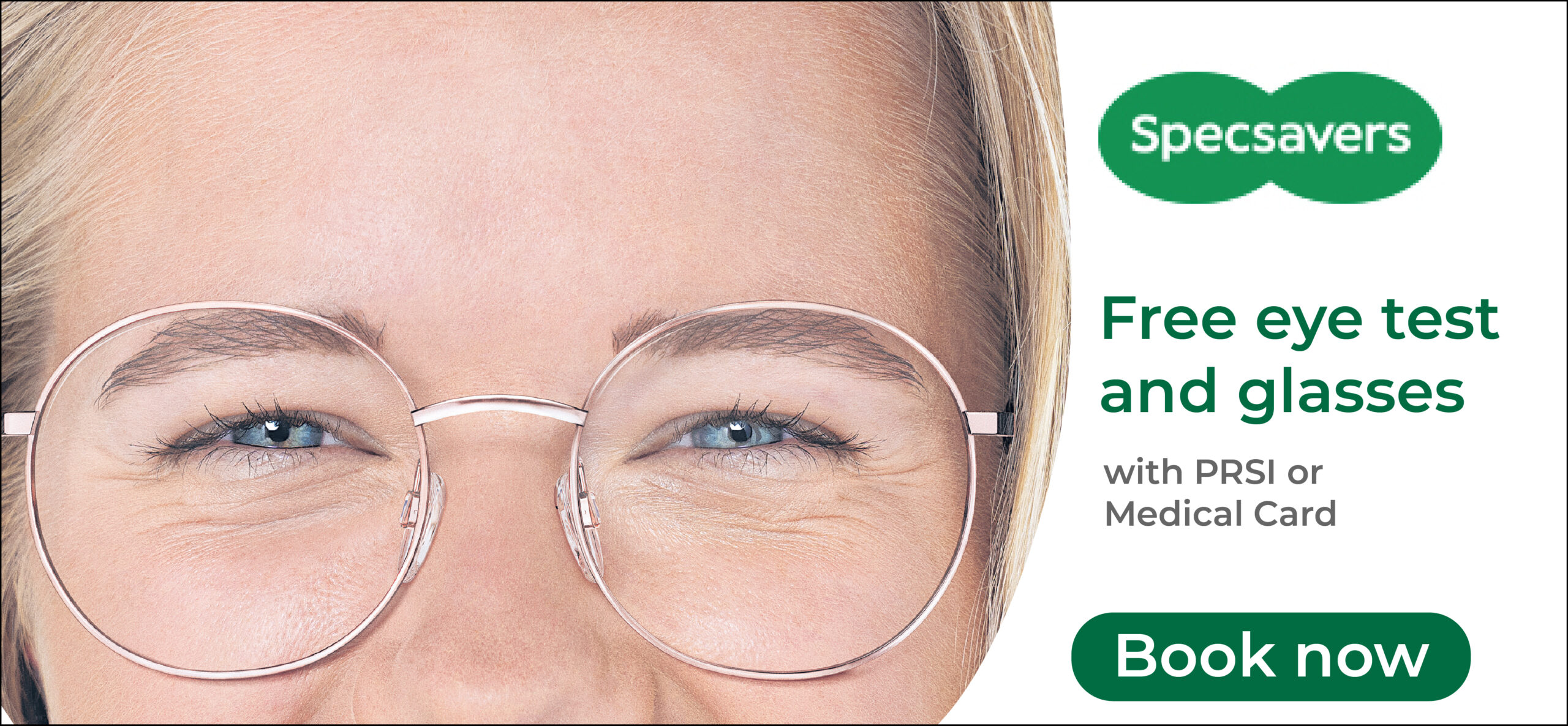 Cathal O'Rourke is a fifth generation farmer in Tubber but he and his wife, Bronagh are bringing a whole new dimension to the almost 500 acres of land.
Born in Cavan, Bronagh completed a Sport and Health Rehabilitation degree at Wolverhampton University twenty years ago before going on to work in pharmaceutical sales. Since then, she has married Cathal and together they have three daughters, Annabelle (8), Isla (5) and Alice (2), it was from being at home that she could really visualise what they had beneath their feet on the land which is home to close to 200 cattle.
"It's a very different career choice, it wasn't a choice but more of a life progression, I married a farmer and I've gone from sales to minding the kids at home all the time. I'm a stay at home mother but I wanted to diversify in a way where I can still fulfil my role as a mother at home with the kids but also utilise what we have here on the farm. I did a tourism course last year and I decided to use what we have, the farm is very vast it's nearly 500 acres so I saw potential with all the tourism in the area".
On her reasons for undertaking the tourism course in Gort Community Centre, Bronagh outlined, "I had an interest in diversifying in some way, I had seen the campervans and the potential of the area, on a given day you could see up to twenty campervans driving by, cyclists and everything. There was nobody else in the area doing it so we had a meeting recently, we're members of the Burren Programme which is farming with conservation in mind, keeping the area as true to what it should be and the limestone pavements there. Brendan Dunford had a meeting about people opening up their farms and letting people see because he knew that it was tourists wanted to see, real farms, what people do, how they sustainably live in the area".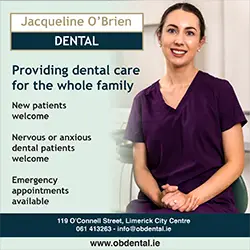 This led to the creation of Burren Farm Experience where the couple give guided tours of the working farm and historic area to educate tourists on the distinct farming practices in the Burren and biodiversity. Guests are brought on their tractor trailer with comfy straw bales for seating through the almost 500 acre farm of mixed species-rich grassland, deciduous woodland, hazel scrub and glaciocarst limestone pavement internationally famous for arctic-alpine and Mediterranean plants living side by side, passing livestock and historical remains. This is followed by a 5km/8km hike through the National Park to Lough Bunny Lake. Three national monuments are on the land, the former Boston Church which was burnt down in the 1820s, a pre-famine settlement and a round field.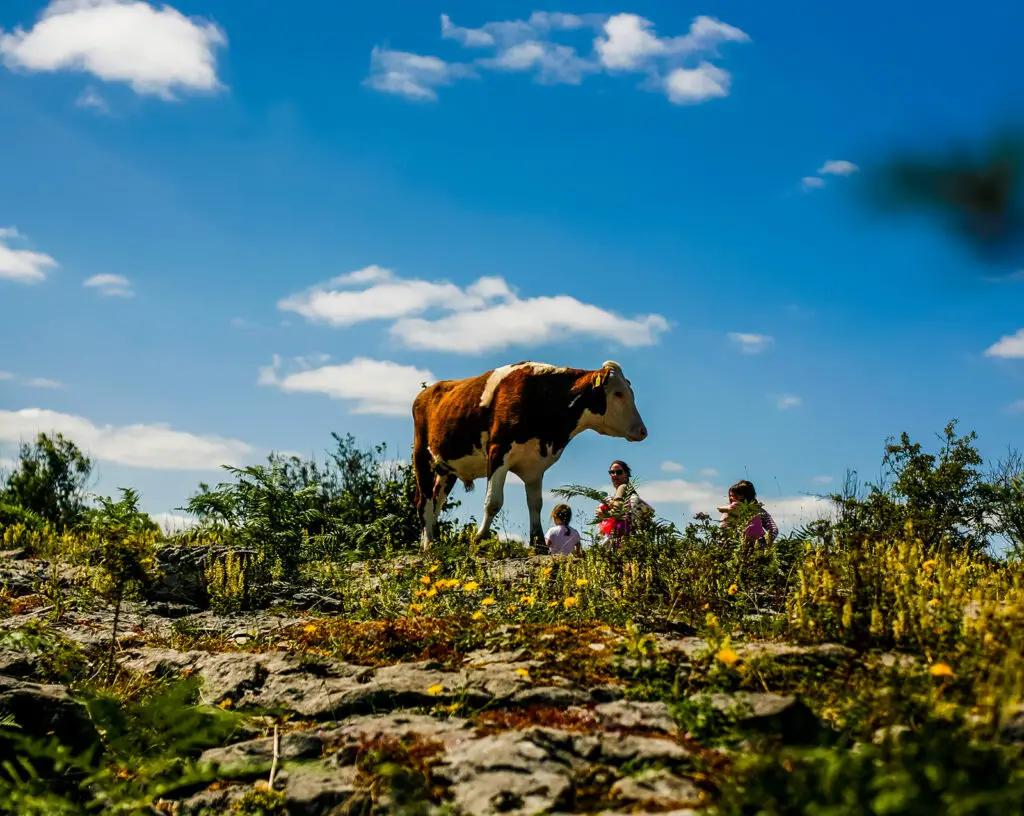 Since starting the tours in July, over 100 people have enjoyed the service. They plan to expand in the winter with the refurbishment of an old farmhouse into a tearoom for visitors. The couple realise the value of conservation and it is why they have such praise for the Burren Programme which emphasises farming in this way. "If the Burren Programme wasn't in existence as it is, it would be very hard to sustain the way we farm at the moment and the landscape, it's based on the animals grazing to extend the season that the cattle can be out because the limestone ground doesn't go below six degrees even in the winter time, it's a very different area to farm in than other areas of the country," Bronagh told The Clare Echo.
"If the cattle didn't graze the land, the flowers wouldn't come up in summer time so you wouldn't have the biodiversity that we've had here, we've orchids that you wouldn't see anywhere else in the world, it's a very unique landscape".
Eco-Tourism is directed towards exotic, often threatened, natural environments, intended to support conservation efforts and observe wildlife which is what the O'Rourke's are aspiring towards as part of the Burren Eco-Tourism Network. "I think it is the way forward, people are more conscious of their footprint. Even if it's the domestic market, we run zero waste so we go out and don't want to leave a footprint so we bring everything back with us. We're here for conservation and we want to show people what we do and the animals but we have to bear in mind that this is their environment and where they live, it's very important for us to leave no trace".
Over the weekend, they will hold a 'Five Generations of Farming Series' on their land. Though new to farming, Bronagh has already been named as one of the top three finalists of the Corrib Oil Women in Farming Awards, something she is proud of and highlights how new methods of thinking in agriculture must be embraced. "You don't have to be able to milk a cow or have a huge background knowledge, you have to be able to bring what you as an individual to make it more diverse and get the interest up from other women and children. What I feel is important is getting it from where it is now to something that is more attainable to other people. I don't want to go in and milk 200 cattle but that's not my niche is, it's bringing a new breath of life and dimension to what Cathal has been doing and his dad John for generations, the farm is here for five generations but nobody has seen it, it has never been explored before.
"It's a hugely historic place and I just want that to be explored and for people to see more of that. Farming is an industry where we were seeing people that were part-time and now that's no longer sustainable, we need to think of other ideas".