*Loop Head Lighthouse. Photograph: Valerie O'Sullivan
€6.8 million in funding has been secured for five Clare rural regeneration and development projects.
Loop Head, Lahinch, Doolin, Kilrush and Holy Island were the successful Clare County Council projects that have been granted aid under the €1 billion Rural Regeneration and Development Fund (RRDF), a key component of Project Ireland 2040.
All RRDF projects applications were prepared and submitted to deliver on the targets of the Clare Rural Development Strategy. This involved collaboration across various Council departments, Municipal Districts, local communities and specific partnerships with Kilrush Amenity Trust and Lahinch Seaworld as stakeholders.
€2,860,000 has been set aside for the Lahinch Seaworld and Town Upgrade Project. This project is a substantial upgrade of the Lahinch Seaworld community-run facility and associated public realm works in the town. It includes: The retrofitting of the Seaworld building; new public toilets; public realm works; completion of building of new Surf Rescue and Training Centre, Lahinch sports field, new car park and amenity area.
Vandeleur Estate, Kilrush will receive €1,720,000 to restore part of its historic estate which has been in existence since 1808. The project will respect the existing facilities and buildings within the surrounding area and will include a new museum; and development of arts and crafts facilities to promote local heritage.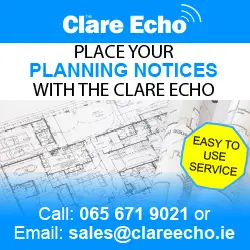 A detailed design for a visitor centre and new boat landing point including visitor trails and the production of an interpretation strategy for Inis Cealtra Island will be developed on the back of the awarded €920,500.
Funding worth €465,571 will see Clare County Council develop a masterplan for a new visitor and tourist centre at Doolin Pier.
A separate Clare project has also benefited from funding totalling €666,300. Fáilte Ireland will devise a plan to solve critical congestion and visitor management issues along the Wild Atlantic Way at 15 key locations within the counties of Clare and Kerry.
Cathaoirleach of Clare County Council's Rural Development SPC, Cllr Pat Hayes was pleased with the allocations especially for Inis Cealtra. "I'm glad to hear today that Holy Island received €920,500 for the development of tourism facilities under the rural regeneration fund. Let's hope this is the start of an exciting tourism project in East Clare.
Junior Minister, Pat Breen was confident communities across Clare would benefit as a result. "These projects are ambitious and strategic in nature. The funding will transform communities by delivering projects in sectors such as tourism, agri-food and recreation."
Kilrush councillor, Ian Lynch was "delighted" that the Vandeleur Estate was one of the successful Clare applicants. "This significant investment is a further vote of confidence in Kilrush and West Clare. The development of a further tourism offering will further add to Kilrush as an attraction along the Wild Atlantic Way and will be of social and economic importance for the area".
General Manager of Lahinch Seaworld and local election candidate, Joe Garrihy declared it was "a great day for Clare". "Partnerships and working together as a region is the way to the future so I look forward to working with all communities of North Clare with a focus on this approach".