*Photograph: Sean Curtin / True Media
A small Clare company is providing the most amount of Personal Protective Equipment (PPE) to the HSE of all Irish companies.
EKO Integrated Services Ltd which employs a total of 12 people have received a total of €102.36m for providing PPE (€93.5m) and equipment (€8.7m) to the Health Service Executive (HSE). The vast majority of this would be forwarded to producers in China as EKO is a secondary supplier, RTÉ reported.
Since April 14th, EKO has organised 14 plane loads of gowns and gloves into Ireland. They are primarily dealing with three different manufacturers in China. Six of the flights have come into Dublin Airport and eight flights have landed at Shannon Airport.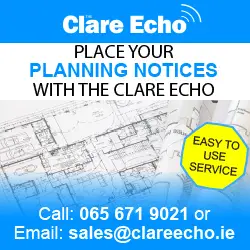 A spokesperson for the company situated in Arás Smith O'Brien in Bank Place, Ennis outlined that they have built up "a cultural understanding, business engagement and logistical intelligence with China over the past six years". This has included projects in energy, housing and infrastructure. She said the company was "fortunate to have access to factories manufacturing high quality PPE and to secure large scale supplies at a time when the world is also knocking on the same doors".
"The protection of people's lives, be they frontline workers or the wider public, is the driving force behind the relentless effort to keep ahead of the unprecedented pandemic," the spokesperson added.
Eugene Keane is the CEO of EKO Integrated Service. A graduate of LIT, he is also the CEO of RGT Group which operates in the fields of renewable energy, property portfolio management and consultancy. The Clare man is primarily from a housing background.
Payment to EKO was more than three times that issued to the next Irish based company by the HSE. Lennox Laboratories Ltd received €35.5m and Arco Safety Ltd received €32.4m.
A total of €773m has been forked out by the HSE for PPE up until the middle of May, the two largest sums have been given to overseas firm. China Resources Pharmaceutical has received €225.12m with Dobu Mask getting €102m. Aer Lingus have received €7.48m for transporting the PPE from China.