PARNELL Street Ennis and its bow-ways are to undergo a complete makeover as more than €1.4 million has been approved under the Urban Regeneration and Development Fund (URDF).
Clare County Council has been allocated €1,600,000 towards the Ennis Town Centre Public Realm Regeneration Project which will lead to rejuvenation of key town centre streetscapes.
An Taoiseach, Leo Varadkar TD and the Minister for Housing, Planning and Local Government, Eoin Murphy TD today (Monday) announced that Ennis is among the first successful applicants under the Government's €2 billion Urban Regeneration and Development Fund, which is intended to drive regeneration and rejuvenation of strategic and underutilized areas within Ireland's cities and large towns.
The funding allocated to the Ennis Town Centre Public Realm Regeneration project will cater for the delivery of two projects, namely Parnell Street and the Lanes and Bow-ways (€1,411,000), as well as Barrack Square and Old Barrack Street, O'Connell Street and High Street (€189,000).
Meanwhile, support has been committed under the Urban Regeneration and Development Fund to the principle of the development of the Venue, a new cultural and civic centre for Shannon. The funding, the details of which will be confirmed in the coming weeks, enables further development of the proposal as a community development and cultural project.
The €1,600,000 announcement for Ennis has been welcomed by Councillor Michael Begley, Mayor of Clare, who said, "This is a very positive development for the centre of Ennis as it underlines the positive progress that can be achieved when businesses, residents and the Local Authority work together. I would hope this announcement is the beginning of the success story in securing additional funding that will benefit Clare's largest urban areas in the months and years ahead."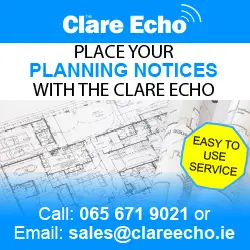 Councillor Clare Colleran Molloy, Mayor of Ennis Municipal District, said, "The planned upgrade of key town centre locations is a very welcome development. I believe that Clare County Council's proposed plan will deliver a new a vibrant town centre that will benefit residents, business and visitors for many years to come."
Pat Dowling, Chief Executive of Clare County Council, said, "The upgrade of the public realm in Ennis has been a longstanding objective of Clare County Council and this funding represents a significant early success for the 2040 Economic and Spatial Plan for Ennis. Early consultation on the development of this plan has identified a need to utilise the liveability and quality of life of Ennis as an asset to drawing new business to the town and environs to make it a vibrant and inviting place where people would choose to live."
Welcoming the announcement, Carmel Kirby, Director of Services with responsibility for Ennis Municipal District, said the two funded projects have "a shared purpose of regenerating the public realm and in their totality will enhance the Town Centre environment, making it a more accessible and attractive place to spend time."
She explained, "Ennis is currently, and has for a number of years faced challenges in delivering a vibrant and accessible Town Centre that capitalises on its physical and historic assets. Key public spaces are not used efficiently to the benefit of the town, some of the principal shopping streets are underperforming and historic assets that define Ennis are underutilised. As these streets and spaces are the heart of a viable Town Centre, investment is required to address these issues.
"Parnell Street has a significant level of vacant property and an increasing lack of retail activity," noted Ms. Kirby. "The proposal will address the urgent need to reinvigorate this principal shopping street. The Lanes and Bow-Ways represent the medieval stage of the Town's history. The revitalisation will allow them to contribute positively to the Town Centre public realm, reinforcing their heritage character, and enhancing the permeability between key streets through increased pedestrian activity. Proposals will be subject to further public consultation as part of the Part 8 planning process which is the next stage of the development and will commence shortly."
"A feasibility study has been completed for public realm improvements to O'Connell Square and High Street, and Barrack Square and Old Barrack Street. The grant of €189,000 will enable Clare County Council to develop the design further and bring it to part 8 planning stage with full public consultation. The objective is to transform Barrack Square and Old Barrack Street into a 'café quarter' that would act as a destination within the heart of the town. In O'Connell Square and High Street, works will seek to enhance this most important civic space in Ennis Town Centre," concluded Ms. Kirby.