*Photograph: John Mangan
E-coli infections among young bathers remain prevalent at coastal locations in the county, a Clare Senator has warned.
A commencement matter was put before the Seanad by Senator Roisin Garvey (GP) on Monday morning on the subject of water quality in Kilkee where she flagged that an e-coli infection was passed onto a two week old baby after an older sibling was swimming in Kilkee. She voiced her concern with similar occurrences at Lahinch.
Clare County Council on the advice of the HSE lifted a temporary prohibition on swimming on Friday afternoon, the ban had been in place since the previous Saturday afternoon. The matter was also raised in the Dái last week by Deputy Cathal Crowe (FF) with the Taoiseach, Micheál Martin (FF) committing to intervene in the matter.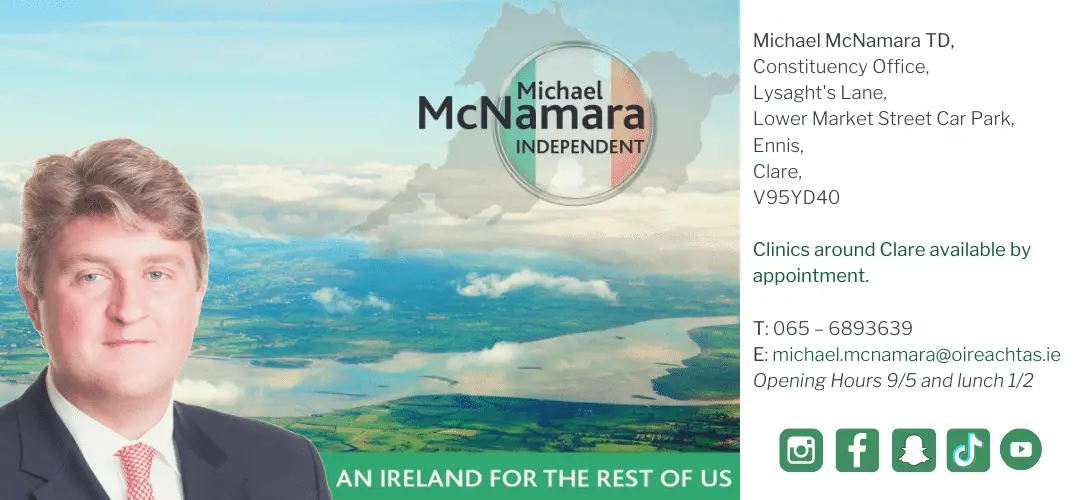 One two week old boy was hospitalised after an e-coli infection was passed onto him recently, Senator Garvey told the Seanad. "One very worrying issue keeps coming up and it has come up in Lahinch before, that is the e-coli infection of younger bathers and more vulnerable bathers, I've had families contact me where one of their sons got e-coli and he gave it to his two week old brother who ended up in hospital. Are we waiting for the Government to get sued in the Courts or something? I've had several families onto me about this issue alone".
Solutions must be implemented when it comes to the county's water woes, the Inagh native maintained. "We all heard about Kilkee last week, Kilkee is a really famous beach and the reason it is famous is because it is beautiful and it is a safe bay. Unfortunately we have huge issues with Kilkee that have been going on for years, the beach was closed for the third year in a row this year, I've been saying it before but we have a water emergency, this is just another big example of that. They have been promised a facility back many years ago and it was to be completed by the end of last year but now they are saying it won't be completed till 2024 or 2025, people want to know what is happening and when it is happening. I don't care who's fault it is, at this stage we don't care, we just want solutions".
Current water infrastructure in Kilkee is "not fit for purpose," she stated. A treatment plant alone will not solve all of the issues, Roisin said, "We need catchment based solutions because septic tanks and water treatments for all the world won't sort out all the problems, there is a myriad of issues, unless we see water as an emergency issue we're not going to be solving the problem".
Last week's swimming ban was "devastating for all the businesses that are finally reopened but meanwhile it could be another four years before Kilkee gets a treatment plant," Garvey added.
Junior Minister at the Department of Housing, Planning and Local Government, Malcolm Noonan (GP) acknowledged that it was "a human health issue but there is also a cost to businesses, many of whom have been in lockdown for the last number of months and have seen the signs of hope from trying to emerge from the pandemic towards hopefully a brighter summer, this is summer outdoors as the Taoiseach has said. It is really important that our wastewater treatment plants and our bathing areas are in condition where people can enjoy bathing in a safe manner".
Noonan commended the work of Clare County Council with both Carrigaholt and Quilty identified as bathing waters last year, they will be classified for the first time for EPA reports following this year's season.
He pointed out that Kilkee retained its Blue Flag for 2021 "despite the complex pressures in the surrounding catchment". Ongoing and continued investment is required, the Minister of State for Heritage and Electoral Reform conceded. The Kilkee sewerage scheme project is currently at detailed design, he said and includes the construction of a new wastewater treatment plant, the construction of new sewer pipelines and a sewer pumping station. The Carlow-Kilkenny TD confirmed that Irish Water have tankers on standby to assist at Kilkee. "The break in the rising main is located in the caravan park and has been traced to a location under an occupied caravan, the caravan will be vacated tomorrow evening and moved for repair to start on Monday morning. Irish Water has notified the EPA as a prosecution".