Clare's senior hurlers are leading the way in a fundraising drive to help 10-year old Zara Cronin get vital surgery after she was diagnosed with Ehler-Danlos Syndrome when she dislocated her C1 & C2 vertebrae in a simple accident in December (2017).
Now wheel-chair bound, the Dysart girl neck is in a hard-collar, having been in a halo brace to ensure stability and to mitigate against further damage. Zara requires a cranio-cervical fusion to keep her head in a normal upright position. Currently her C1 & C2 vertebrae dislocate continually even with minor movement. Following the injury, she was admitted to University College Hospital in Galway (UCHG), where she was fitted with a halo-brace that required the insertion of four screws in her skull, to keep her head from flopping on to her shoulders.
Ehler-Danlos Syndrome affects the connective tissues mainly the skin and joints, although it can also affect the blood vessel walls. The connective tissue is a complex mixture of proteins of which collagen is one and this mixture provides the appropriate strength and elasticity to the underlying structures of the body.
'In Zara's case where there is an imbalance of the protein mix, the skin/joints cannot support her neck, head and side movements. In addition to this diagnosis, Zara also has a Hind-Brain Hernia, which means in effect that her brain is slipping 8mm out of her skull. If it goes to 9mm, it will cause brain stem compression and add further serious complications,' said her Mum, Ann O'Gorman.
To receive the cranio-cervical fusion that Zara requires, both she and her mum, Ann will travel to the Teknon Private Medical Centre in Barcelona in September. This is the only centre in Europe that can carry out this type of surgery. Diagnosed in Ireland and referred to an Ehler-Danlos Syndrome expert in London, an upright scan at the Medserena MRI Centre (London), assessed her condition as severe and from there the Teknon Private Medical Centre was identified for the serious surgical procedure.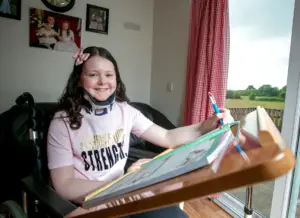 Zara doesn't qualify for the HSE operated Treatment Abroad Scheme or the Cross-Border Health Initiative. The requirement for both is that Zara be referred by an appropriate Irish consultant and since there isn't a surgeon in a public or private hospital in Ireland who can undertake this type of surgery or even provide a sit-up or stand-up MRI service in this country, they are left with no option but to travel to the Teknon Medical Centre in Barcelona.
€100,000 is the cost for surgery and post-op care. She will remain in a medical apartment for up to 4 months depending on her level of progress. The timeline is tight for Zara. She is scheduled for admission at the Barcelona Hospital on the 10th September with surgery to take place three days later. With a deposit paid, the outstanding money required for the surgery is due on the 24th August. The fund currently stands at €30,000. Donations for the Zara Cronin Fund are hugely appreciated by Zara and her Mum, Ann O'Gorman and can be sent as per details below. Direct contact can also be made with Ann on 087-7928780.
Permanent TSB, O'Connell St., Ennis, Co. Clare
IBAN IE671 PBS 99072827283203
BIC IPBSIE2D
See also www.fundraiserforzara.com
A fund-raising Walk (6km) with the Clare Senior Hurling Team will take place on Saturday 21st July 2018 assembling at 10am in the village of Ruan, outside Ennis, Co. Clare. They appeal to as many people as possible to support Zara on the day.