Dublin's dominance over Shannon Airport was further highlighted in passenger numbers for October.
Shannon Airport's figures for October show an overall five percent increase in total terminal traffic. A spokesperson for Shannon International Airport told The Clare Echo, "We expect this positive growth trend to continue as we head towards year end. We expect further good news by year end, as we are on track to record an overall increase of almost 30 percent since becoming an independent airport five years ago. This has been a very positive year of growth for Shannon Airport with a significant increase, in particular, in transatlantic services. Transatlantic has performed extremely well for us this year. We are the only airport on the Wild Atlantic Way with daily services across the key transatlantic, UK and European markets so there is an onus on us to deliver and we are delivering".
With more than 2.8 million passengers choosing to fly from Dublin in October, the airport recorded a nine percent increase on the figures for the same time last year. It marked Dublin Airport's busiest October in its seventy eight year history. The amount of people flying to Europe, the UK, North America, the Middle East and domestically all rose.
Dublin Airport has welcomed almost 27 million passengers in the first 10 months of the year, a 6% increase over the same period in 2017. So far this year, the number of passengers connecting through Dublin Airport to another destination has increased by 18%, it currently has flights to almost 190 destinations in 43 countries, operated by 56 airlines.
Cork was the busiest of the Munster airports last month with 204,000 passengers but its expansion of three percent was not as great as Shannon. A representative of Cork Airport highlighted to The Clare Echo that, "It is the country's second busiest and best-connected international airport after Dublin with connectivity to over fifty destinations. More than 2.4 million passengers will travel through Cork Airport this year".
2017 figures show Dublin handled 85.3 percent of flights in the Republic of Ireland, Cork catered for 6.7 percent and Shannon looked after 4.6 percent.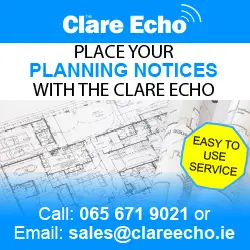 September was deemed a successful month for Shannon as it boasted growth of 16 percent in its traffic. However with a total 15,490 flying Shannon it ranked behind Cork's 18,780 and Dublin's 171,845.