*Photograph: Sean Curtin / True Media
A drive-thru COVID-19 testing centre is to open at Shannon Airport which has been praised as showing a "proactive approach" from the International Airport.
Irish healthcare company is to run testing facilities at Shannon and Cork airports with the facilities to begin operating today (Thursday). The centre will be located in Coach Park 2 at Shannon Airport.
Pre-departure tests will be conducted for passengers flying out of the airports in accordance with the newly implemented EU Traffic Light system for international travel.
Quick, private testing will be provided to the public, RocDoc have stated. Results are to be made available within a matter of hours. Passengers will be the priority but the facility will also open to members of the public and local businesses who wish to be tested. Tests can be scheduled via CovidCheck.ie
David Rock, Chief Executive of RocDoc said the mobile category-two laboratory would be able to "meet the needs of large organisations that require same-day results. This means we can offer on-site, express testing of staff which helps them keep their businesses open".

CEO of Shannon Group, Mary Considine said the provision of testing at Shannon was a "welcome development for the local community". She added, "What we all want is for a safe return to air travel and having the facility to offer pre-departure testing at the airport is an important step in restoring consumer confidence to fly again."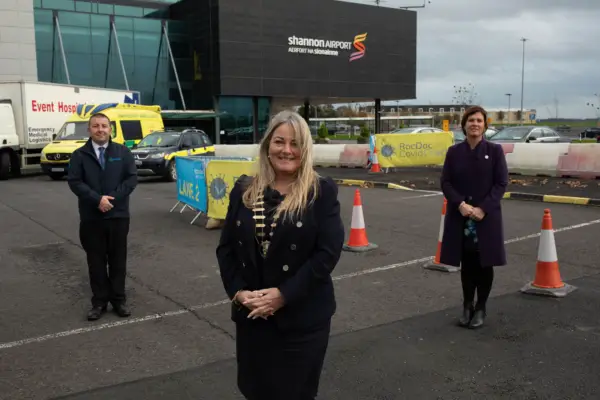 Shannon Chamber have hailed it as a step in the right direction. "It demonstrates that Shannon is a very proactive Airport and is doing everything within its power to welcome customers back again as soon as is practicable," Chief Executive Helen Downes stated.
Ms Downes believed it would be of "tremendous benefit" to local businesses in need of fast-turnaround results. "We commend Shannon Airport and RocDoc on this initiative which will contribute greatly to reducing the spread of the virus and facilitate the resumption of air travel once it is safe to do so again. While we may not experience our old normal for quite some time yet, every new step in the direction of some type of normality is welcome. Everyone wants to come through this pandemic safely with our economy revived; testing and tracking is the route to this end".